Premier League Predictions: Round 1
The short break we've had between Premier League seasons has already been talked about a lot and whilst it obviously hasn't been long since we were making our final picks for the 2019/20 season, it has been a long time since Liverpool had the title wrapped up so I'm very excited for the start of this new campaign and a fresh title race.
It goes without saying that all teams are going to be tested by the lack of a pre-season and the busy schedule so I'm going to try and minimise how much I mention that when discussing each fixture in these articles but the title/top four/relegation places may well be decided by which teams have the greater squad depth. Of course, some teams will have more games than others and Tottenham's early schedule looks particularly crazy - they're likely to play their opening 7 games of the season in the space of around 20 days.
As always, it's great to have lots of you involved in our Premier League predictor and feel free to drop your own predictions in the comments of these articles each week to tell me where I'm going wrong. If you haven't already heard, we're also running a brand new
odds-based fantasy tournament
this season for the Premier League. The odds-based format should be pretty exciting and is different to anything else that's out there so it's well worth trying out, though I apologise for just how tricky it can be to decide on player selections!
Here we go with Round 1 then.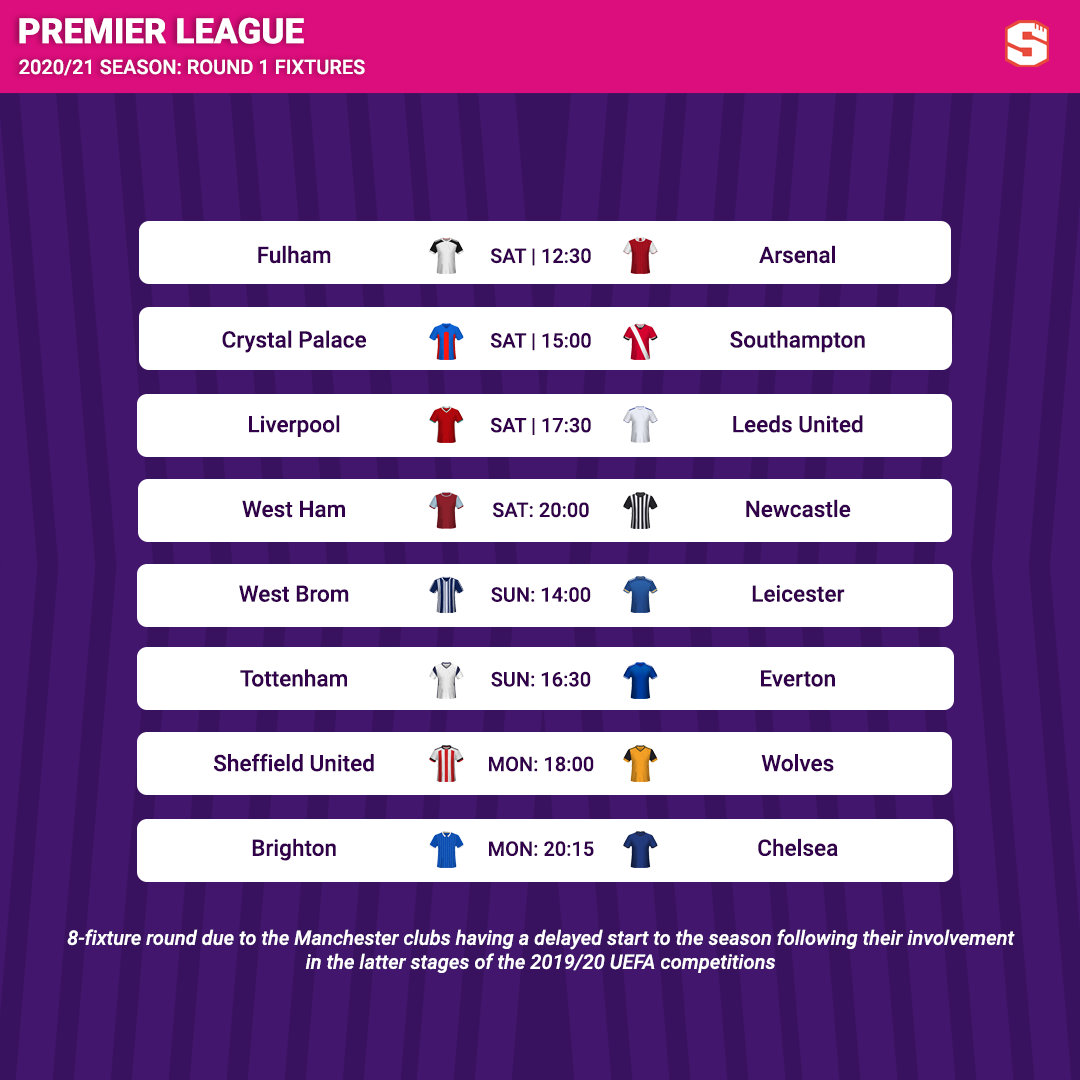 Fulham vs. Arsenal
A tough opener for Fulham. I'm expecting them to be a little more settled this season than they were in 18/19 since this time they haven't gone out and bought an entire new team but Arsenal finished last season really well under Arteta and I think they'll be quite strong this season. The Community Shield win will have added to the FA Cup momentum and I'm struggling to see how Fulham will keep Pierre-Emerick Aubameyang quiet.
Prediction: Fulham 1-3 Arsenal
Crystal Palace vs. Southampton
I'm expecting a strong season from Southampton this year. They were great on the road last season and were particularly strong post-lockdown so it makes sense that they'll be as ready as anyone for this weekend. Hasenhuttl has already admitted they still need a new six to replace Hojbjerg but they've shown they can cope alright without him while they wait for a replacement. It looks like Palace will be a few short defensively too so I'm going for an away win but I think Palace fans can expect a more exciting season than usual in the long-run with Eze and Batshuayi arriving to help Zaha out.
Prediction: Palace 1-2 Southampton
Liverpool vs. Leeds
Right so that's two away wins so far but you'd be brave to pick one here! Lots of Leeds fixtures will be must-watch games this season and we should have a cracker right off the bat as Bielsa takes his team to Anfield. Lots will depend on Bielsa (and any fan support they might get later in the season) if Leeds are to stay up because on paper this isn't the strongest of squads. I think the scoreline in this game will reflect just how tough things will be for Leeds this season and they have quite a tricky start overall looking at their first five games meaning it'll be next week when hosting Fulham that they'll already be putting pressure on themselves to win. I'm fascinated to see how Bielsa sets up in matches like this though and there's no doubt Liverpool will have to be at it from the off.
Prediction: Liverpool 3-0 Leeds
West Ham vs. Newcastle
West Ham were playing pretty well towards the end of last season to eventually secure their survival but the mood around the Club feels very negative heading into this campaign and I'm tempted to go for another narrow away win here. Newcastle have also had their fair share of frustration off the field in recent weeks of course but they've made a flurry of very good signings with crucial PL experience in the past week and the optimism those arrivals will have built might just be enough to get off to a good start at the London stadium. The potential front three of Saint-Maximin, Wilson and Fraser is very strong.
Prediction: West Ham 1-2 Newcastle
West Brom vs. Leicester
I'm excited to see what Slaven Bilic does with this West Brom side in the PL because they should have a fairly good balance between pragmatism and the touch of creativity that the likes of Matheus Pereira can provide. However, unless one of Austin, Robinson or Robson-Kanu prove capable of scoring on a semi-regular basis, concerns will remain that the Baggies won't score enough goals. I'm expecting a fairly strong start from Leicester as they look to bounce back from a poor second half of 2019/20. This is a very winnable game for them and they should control a lot of possession.
Prediction: West Brom 0-2 Leicester
Tottenham vs. Everton
This should be a really interesting match. We'll be seeing Mourinho go into a game with a fully fit Spurs squad (plus some good new arrivals) and Ancelotti turn up with a potentially brand new midfield. It was quite painful watching Everton in June/July because they really had nothing in the middle of the park - which made you wonder why Ancelotti just stuck to 4-4-2 - but they've now addressed that in style with 3 quality additions in Allan, Doucoure and Rodriguez. I don't know if he'll be totally ready for Sunday but it'll be interesting to see Rodriguez's role for Everton. Either way, you have to think Spurs will have slightly too much for the Toffees. By Round 6 or 7 I think Everton will be a very tough opponent but this might come a little too early for them.
Prediction: Tottenham 2-0 Everton
Sheffield United vs. Wolves
I'm not expecting this one to be the most thrilling as both teams tend to be very well organised but it's tough to call who will come out on top. Wolves have the better squad and I think they'll finish higher on the table but I'm not totally convinced they'll manage 3 points here. Nuno will be without the two wing-backs that have offered him so much over the past couple of seasons in Jonny (injured) and Doherty (gone to Spurs) so there might be a short adjustment period and Sheffield United are never easy to beat. I think I'll be going with my first draw pick of the season.
Prediction: Sheffield United 1-1 Wolves
Brighton vs. Chelsea
Given the talent they've brought in, I'm pretty sure everyone is excited to watch Chelsea this season. It'll be fascinating to see how and where Werner and Havertz play in this match and that's before Chilwell, Ziyech and Thiago Silva will be introduced in later rounds. I also think Brighton will be confident of a strong season but much is going to depend on whether they can find early wins in my opinion. Last year, they often played quite nicely but didn't actually win games frequently enough. Chelsea have a good record against the Seagulls and should win comfortably but without either of their new defensive additions or a new keeper, Brighton could well find a goal.
Prediction: Brighton 1-3 Chelsea
Good luck to all with your opening predictions!