Premier League Predictor: Round 38 Predictions
We've reached the final round of the Premier League season and with the title race, top four and relegation battle all yet to be fully decided, it should be a fun afternoon on Sunday!
After a fairly ordinary start to Round 37, I had a great evening last night as I picked Everton to win and then had Exacts for each of the 1-1 draws at Villa Park and Stamford Bridge.
Let's hope those Exacts power me on to a strong Round 38... Here are my thoughts on the final 10 games.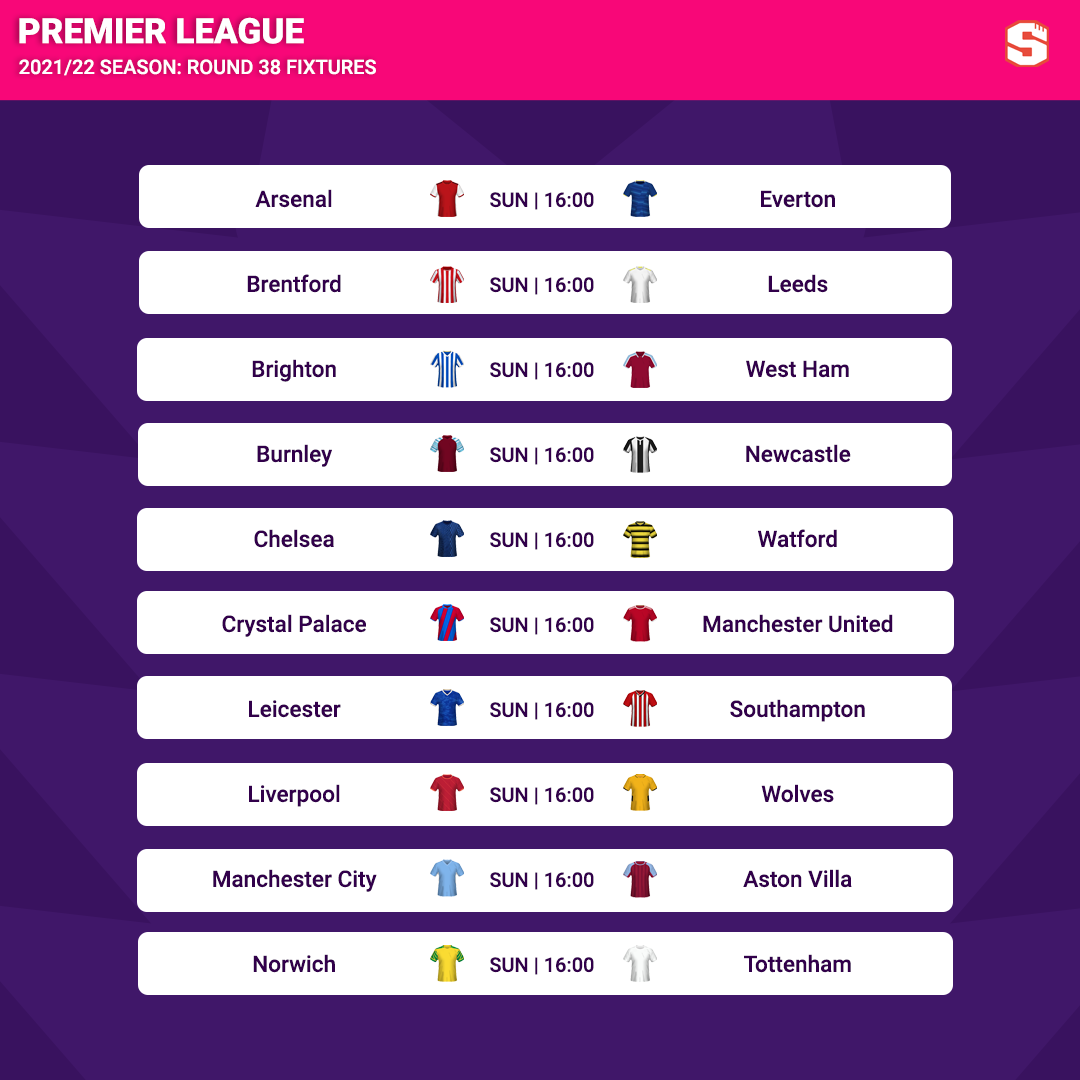 Arsenal vs. Everton
Well done to Everton on securing survival on Thursday - at half-time in that game they'll have been very concerned. Arsenal look completely shot to be honest after that hammering in the North London derby but now that the pressure is off them because Spurs will almost certainly finish 4th, I think we might see the Gunners finish the season well at the Emirates against some relaxed Toffees.
Prediction: Arsenal 2-0 Everton
Brentford vs. Leeds
Leeds are in big trouble here. Brentford are finishing this season really well and they're probably one of the teams you least want to play on this final day as a result. I think the Bees will be well up for trying to send Leeds down and unfortunately for Jesse Marsch's side, I think they might just be missing too many key players to get a result. Goal difference could well be what ends up costing them and a lot of that is down to that awful month they had in February.
Prediction: Brentford 2-1 Leeds
Brighton vs. West Ham
This should be an interesting game with Brighton in form and West Ham pushing for 6th. It's quite hard to split these two and their matches always seem to finish level so let's go with that.
Prediction: Brighton 1-1 West Ham
Burnley vs. Newcastle
I said the same about Brentford but Newcastle are one of the other teams you don't want to be facing at the moment when you're in Burnley's position. Despite being safe, it feels like Eddie Howe's team are determined to keep proving just how good they can be and I expect them to be right at it again in this final game at Turf Moor. It's hard to pick this match as I think Burnley may well set out to try and avoid conceding as a point could well be enough, but if they hear of an early goal for Leeds at Brentford, they have no choice but to go for it. I think they might just manage a point but Newcastle are the more likely winners.
Prediction: Burnley 1-1 Newcastle
Chelsea vs. Watford
This is a dead rubber but Chelsea are obviously strong favourites and you'd think they'll manage a few goals despite looking pretty blunt in attack of late. Watford haven't been the most difficult team to score against this season.
Prediction: Chelsea 3-1 Watford
Crystal Palace vs. Manchester United
I'm a little torn on this one. Manchester United are the team with something to play for as they need to win to make sure of sixth. They are also the team that has had far more time to prepare for this game. But they also just lost 4-0 at Brighton and have bene playing really poorly for weeks? I'm a bit concerned Palace will be fatigued after that defeat at Everton on Thursday but they've been tough to beat at home all season and after such a strong campaign I think they might manage one more decent result in front of their home fans to go into the summer on a positive.
Prediction: Crystal Palace 2-2 Manchester United
Leicester vs. Southampton
Saints have been really struggling for months now and I think Leicester should be able to at least finish this difficult season with a win. I'm intrigued to see who Brendan Rodgers will bring in this summer as they look to reset things a bit.
Prediction: Leicester 3-1 Southampton
Liverpool vs. Wolves
In this situation, where Liverpool are the 'chasers', it always just feels inevitable that they'll win as all the pressure is on the league leaders to make sure they get the job done. Wolves' recent form also suggests this will be nice and easy for the Reds.
Prediction: Liverpool 3-0 Wolves
Manchester City vs. Aston Villa
Despite being a game that I would pick City to win without hesitation in any other round, it certainly feels tense for Guardiola's side and there is some doubt in my mind with Steven Gerrard in the visiting dugout. Surely City get the job done? I think some of the doubt is caused by their recent Champions League exits when under pressure but in the Premier League, this Manchester City team has been an absolute machine for years now. They deserve to win the title in my opinion and it's more likely than not that they will.
Prediction: Manchester City 3-1 Aston Villa
Norwich vs. Tottenham
Even Spurs will surely be able to avoid messing this up. Conte and his team deserve huge credit for getting into this position and I'd be amazed if they fail to get the job done at this final hurdle. Norwich have hardly landed a punch on anyone this season.
Prediction: Norwich 0-2 Tottenham
So then, based on my predictions, it will be City lifting the trophy (after a nervy afternoon), Tottenham in the top four and Leeds going down. Let me know if your picks would result in a different scenario.
Thank you for following these picks articles throughout the campaign, it's always good fun. Once we've all had a week to rest (aside from the Champions League final), attention will turn to internationals with the
Nations League Predictor
!
Best of luck with your final picks of this PL season.