Premier League Fantasy Football Tips: Round 14
Round 14 of the Premier League begins on Saturday with an early kick-off at St James' Park between Newcastle and Manchester City. Six games will take place on Saturday with the other four all taking place on Sunday because we then have a midweek PL round starting Tuesday.
This means we're entering the busy festive period! Things will move pretty fast between now and the new year for Superbru players so it's worth making sure you're on top of your predictor picks and you've selected some fantasy players who have a good run of fixtures through December. Our 5-a-side fantasy game requires slightly more frequent attention - here are some tips for this weekend's action specifically!
Using the average taken from the thousands of picks to have been made in our main game - the Premier League Predictor - we're able to provide you with a 'predicted goals' tally for each team in every round of the competition and we believe this can come in handy when choosing between certain players for your fantasy points. Here's how the data is looking ahead of this weekend.
Round Fourteen: Predicted Goals (PG)
As you can see, Liverpool are expected to be the most dominant side of the weekend with both the highest PG tally and the lowest PG conceded ranking. The Reds face Brighton at home but it's perhaps slightly surprising to see so many backing them to win so convincingly given that they're yet to keep a clean sheet at home so far this season. With each of the 'big teams' facing lower table opposition weekend, there aren't too many other surprises in this week's data.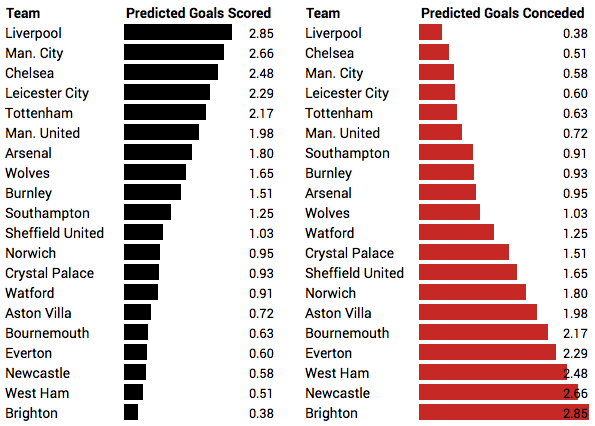 As this second chart shows, the fixtures that look most difficult to call in Round 14 are Southampton vs. Watford and Wolves vs. Sheffield United. It may be wise to avoid picking players (defenders especially) from these fixtures as a result, though Southampton are an example of a team with kind upcoming fixtures meaning if there's ever a good time to select a Saint for your fantasy team, it might be now!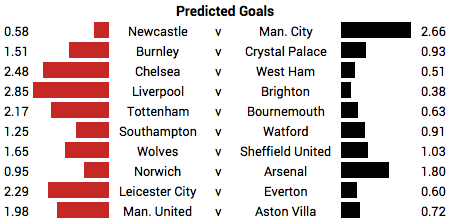 Round Fourteen: Players to Consider
With the above data and notes in mind, here are my tips for this weekend's action. This week, I'm looking to recommend differentials as usual, but each of them play for very strong sides meaning they're far less risky than in most weeks in my opinion. Changes of circumstance at Manchester City and Tottenham could create some strong fantasy opportunities.

Gabriel Jesus
An injury for Sergio Aguero means we can now be fairly confident about who will start up front for Manchester City for at least a couple of weeks. The quality of both Aguero and Jesus means it always feels risky to have either in your fantasy team since there's a chance of rotation, but Aguero being ruled out for Round 14 at least means Jesus represents a good option at St James' Park.
Dele Alli
Jose Mourinho is yet to fix Tottenham's defensive issues, but Spurs are back to looking very strong going forward and Dele Alli, like Lucas Moura, looks rejuvenated. The English international has looked sharp against both West Ham and Crystal Palace so he looks a logical pick for upcoming games.
Ayoze Perez
Completing the set of attacking players who play for teams that are expected to score at least two goals this weekend, is Leicester's Ayoze Perez. A particularly good option for Sunday's 5-a-side fantasy round as a wide player, Perez has started to produce more attacking returns of late. You may not have room in your 11-a-side team if you already have two of the likes of Vardy, Maddison, Tielemans and Pereira, but Leicester face Everton who are really struggling on Sunday afternoon meaning he's certainly worth considering in your 5 for that round (especially since there aren't too many other standout options).
Best of luck to you all with your fantasy teams this weekend.