Premier League Fantasy Football Tips: Round 13
We've had plenty of time to wait for it, and Round 13 of the Premier League will certainly start with a bang. The opening fixture of the weekend sees West Ham United host Tottenham who will be playing under new manager Jose Mourinho for the first time.
That game will kick-start an 8-game Saturday that also includes a tricky fixture for Liverpool at Crystal Palace and a massive game at the Etihad with City taking on Chelsea. With these three games being the headline fixtures of the weekend, how are the Superbru predicted goals charts looking? Here's your weekly look at what the data has to say and how it may impact your fantasy selections.
Using the average taken from the thousands of picks to have been made in our main game - the Premier League Predictor - we're able to provide you with a 'predicted goals' tally for each team in every round of the competition and we believe this can come in handy when choosing between certain players for your fantasy points. Here's how the data is looking ahead of this weekend.
Round Thirteen: Predicted Goals (PG)
As you see can see from the charts below, Chelsea are the 'big team' that is likely to struggle this weekend according to the opinion of thousands of brus. Frank Lampard's side will arrive at the Etihad as the team with the most away goals in the Premier League this season but a tough match is expected with City looking to bounce back from defeat at Anfield before the international break.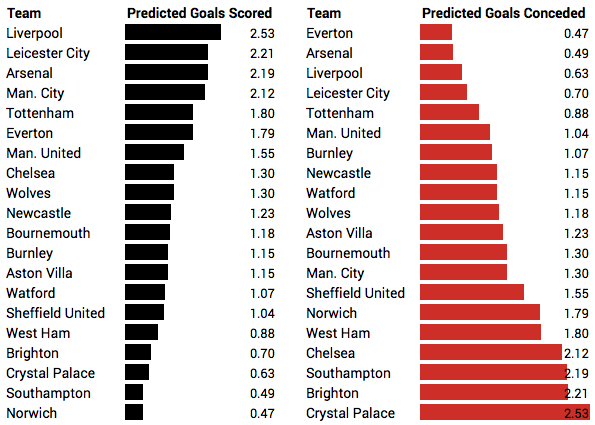 The other top sides remain in place at the peak of our charts with Liverpool and Leicester representing the best attacking options. Arsenal have a notably high PG tally despite their recent form as they face a very winnable fixture vs. Southampton while Everton players also look to have value this week since they take on Norwich who haven't scored away since the opening day of the season.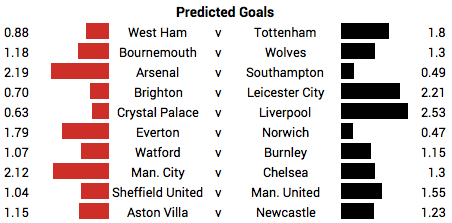 Round Thirteen: Players to Consider
With the above data and notes in mind, here are my tips for this weekend's action. As always, I'm looking at slightly different players from those most commonly selected at Superbru though my first pick is a well-known goal machine who may just get back to scoring points regularly under Jose Mourinho.

Harry Kane
In my opinion, Harry Kane is the kind of player Mourinho will love working with and after weeks of struggling to pick Tottenham players for your fantasy team due to their form, it may now be time to get Kane back in your 11-a-side lineup. Tottenham face an out-of-form West Ham today (with a below-par goalkeeper) and are likely to enjoy some good results in the coming weeks thanks to the bounce we can expect from Mourinho's appointment. Kane is very likely to play a huge part on the pitch.
Gerard Deulofeu
I've named Deulofeu here because I think he's an interesting talking point, as are Watford as a team now that they've finally won a match. Will they now put a run together with their fairly decent fixtures? The problem with Deulofeu has always been consistency but he looked sharp before the break and appears good value as a midfielder since he's been playing up front semi-regularly. Watford's home match against Burnley could bring some goals so I certainly think he's worth considering. If not, Everton's Richarlison for today's round in particular against Norwich looks a good option in our 5-a-side game!
Hector Bellerin
I know, I know. An Arsenal defender. Nuts, right? Probably. But if there's a list of games that Arsenal actually stand a chance of keeping a clean sheet in then Southampton at home is up there. Bellerin being back to full fitness is a boost for the Gunners and he should also pick up some attacking returns in their next few games. He adds a lot to that right flank so I think we may start seeing more goals created from that side now between him and Nicolas Pepe.
Best of luck to you all with your fantasy teams this weekend.