Premier League: Round 9 Predictions
With the international break over and the Nations League season now complete, the Premier League is back and we're set for an incredibly intense schedule of domestic football right up until the
FIFA World Cup
begins in November.
In case you missed it, we launched our
World Cup Predictor
during the international break so that there's plenty of time to join and get some big pools setup for the headline sporting event of the year!
Looking back at Round 8 of the Premier League Predictor, I did fairly well with 5/7 though the reward from my correct Everton pick was largely wiped out by deciding to back Brentford to take a point off Arsenal as an upset.
I'm going OK overall though so let's see if we can keep it going. Here are my thoughts on each game in Round 9 of the
Premier League Predictor
.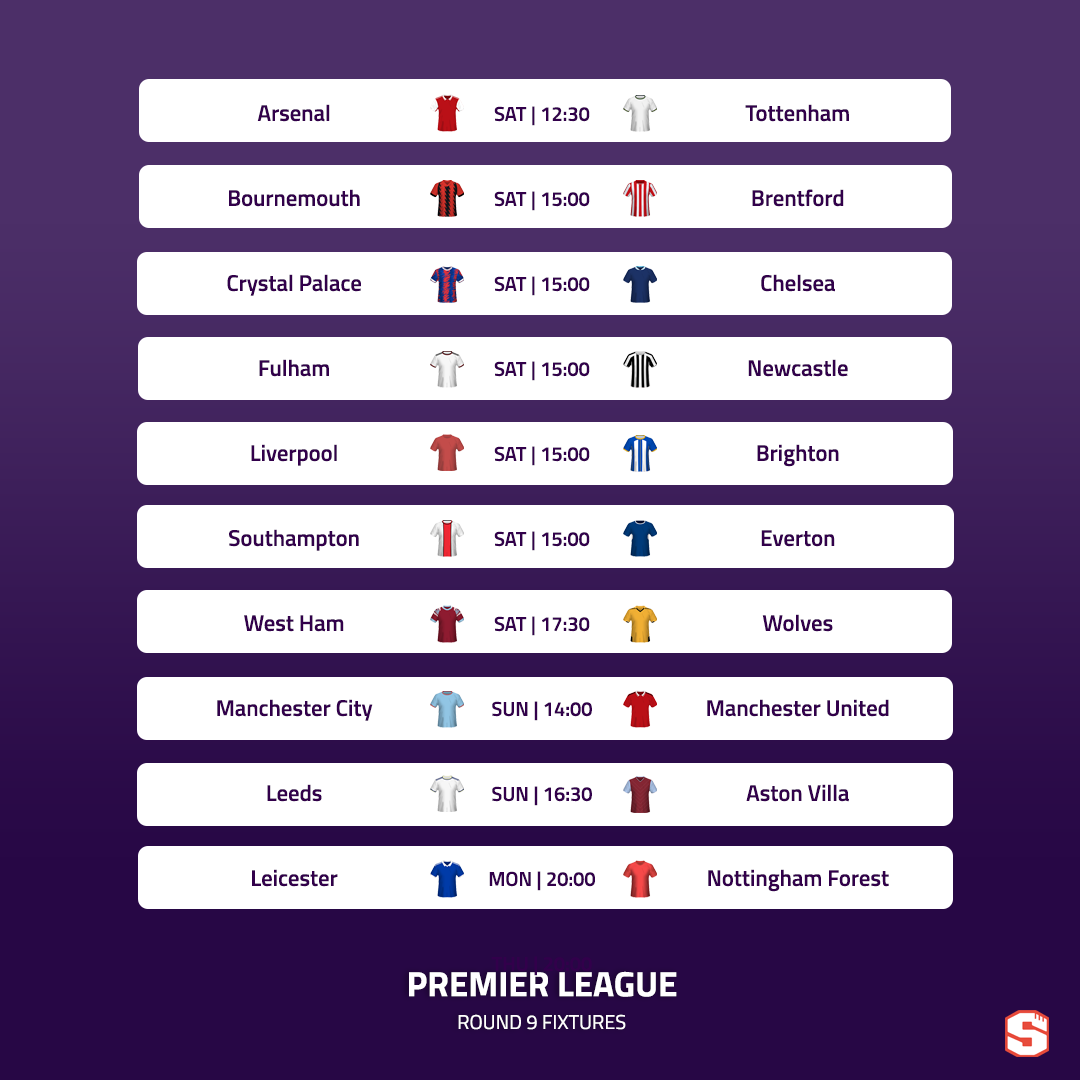 Arsenal vs. Tottenham
North London derbies are almost always entertaining so this is an excellent way to return to Premier League football and I'm excited to see who comes out on top given the strong starts both teams have made. Spurs almost never win at Arsenal so it's between a home win and a draw for me - Spurs managed a point at Chelsea in their last big derby but it was very unconvincing and I think the hosts might sneak this.
Prediction: Arsenal 2-1 Tottenham
Bournemouth vs. Brentford
Bournemouth have kept surprising us since the departure of Scott Parker and are now unbeaten in 3 games. I'm definitely more tempted to pick Brentford but the Bees are yet to win away from home so I think I'm going with a draw.
Prediction: Bournemouth 1-1 Brentford
Crystal Palace vs. Chelsea
I'm really interested to see how Chelsea get on here - the recent postponements have surely helped Graham Potter as he's ended up with quite a lot of time to train his team (admittedly there hasn't been as much time with the many internationals in his squad). Palace will certainly test the Blues and I think this will be tight but I'm going with a narrow Chelsea win. Kante being back fit is huge for the visitors if he can play any part in this one.
Prediction: Crystal Palace 0-1 Chelsea
Fulham vs. Newcastle
It sounds as if Newcastle will have a few players back fit, including Callum Wilson, but their lack of wins remains a concern and it's hard to go against Fulham here as they are unbeaten at home. Keep an eye on the team news though as Mitrovic picked up a knock on international duty and if he can't play, this is a very different game.
Prediction: Fulham 2-1 Newcastle
Liverpool vs. Brighton
Brighton are a very well run club and so despite the fact that Chelsea have now bought half of their management team, it's fair to assume they'll have identified Roberto De Zerbi as a good replacement for Graham Potter for some time now and I think they'll continue to perform well this season even if there is a slight hiccup during transition. This is obviously a very difficult opening game for De Zerbi and I'm picking a Liverpool win but it might not be comfortable given Brighton's recent record at Anfield.
Prediction: Liverpool 3-1 Brighton
Southampton vs. Everton
Everton deserved to finally get a win on the board last time out as they've made so much progress defensively in comparison to last season and with Calvert-Lewin set to return now alongside/in place of Neal Maupay, the Toffees should keep improving. As I said in my last predictions article, Southampton are a nightmare to predict but after their performance in what was surely the least entertaining match of the season against Aston Villa in Round 8, I'm going to risk an away win.
Prediction: Southampton 1-2 Everton
West Ham vs. Wolves
West Ham are certainly due a win and this feel like a fixture they should be able to take three points from given that Wolves also only have a single victory to their name so far this season. I don't think it will be a classic, as both sides will be very eager to avoid defeat, but the onus is on the home side to find a goal.
Prediction: West Ham 1-0 Wolves
Manchester City vs. Manchester United
Erik ten Hag has found a good setup, particularly defensively, in recent weeks meaning United should be competitive in this derby but it's still very hard to see them stopping City and Haaland. Christian Eriksen has been magnificent for United since arriving in the summer but if ten Hag continues with him alongside Fernandes and McTominay in a midfield three than I think this could be very challenging for them defensively in the midfield area when Kevin De Bruyne looks to attack the space between what will likely be a stretched United backline.
Lisandro Martinez has also settled in well and he may well step forward a lot to try and prevent that De Bruyne impact but that leads to another problem with Haaland given more space and I just think City have far more tools with which to win this game than United do.
Prediction: City 3-1 United
Leeds vs. Aston Villa
Villa had that crucial win over Saints last time out but it wasn't a good game as I mentioned earlier and it still feels as if things aren't quite right at Villa. Leeds also weren't great before the international break though and it's hard to judge any kind of form when they haven't played for almost a month. I'm really not sure how either of these teams will perform so I'm going to 'play safe' (if that's a thing in the Premier League Predictor) and go with a home win.
Prediction: Leeds 2-1 Aston Villa
Leicester vs. Nottingham Forest
After hanging on to this job during the international break, this is surely do or die for Brendan Rodgers as when you need a win as badly as Leicester do right now, a home game against a struggling newly promoted side is probably one of the fixtures you'd hope to have. There's still certainly a chance of an away win given how Leicester are defending because Forest have been scoring goals but I just think the Foxes will surely find a victory at last? It could be quite high scoring given each team's recent results!
Prediction: Leicester 3-1 Nottingham Forest
Good luck with your own Round 9 picks!
Keen to continue talking football and Superbru? Join our new Facebook group for Superbru Football Fans here.