Premier League: Round 8 Predictions
The Premier League returns this evening following the postponed Round 7 and though there are still a few postponements this weekend due to complications relating to HM Queen Elizabeth II's State Funeral, we still have 7 games to predict in Round 8.
Like Bournemouth, I had a surprisingly good round back in Round 6 with 7/10 which included 3 Exacts. Let's hope the week off hasn't ruined all my momentum going into this week!
Here are my thoughts on each game in Round 8 of the
Premier League Predictor
.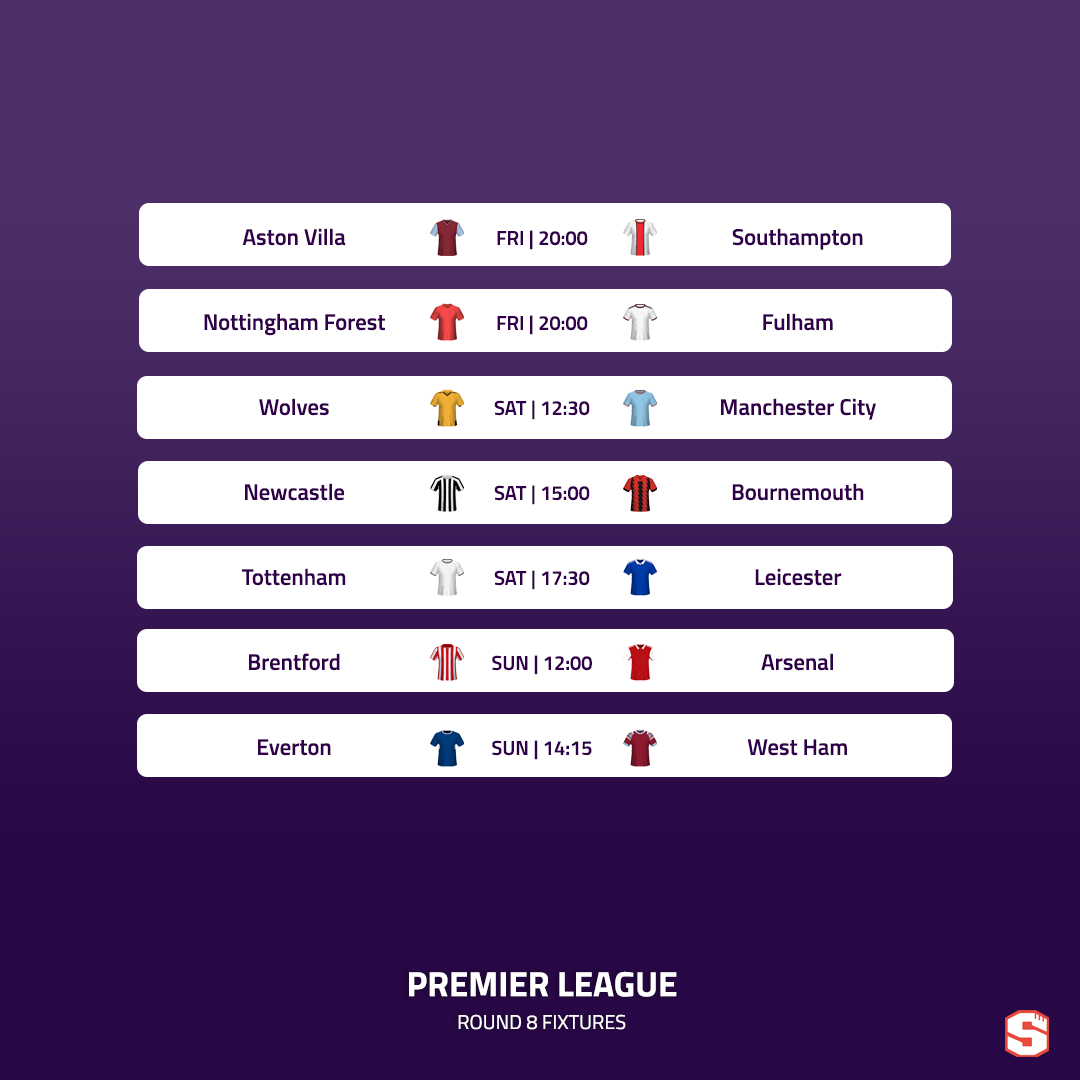 Aston Villa vs. Southampton
A very tricky one to start. Villa haven't been great but desperately need a win, while Southampton are just a nightmare to predict every week, really. I think a home win is probably slightly more likely as Villa should be really up for this under the lights in front of their own fans. If they don't pick up three points, I think Gerrard might be in trouble.
Prediction: Aston Villa 2-1 Southampton
Nottingham Forest vs. Fulham
A couple of weeks ago I'd probably have gone with Forest here since they're at home but their defeat to Bournemouth is a concern and Fulham have been fairly strong and consistent in their opening 6 games. Mitrovic is on fire and Fulham also have a great recent record at the City Ground so let's go with an away win.
Prediction: Nottingham Forest 1-2 Fulham
Wolves vs. Manchester City
First things first, Diego Costa being back in the Premier League should be great fun! I'm not sure he'll make his Wolves debut in this game, and he probably won't get the ball much even if he does, but I'm very interested to see how he does. This match is obviously likely to be won by City but I'm not sure they'll score as many as they did last season at Molineux as Wolves have been pretty strong defensively so far this season.
Prediction: Wolves 0-2 Manchester City
Newcastle vs. Bournemouth
Perhaps Bournemouth will continue to surprise us under Gary O'Neil but I think Newcastle should finally get another win on the board here. This is a great opportunity for three points and then with the international break coming up after this, Eddie Howe should have his big players back fit for October so that the Magpies can start building some momentum.
Prediction: Newcastle 2-0 Bournemouth
Tottenham vs. Leicester
I'm actually quite tempted by an upset here as Tottenham haven't been amazing for a few weeks now and that was finally reflected in a result in the Champions League in midweek, but Leicester's defence at Brighton was a horror show and Richarlison's form means I'm going with the expected home win. Brendan Rodgers is another manager who will be in big trouble in the upcoming international break if Leicester don't win this weekend but the Foxes really would have to turn things around quite a lot if they're to get a result.
Prediction: Tottenham 3-1 Leicester
Brentford vs. Arsenal
This is a really tough fixture for Arsenal and I think Brentford might be able to get a result. It sounds like Zinchenko might be out for the Gunners which would be a big blow and if Partey still isn't fit enough to start, that leaves Arsenal even more vulnerable. An away win is obviously the more expected outcome and I feel Arsenal will score a goal or two with the talent they have in attack but I think Brentford can match them as they're so strong at home and Ivan Toney is flying.
Prediction: Brentford 2-2 Arsenal
Everton vs. West Ham
A difficult one to finish with. Everton have made themselves very competitive this season but they clearly need to start winning games. I think West Ham are the stronger side but Everton's home advantage perhaps cancels that out somewhat and I actually think the Toffees might finally get a win on the board if Calvert-Lewin is fit enough to make the squad as they've had a lot of time to prepare for this game. Jordan Pickford's absence is a concern, and if Calvert-Lewin remains out I think I'll switch to a draw, but for now let's go with a narrow home win.
Prediction: Everton 2-1 West Ham
Good luck with your own Round 8 picks!
Keen to continue talking football and Superbru? Join our new Facebook group for Superbru Football Fans here.