Premier League: Round 6 Predictions
After a strong Round 4, it was back to quite a few incorrect picks in Round 5 for me unfortunately as I only had 4/10.
The other 6 were of course considered upsets, at least on Superbru, though I'm annoyed I talked myself into going for Spurs at West Ham!
We're straight into another round here though so let's see how things go. For last season's top four, remember the
Champions League
begins on Tuesday meaning minor squad rotation is possible, even so early in the season.
Make sure you've joined our
Champions League Predictor
,
Odds-based Fantasy
and
Europa League Predictor
games too!
Here are my thoughts on each game in Round 6 of the
Premier League Predictor
.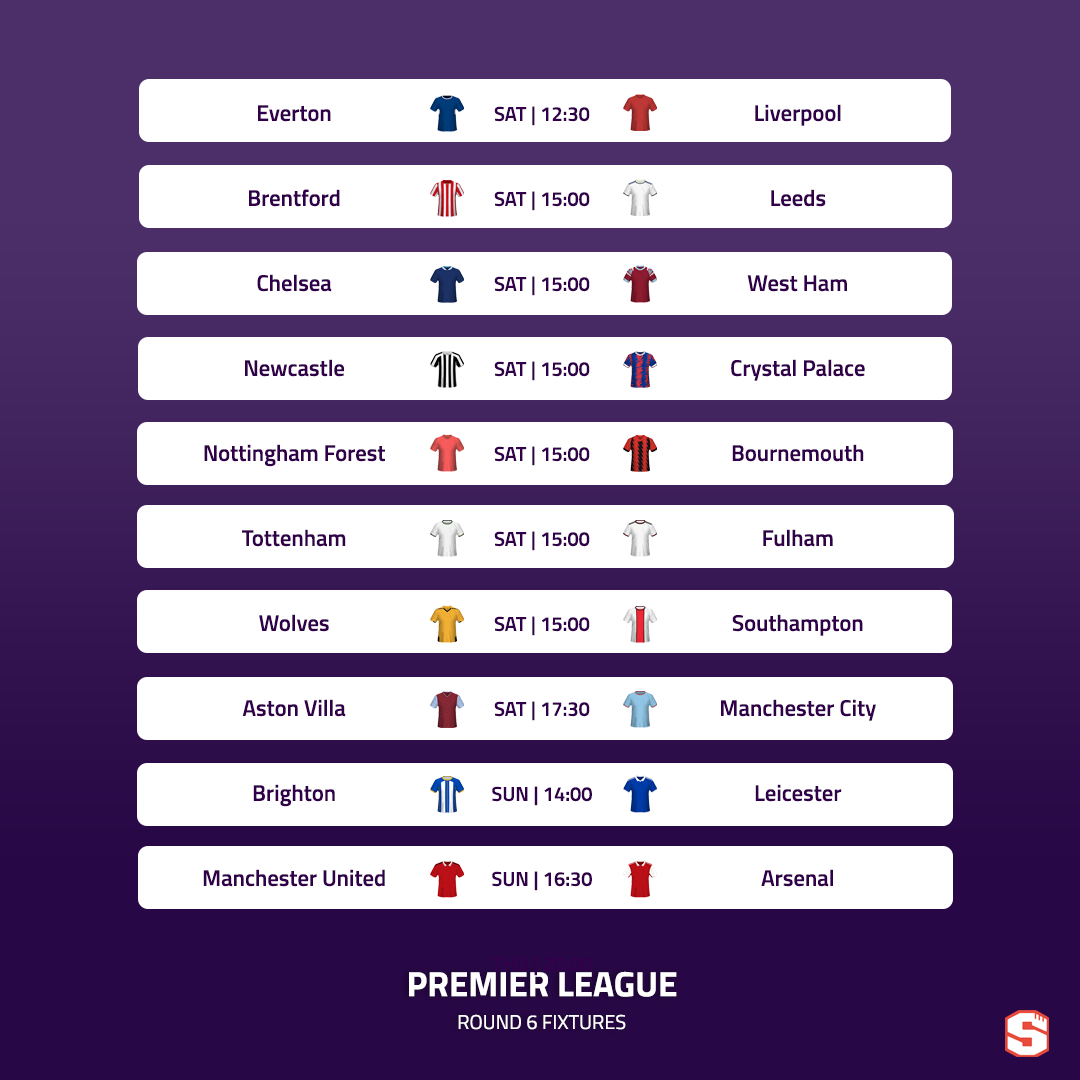 Everton vs. Liverpool
They're still dependent on Calvert-Lewin being back soon (and staying fit), but Everton have recruited pretty well this summer I think as they look fairly strong both in defence and in midfield now. Frank Lampard has made the Toffees difficult to beat in these opening weeks, but it's hard to see them winning a game until they have greater fire power in attack.
It's not impossible that this is another draw but I think you have to go with Liverpool. The controversially late winner against Newcastle is massive for them and I'm excited to see how Darwin Nunez goes on his return - there'll be around 40,000 people trying to wind him up again!
Prediction: Everton 0-2 Liverpool
Brentford vs. Leeds
Not an easy pick but with Rodrigo now injured and Bamford not fully fit I don't think, Brentford seem the more likely winners. Brentford aren't an easy team even with a fully available squad.
Prediction: Brentford 2-1 Leeds
Chelsea vs. West Ham
Chelsea have spent a lot of cash in this window so there's pressure on Tuchel to get his team firing sooner rather than later. The Blues haven't been very impressive outside of the Tottenham game so far this season but the Bridge remains a difficult place to go and West Ham rarely win there. I'm going with Chelsea but there's definitely potential for an upset here - it will be interesting to see how Fofana settles but once he has Tuchel should be selecting a far more consistent backline which will help.
Prediction: Chelsea 2-1 West Ham
Newcastle vs. Crystal Palace
Newcastle are probably favourites but I think Palace can get something at St James' Park following decent displays at Anfield and the Etihad. The hosts will definitely be after 3 points rather than yet another draw but I think Palace are good enough to get at least a point.
Prediction: Newcastle 1-1 Crystal Palace
Nottingham Forest vs. Bournemouth
I appreciate they lost a lot of players after coming up but I think even loyal Nottingham Forest fans would agree their transfer window became a bit ridiculous in terms of the number of players that have been brought in. That doesn't really affect this prediction though and there's certainly enough quality in a few of those new players to really trouble Bournemouth who in comparison, have very little attacking threat.
Prediction: Nottingham Forest 2-0 Bournemouth
Tottenham vs. Fulham
I tipped Fulham to stay up fairly comfortably this season but their start has been even better than expected and they'll continue to really trouble teams all whilst Mitrovic is scoring as frequently as he is. If this was at Craven Cottage I think they could get something but I think this trip to Tottenham will go similarly to their other recent away match in North London.
Prediction: Tottenham 2-1 Fulham
Wolves vs. Southampton
Toughest pick of the round for me. Wolves are definitely due a win, but absolutely love a draw, while Southampton are beginning to impress. When I feel all 3 outcomes are pretty much evenly possible, I tend to go with a home win and last season's meetings between these two backs that up.
Prediction: Wolves 1-0 Southampton
Aston Villa vs. Manchester City
Going into the Forest game, I thought this Villa match will be the one where Guardiola gives Haaland a rest ahead of the Champions League but it feels a bit silly to take him out of the team at the minute! Regardless of what happens there, Alvarez also looks clinical in front of goal and City should have too much for Villa who continue to look very flat under Gerrard who desperately needs a big performance from his team.
Prediction: Aston Villa 1-3 Manchester City
Brighton vs. Leicester
I think Leicester will start finding a few wins soon but they were pretty ordinary yet again against United and this is a tough fixture. My only concern with Brighton is that the goals could dry up again at some point but they're a very good side and it makes sense to pick them this week in my opinion.
Prediction: Brighton 1-0 Leicester
Manchester United vs. Arsenal
I'm not too sure about what will happen, but this should be fascinating. Everyone's wondering where both of these teams really are in terms of their level as Arsenal have that perfect record but are yet to face a big six side and United seem as if they might have turned a corner but it's also still very early days.
A couple of weeks ago there's no doubt I'd be picking Arsenal but I feel like United are the more likely winners now. Defensively, they look so much better with Dalot, Varane, Martinez and Malacia as their four, and with Casemiro likely to be starting each game very soon (perhaps including this one) that should only improve things further. I think Arsenal will miss Partey in this game and their lack of depth both in that area and now on the wings as well could prove a problem in the coming months in my opinion.
Prediction: Manchester United 2-1 Arsenal
Good luck with your own Round 6 picks!
Keen to continue talking football and Superbru? Join our new Facebook group for Superbru Football Fans here.