Premier League: Round 4 Predictions
Round 3 was obviously another tough one for us Superbru Predictor players but it was certainly an entertaining watch!
The final two games in particular, Newcastle vs. Manchester City and Manchester United vs. Liverpool, were very good viewing and so while it's frustrating that so many of us are getting so few of these early results correct (I had the community average of just 3/10), I think it's important to try and enjoy the upsets when watching as this is shaping up to be quite a season.
That said, here we go again and I'm very eager to start improving!
Here are my thoughts on each game in this weekend's round of the
Premier League Predictor
.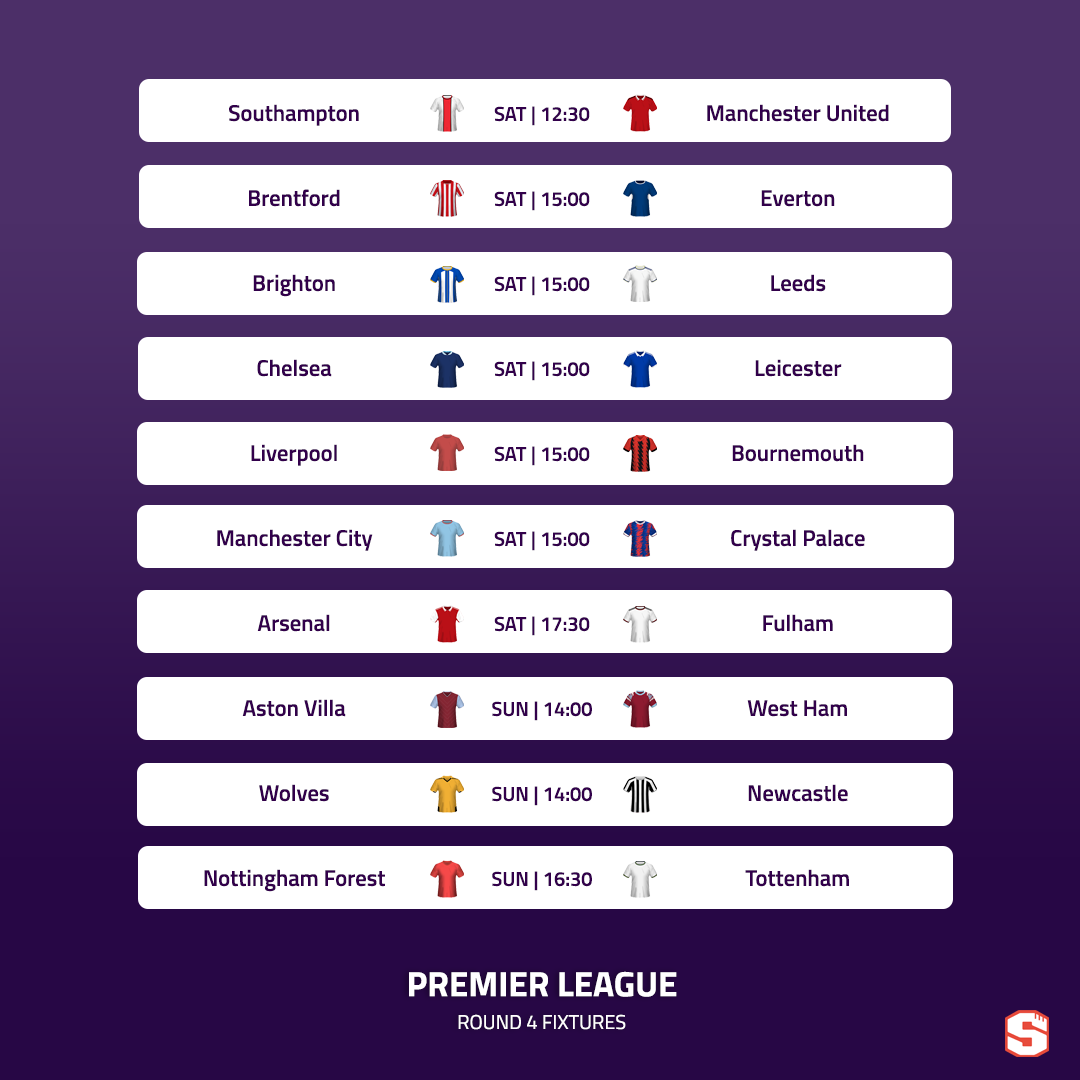 Southampton vs. Manchester United
Was Manchester United's performance against Liverpool a one-off because of the opponent and context, or has Erik ten Hag managed to find a better formula which can now kick on following that boost? I'm very wary of the former but leaning towards the latter so long as he continues with the changes he made for that Liverpool win. Southampton and particularly Che Adams have had a good week but I was really impressed with Tyrell Malacia and the centre back partnership of Martinez/Varane for United on Monday. If ten Hag sticks with them, plus adds Casemiro to the mix, I think the Red Devils will go OK here.
Prediction: Southampton 1-2 Manchester United
Brentford vs. Everton
Everton are still severely lacking attacking power so I'm going with Brentford for this one. The hosts haven't been short of goals in the first three rounds.
Prediction: Brentford 2-0 Everton
Brighton vs. Leeds
Both of these teams deserve a lot of credit for the starts they have had. I see Brighton as the slightly stronger side but Leeds couldn't be coming into this off the back of a better result really after that stunning 3-0 win over Chelsea. I'm tempted by the draw because of that but think I'll stick with Brighton.
Prediction: Brighton 2-1 Leeds
Chelsea vs. Leicester
Chelsea obviously need a response to last week in this game but there's certainly question marks about them following that result and Leeds and the lack of goals we've seen from their front 3 so far. I'm backing them to win here but more because of Leicester's issues than Chelsea's strengths - the Fofana saga is rumbling on and will obviously be a focus here since Chelsea are the club trying to buy him but Brendan Rodgers' update that James Maddison is now an injury doubt is also significant as he's started the season well despite the Foxes' results.
Prediction: Chelsea 2-1 Leicester
Liverpool vs. Bournemouth
Liverpool's display at Old Trafford was quite concerning, particularly defensively, so they're quite fortunate to have such a kind fixture now as it's a golden opportunity to try and finally get a win on the board. This has the potential to get nervy if they fail to start well, but with an early goal things could quickly become very routine for the Reds. I think Jurgen Klopp will be eager to see his team keep a clean sheet and there aren't too many goal threats in the Bournemouth XI.
Prediction: Liverpool 2-0 Bournemouth
Manchester City vs. Crystal Palace
I think this will be a battle for City and based on Palace's performances so far, they could well get a goal as Zaha has been clinical. However, after being in such a fight last weekend at Newcastle which they ended up doing well to take a point from, I expect City to make sure they get the job done here as they know how awkward Palace can be.
Prediction: Manchester City 3-1 Crystal Palace
Arsenal vs. Fulham
Arsenal fully deserve their current spot at the top of the table, they looked really impressive last weekend, and they should come on top again in this match despite Fulham's unbeaten start. It perhaps shouldn't be surprising that Zinchenko and Jesus have had such an instant impact given their experience in the Premier League but they really are looking like fantastic deals, particularly when considering the fees some other players are going for in this window.
Prediction: Arsenal 3-0 Fulham
Aston Villa vs. West Ham
It's been a dreadful start results wise for West Ham but I actually think they might get an away win here. Villa haven't convinced in their opening games either and West Ham have a good record in this fixture. Though the Brighton defeat last weekend will have been disappointing for the Hammers, the Seagulls are a good side and I said in last week's article about how unlucky West Ham were in Round 2 at Forest. What I'm trying to say is I'm not sure things are as bad as the form guide beneath their jersey on the picks page would suggest so let's go with an away win.
Prediction: Aston Villa 1-2 West Ham
Wolves vs. Newcastle
Wolves played quite well last week at Tottenham but it was Newcastle who stood out in Round 3 as they were brilliant against City. Following that performance, it's definitely tempting to pick the Magpies here but I think this will be close and there certainly won't be as many opportunities to counter attack for Newcastle this week. Callum Wilson's injury is also bad news for the visitors though it sounds as if they're trying to sign and register Alexander Isak in time for him to feature in this match - he's someone I'm very excited to see in the Premier League. Overall though I just think Wolves might be able to get a draw from this game with Jimenez now back.
Prediction: Wolves 1-1 Newcastle
Nottingham Forest vs. Tottenham
I think we could see a slight upset in this final game and I think I'm going to go for a draw. Tottenham haven't looked at their sharpest in the last couple of weeks and I think Forest will just keep improving as the quality players they have brought in get used to Steve Cooper's system. With the lively home crowd to consider as well, I think Spurs might struggle a bit but now that I've said this I'm sure Heung-min Son will find his goalscoring boots for the first time this season.
Prediction: Nottingham Forest 1-1 Tottenham
Good luck with your own Round 4 picks!
Keen to continue talking football and Superbru? Join our new Facebook group for Superbru Football Fans here.