Premier League: Round 38 Predictions
We've reached the final round! It's been a strange and very long season with the World Cup sandwiched in the middle of it (that Tuchel v Conte match early in the campaign feels as if it was at least two seasons ago) and we also have an unusually low key final day in terms of the title race and Champions League places with both of those already sewn up.
However, there is of course set to be plenty of drama in the relegation battle and I would not be looking forward to Sunday if I was an Everton, Leicester or Leeds fan. On Superbru, this is the time to be tactical as if you're behind in a few pools, now is the time to risk some upsets in the dead rubbers.
Personally, I'm doing OK in most of my pools so I'm looking to keep things fairly 'normal' with the odd bold pick to try and gain some extra places. Here are my predictions for Round 38 of the
Premier League Predictor
.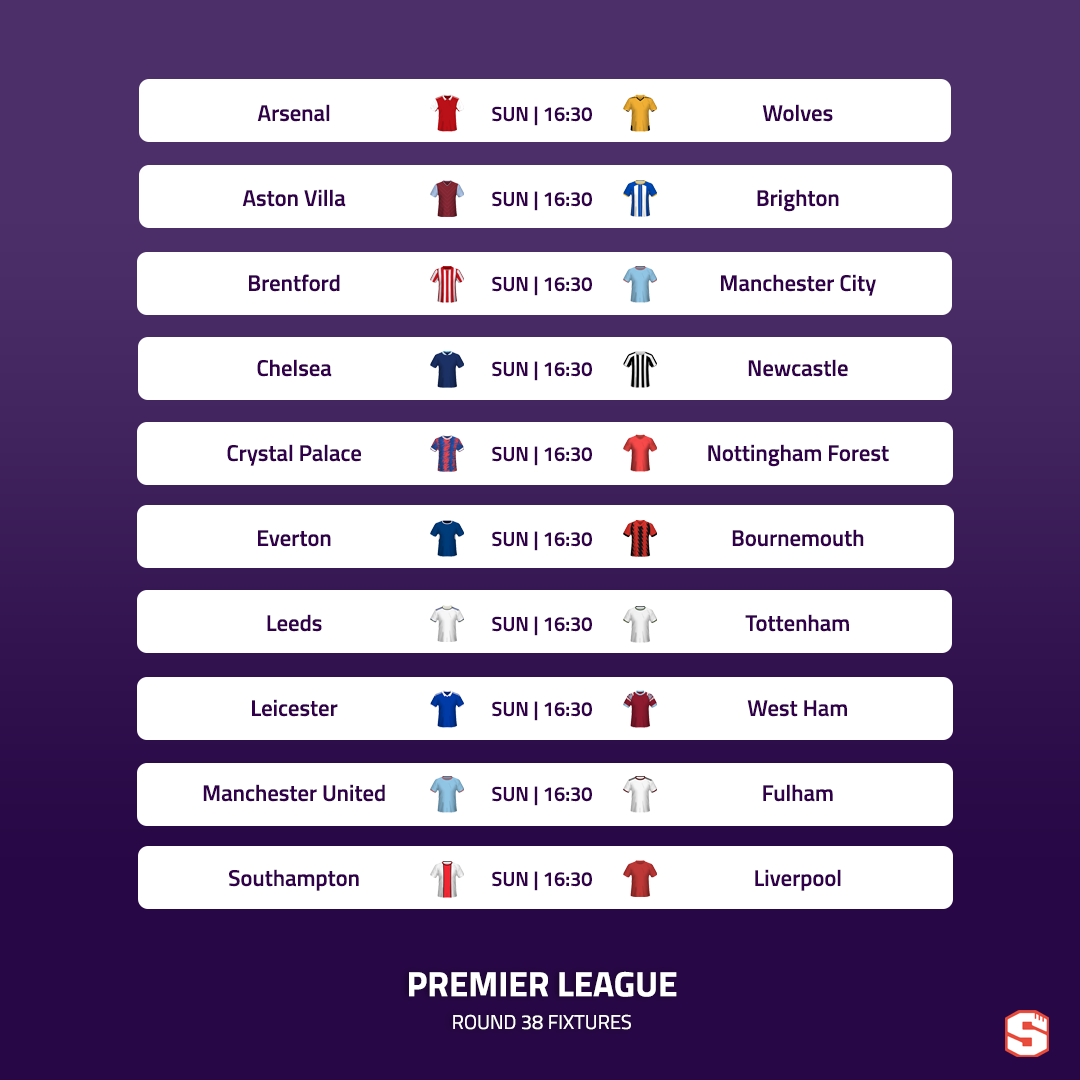 Arsenal vs. Wolves
I think there'll be a fairly positive atmosphere at the Emirates for this one as looking back at this season as a whole, there's no doubt it's been a good one for Arsenal and I expect them to finish on a high with three points. Wolves haven't been good away from home all season and there's a lot of players who may well be leaving them this summer as they need a squad refresh.
Prediction: Arsenal 3-0 Wolves
Aston Villa vs. Brighton
This is one of very few games that matter in the top half as Aston Villa will be very eager to maintain their spot in 7th and qualify for the Europa Conference League which would be a remarkable achievement given where they were when Emery took over. I think they can get the win they need now that Brighton have already secured Europa League football.
Prediction: Aston Villa 2-1 Brighton
Brentford vs. Manchester City
I think City will be eager to finish with a win as well so that they have positive momentum heading into their two cup finals. Brentford have of course already beaten City this season and could make it a double given their home form and the fact that they do have some motivation because of their outside chance of finishing 7th, but I still think an away win is likely and we'll see a fairly strong City team as we did at Brighton.
Prediction: Brentford 1-2 Manchester City
Chelsea vs. Newcastle
Chelsea will just be relieved the season is finally over after this game and Newcastle will likely be on the beach now that Champions League football is secured so I'm not expecting a classic here. Newcastle have obviously been the stronger side this season and are more likely to win but I think we might see a draw - perhaps since it's the final day and final home game of the campaign Chelsea will raise their level slightly and manage a goal/point.
Prediction: Chelsea 1-1 Newcastle
Crystal Palace vs. Nottingham Forest
Nothing to play for here and Forest can put their feet up after that brilliant win over Arsenal so I think Palace will come out on top in a pressure-free game. I'm excited to see who's in charge of the Eagles for next season as we've seen some really bright displays from Olise and Eze under Hodgson.
Prediction: Crystal Palace 3-1 Nottingham Forest
Everton vs. Bournemouth
Here we go then, time to switch from carefree, fun fixtures to the three matches that have more riding on them than any other matches these teams have played all season. Everton need to win and I've spent all week thinking they will do, but that's mainly just based on it being 'inevitable' because of what's at stake and the fact they found a way last season rather than any real logic. With Calvert-Lewin likely out and Bournemouth winning games on the road in recent weeks, there's plenty of danger here. I still feel the Toffees will just about do it but it is hard to know where there goals are coming from. To me, Tarkowski and Mina are a more likely source than their attackers?
Prediction: Everton 2-1 Bournemouth
Leeds vs. Tottenham
Leeds are in big trouble as I can't see both Everton and Leicester failing to win. Last week was such a big chance for them to pick up 3 points and they had several opportunities to score in the first half at West Ham but now that they've lost that, I think they're gone. In terms of this game, Tottenham have been terrible recently so are very beatable but when you've got Kane you're always dangerous in attack and Leeds heads could easily drop if they hear either Everton or Leicester are ahead early on? Spurs can obviously still get European football too so there is a carrot there, albeit a small one since it's the Europa Conference League.
Prediction: Leeds 1-2 Tottenham
Leicester vs. West Ham
As I've just said, I felt Leeds should have beaten West Ham last week and though the Hammers fielded a stronger side than I expected and played well in the second half of that match, I think this is a great opportunity for Leicester as David Moyes' priority is the upcoming Europa Conference League final. It could easily turn into a chaotic affair, given Leicester's defence this season, but I'm going with a high scoring win for the Foxes which if I'm right about Everton winning won't be quite enough. However, it will be if the Toffees only manage a draw and imagine the scenes at the King Power if Bournemouth get a late equaliser and I'm right with this scoreline!
Prediction: Leicester 3-2 West Ham
Manchester United vs. Fulham
Pretty much anything could happen here as it's a total dead rubber so I'm wondering if it's worth going for a draw as a potential upset? United weren't great against Chelsea on Thursday, it's just the Blues are much worse, and Fulham seem to be playing fairly well recently despite nothing being at stake for them for a while? United will likely win but let's chance it.
Prediction: Manchester United 1-1 Fulham
Southampton vs. Liverpool
Finally, this should be a win for a Liverpool as Southampton fall away without much of a fight. It sounds as if Klopp will be rotating (as I'm sure many other managers will) but the Reds will have the stronger lineup regardless and there's plenty of competition for places in their forward line so I think the attackers will be hungry.
Prediction: Southampton 1-3 Liverpool
Good luck with your own predictions and a big thank you to those of you that have taken the time to read these prediction pieces this season. It's been great to have plenty of you sharing your own thoughts in the comments each week and getting involved with the
Superbru Football Fans group
on Facebook. I hope you all have a great final round and hope to see you back next season!
Keen to continue talking football and Superbru? Join our Facebook group for Superbru Football Fans here.