Premier League: Round 37 Predictions
Round 36 wasn't too bad for me overall, with 7/11 fairly decent, but I'm frustrated I went with a draw for the final game last night as Newcastle's win has cost me a few leaderboard places!
Now we have what will likely be the weekend that sees City crowned champions once again. Monday night is also expected to be significant, as we could well see Newcastle seal their return to Champions League football and possibly Leicester relegated too?
Here are my predictions for Round 37 of the
Premier League Predictor
.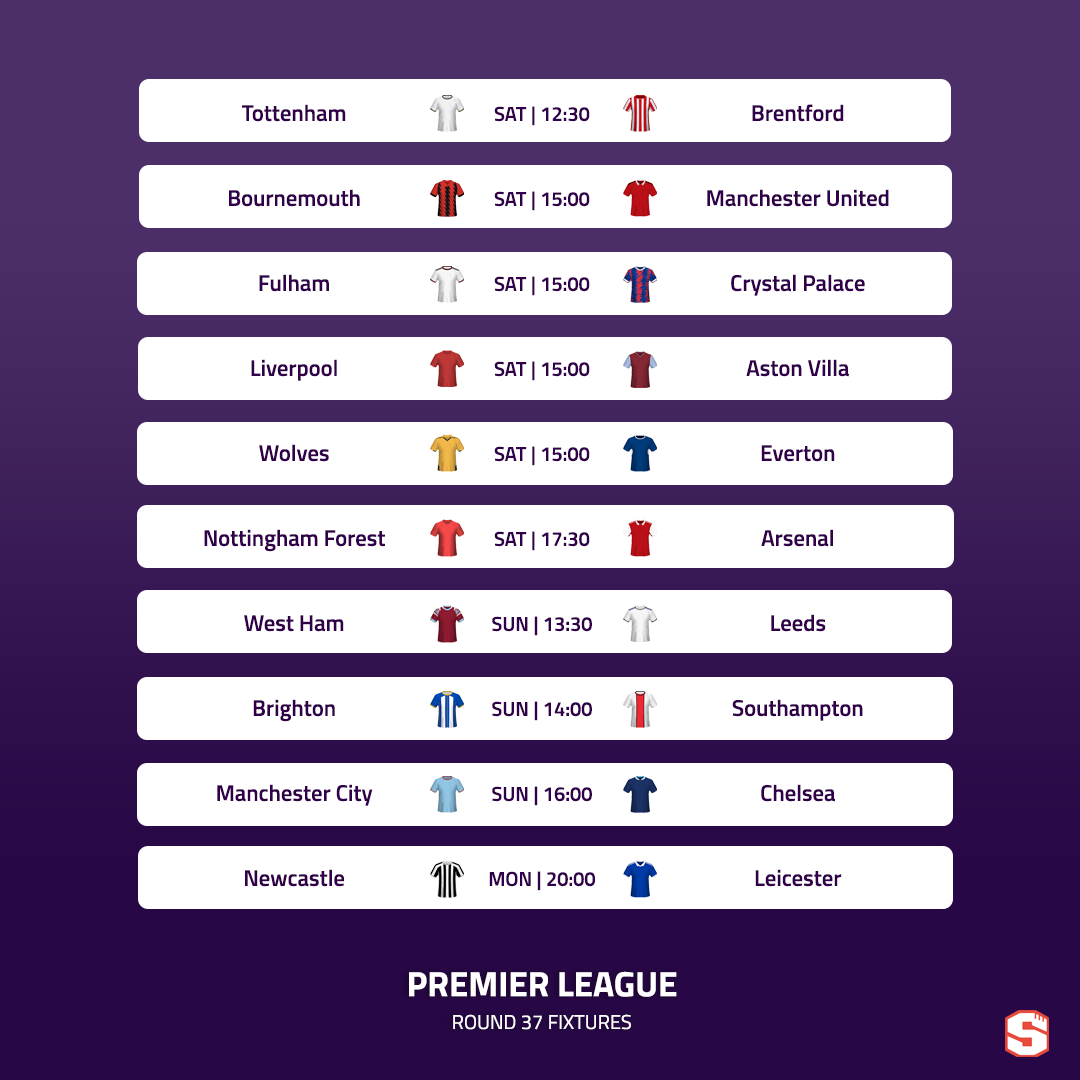 Tottenham vs. Brentford
Tottenham's form is ordinary but I think they can win this one as their home form is still fairly good and Brentford's away record isn't great. Brentford have obviously had a big distraction with the Ivan Toney news in the past couple of days and it's hard to know if that will have any effect but from a purely tactical point of view, he'll obviously be a big miss in attack (it sounds like he's injured anyway) and that naturally plays into Spurs' hands.
Prediction: Tottenham 2-1 Brentford
Bournemouth vs. Manchester United
United's away form is terrible but they really need to win this game unlike Bournemouth so I think I'm going with the Red Devils. I was surprised to see Gary O'Neil's name wasn't on the Manager of the Season shortlist as I think Bournemouth have shocked everyone by staying up this season but now that they've done that I think United should be able to take the points.
Prediction: Bournemouth 0-2 Manchester United
Fulham vs. Crystal Palace
This could go either way since the pressure is off for both teams but I think Aleksandar Mitrovic will be very motivated to be back playing at Craven Cottage following his long suspension and the Fulham fans will no doubt give him a huge reception so it's hard to go against the hosts in my opinion.
Prediction: Fulham 3-1 Crystal Palace
Liverpool vs. Aston Villa
I'd never have thought Liverpool were capable of putting together that perfect Superbru form streak of 7 straight green Ws a few weeks ago but they look good at the moment and should have too much for Villa at Anfield. I think Villa could be a problem next season even in big away matches like this if they get their recruitment right for Emery this summer but I'm not sure they'll get anything this weekend.
Prediction: Liverpool 2-0 Aston Villa
Wolves vs. Everton
This is a really difficult one as Wolves have won four on the bounce at home and will want to finish the season well at Molineux but Everton are the team with much more to play for. I was going to back the Toffees but Wolves' home record has made me hesitate and I'm now thinking a draw? I'll likely be checking the Wolves lineup to see whether or not Lopetegui is experimenting.
Prediction: Wolves 1-1 Everton
Nottingham Forest vs. Arsenal
I'm going for an upset here - I think Forest might win this. No team has gone to the City Ground and had an easy time this season and with so much at stake in this final home game for Forest, they're going to be right up for it. Arsenal will of course want to make City work for that final win but it would be understandable if they're a little flat following the Brighton defeat and they now have Gabriel Martinelli added to their injury list as well. A win for Forest would probably mean safety and they can't count on next week's fixture at Palace because their away record is woeful so I'm going with 3 massive points for Steve Cooper's team.
Prediction: Nottingham Forest 2-1 Arsenal
West Ham vs. Leeds
Similarly, this is a massive, massive chance for 3 points for Leeds. I know they've only won twice away from home all season, but West Ham were playing and then celebrating in the Netherlands on Thursday night and since their players will now be looking ahead to a European final in a few weeks, this feels like a golden opportunity for Sam Allardyce's team that they can't afford to miss. It feels risky with West Ham at home but I think we could well see a fairly similar performance to what they offered at Brentford last weekend?
Prediction: West Ham 1-2 Leeds
Brighton vs. Southampton
Brighton are playing a lot of matches at the moment as they make up their previously postponed fixtures but they need to get used to it if they're to play in Europe next season and they should manage a win here which would put them in a great position for Europa League qualification. We sometimes see teams perform well after their relegation has been confirmed as the pressure is off but Saints were really uninspiring last week against Fulham when you'd have thought there'd have been far more energy and attacking intent.
Prediction: Brighton 2-0 Southampton
Manchester City vs. Chelsea
If I'm right about Forest (there's a good chance I'm not) then City will already be champions ahead of this game but whether they are or they aren't, I can't see Chelsea troubling them. We're talking about the form team in Europe against a team that is the opposite and desperate for this season to end so I can only see one outcome.
Prediction: Manchester City 3-0 Chelsea
Newcastle vs. Leicester
A win here would seal Newcastle's Champions League return so the place will be absolutely bouncing and surely there's no chance of this Leicester defence being able to cope? I think we'll see a home win which will all but confirm Leicester's relegation based on my other picks and could even officially confirm their relegation if Everton win too.
Prediction: Newcastle 4-1 Leicester
Good luck with your own predictions - I'll add some thoughts on the two midweek games nearer the time!
UPDATE: Tuesday 23 May
So I've had 5/10 in this round so far and I'm incredibly thankful to Yerry Mina for that 99th-minute goal that gave me an Exact for Wolves 1-1 Everton! Probably not quite as thankful as Everton fans are but very thankful nevertheless.
Brighton vs. Manchester City
This should just be a bit of fun for both teams really as the title is all sorted for City and Brighton have basically already guaranteed Europa League football next season which is a truly incredibly achievement. With both teams playing without pressure, you'd expect City to edge what should be an entertaining game.
Prediction: Brighton 1-2 Manchester City
Manchester United vs. Chelsea
Unusually, Chelsea at home is actually a very favourable fixture for Man Utd to have this season as they look to seal Champions League football and I'm fairly sure they'll take all 3 points. The Blues seem to have given up on this campaign quite some time ago.
Prediction: Manchester United 2-0 Chelsea
Keen to continue talking football and Superbru? Join our Facebook group for Superbru Football Fans here.