Premier League: Round 36 Predictions
I was disappointed with only 4/10 in Round 35 and have slipped down a few leaderboards as a result but there are still 3 rounds to try and get back on top so let's hope for a better weekend this time!
The remaining rounds are of course going to filled with a few huge fixtures at each end of the table and some 'dead rubbers' which are often harder to predict.
Here are my predictions for Round 36 of the
Premier League Predictor
.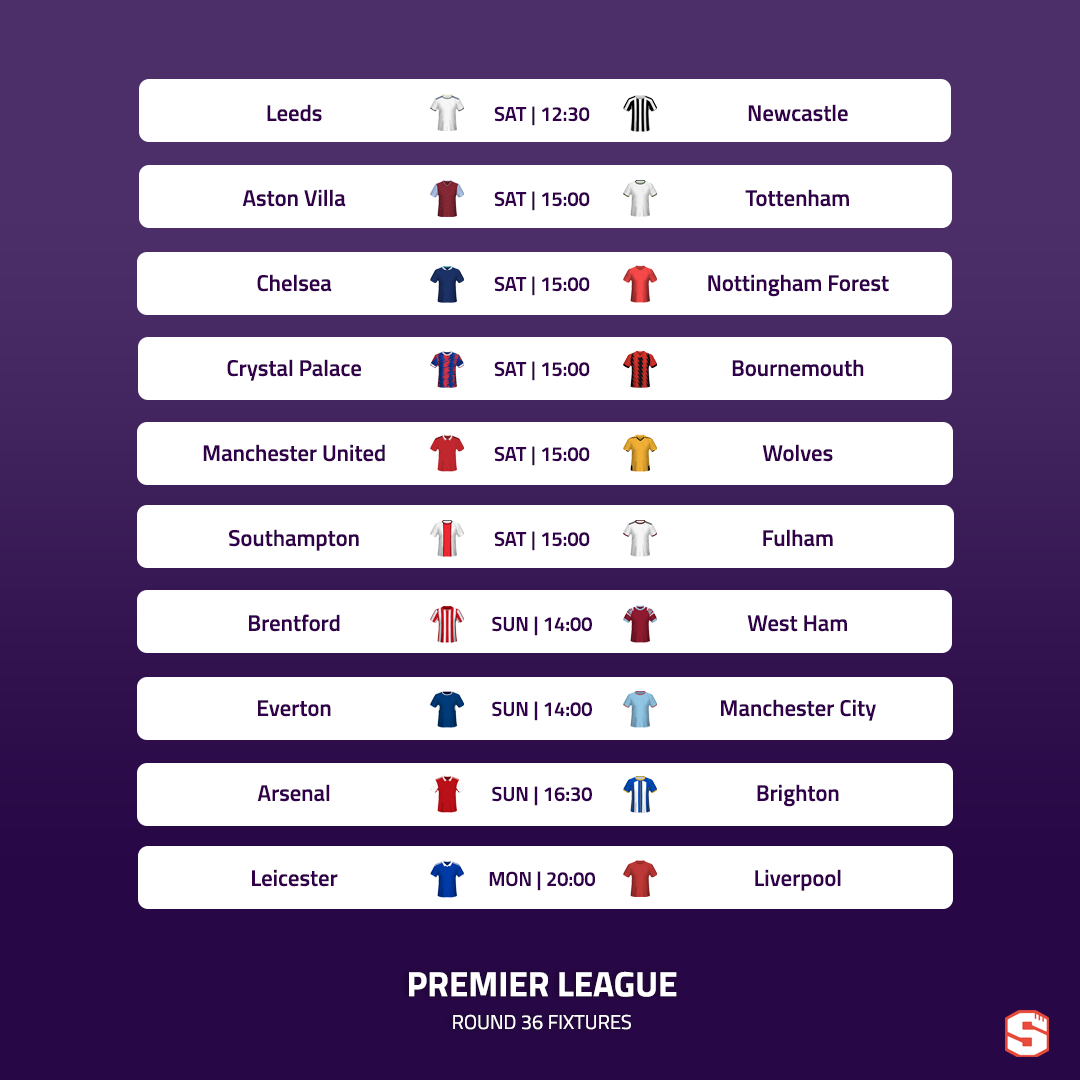 Leeds vs. Newcastle
I think this will be a real battle as Leeds will put up a fight as they try to save themselves in Allardyce's first home game in charge but I'm just not sure they're good enough defensively to get a result. I was tempted by a draw but Newcastle should be taking the points, particularly since Liverpool are suddenly threatening the Champions League places.
Prediction: Leeds 1-2 Newcastle
Aston Villa vs. Tottenham
Tricky one. Villa are good at home and Spurs aren't good away so it feels simple in that sense but after a couple of defeats for Villa there's some doubt there and Tottenham's record at Villa Park has also made me hesitate! You can't really ignore how badly Spurs have defended in recent away games though so I think Ollie Watkins might enjoy his afternoon.
Prediction: Aston Villa 2-1 Tottenham
Chelsea vs. Nottingham Forest
Chelsea finally have a win to their name so it makes sense that they can follow up with another one here given how bad Forest's away record is. This still represents a chance for much needed points for Forest in my opinion, but they always seem to lose on the road and Lampard will want a home victory during his interim reign.
Prediction: Chelsea 2-0 Nottingham Forest
Crystal Palace vs. Bournemouth
The pressure is off for both of these sides so hopefully we see some goals and Palace look better equipped for that kind of game. Eberechi Eze has been a joy to watch recently and I'm going with a home win.
Prediction: Crystal Palace 3-1 Bournemouth
Manchester United vs. Wolves
It's still hard to pick against United at home despite their recent away defeats, particularly when they're hosting Wolves who haven't been good when playing away from Molineux. Julen Lopetegui deserves plenty of credit for already ensuring Wolves are safe but that should make this fixture easier for United.
Prediction: Manchester United 2-0 Wolves
Southampton vs. Fulham
Will Southampton fight their way to a win to keep their tiny chance of survival alive? Or are they already resigned to relegation after the Forest defeat? I think the latter is more likely and they haven't been scoring many goals at home.
Prediction: Southampton 0-1 Fulham
Brentford vs. West Ham
I think a Brentford win makes sense here, particularly now that West Ham are essentially safe and can fully focus on their European semi-final. Even if that wasn't the case, Brentford is a tough place to go.
Prediction: Brentford 3-0 West Ham
Everton vs. Manchester City
This should be interesting as it's an awkward fixture for City at an inconvenient time - by that I mean in between their Champions League semi-final legs vs. Real Madrid though more specifically, Guardiola has also understandably complained about being made to play on Sunday. City should of course win regardless but I didn't see Everton's result at Brighton coming in a million years and I"m sure many of their fans are the same so it should be quite an atmosphere at Goodison.
Prediction: Everton 0-2 Manchester City
Arsenal vs. Brighton
Brighton will be very eager to respond to that surprise scoreline against Everton on Monday and I think they'll compete well here but Arsenal are the more likely to win after that win at Newcastle which I didn't expect them to get. Martin Odegaard has been really impressive all season but especially in the last few weeks and he could well be the difference again.
Prediction: Arsenal 3-1 Brighton
Leicester vs. Liverpool
Leicester are now in deep, deep trouble and I can't see them winning this. Their defence has just been so poor which really doesn't bode well ahead of facing Liverpool. I think Dean Smith side's will score and they need to go on the attack but Liverpool will likely score more so let's go with a bold scoreline to end the round.
Prediction: Leicester 2-4 Liverpool
Good luck with your own predictions - feel free to let me know what they are in the comments!
Newcastle vs. Brighton
This has become a massive fixture after the weekend results - Brighton have shown how capable they are of winning this match with that victory over Arsenal and Newcastle are under pressure to maintain their top four place having dropped points at Leeds. It's a really tough pick and my main thought is just that I'm looking forward to watching the game! I think Newcastle will be strong enough in front of their home crowd to avoid defeat but I'm not convinced they'll take all three points so I'm going with a draw which wouldn't be too bad a result for either side?
Newcastle 1-1 Brighton
Keen to continue talking football and Superbru? Join our Facebook group for Superbru Football Fans here.