Premier League: Round 35 Predictions
After Round 34 was fairly kind to a lot of us in terms of predictability (I had 11/13 with a couple of Exacts), it will be interesting to see how this weekend goes with the stakes getting higher and higher as we approach the end of the season.
I think we could see fairly big moments in both the title race and the relegation battle in this round...
Here are my predictions for Round 35 of the
Premier League Predictor
.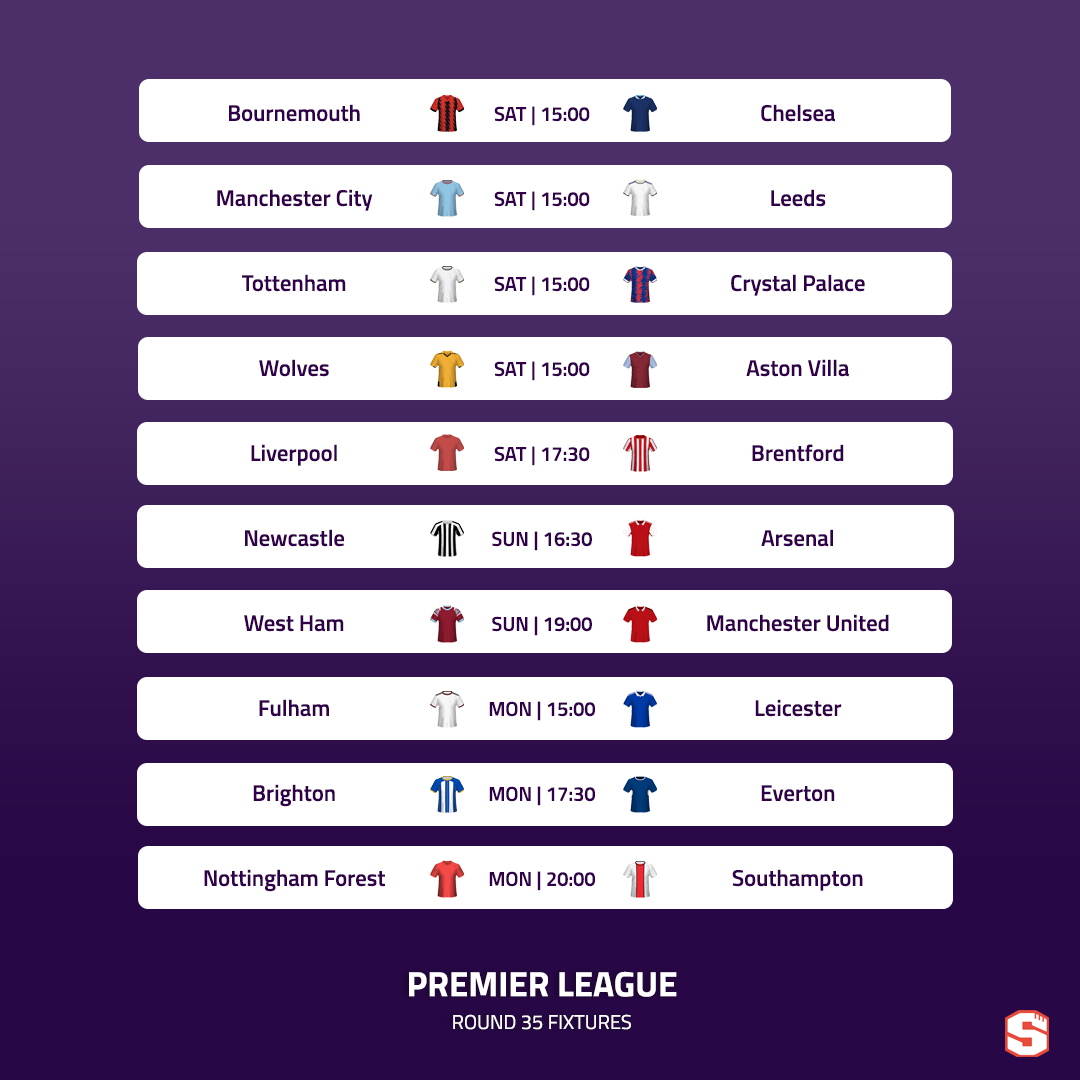 Bournemouth vs. Chelsea
People keep expecting Chelsea to finally show improvement but it's not happening and I'm not sure they will in this match either as even when they were good they seemed to struggle at Bournemouth. The Cherries will be right up for this in front of their own fans after such good recent results and I think they'll get at least a point so let's back them for all three.
Prediction: Bournemouth 2-1 Chelsea
Manchester City vs. Leeds
I'm interested to see how Allardyce goes with Leeds on such a short-term contract and I suppose there's a tiny chance of a new manager bounce, particularly since City have one eye on Real Madrid, but in reality this should be very comfortable for the hosts.
Prediction: Manchester City 4-0 Leeds
Tottenham vs. Crystal Palace
Tottenham remain fairly poor but they have at least shown some spirit in their games under Ryan Mason so far and they're still fairly difficult to beat when playing at home. Palace are safe after such excellent results under Hodgson but I think with the pressure now off for the Eagles we'll likely see a narrow Tottenham win.
Prediction: Tottenham 2-1 Crystal Palace
Wolves vs. Aston Villa
I don't think Villa are going to suddenly fall off track this season after that loss at United by any means but this is another very difficult away fixture for them and I think we might see a draw. Wolves' home form has been excellent and they'll be up for this derby so I think they can probably just about match Villa, especially since they need to make up for that pretty embarrassing showing at Brighton last weekend.
Prediction: Wolves 1-1 Aston Villa
Liverpool vs. Brentford
Liverpool are still miles from the level we've seen from them in previous seasons but they've managed to build a great winning run regardless and I expect them to just about edge this game too since they're the side playing at home. Brentford will likely find a goal but they tend to be a lot weaker on the road than they are when at home.
Prediction: Liverpool 3-1 Brentford
Newcastle vs. Arsenal
This is where I think there'll be a likely fatal shift in the title race for Arsenal as assuming City beat Leeds, I don't think they can match that result with a victory here. Newcastle have obviously been very strong this season, particularly at St James' Park, and I have doubts over whether or not Arsenal will be able to cope with both the attacking talent and atmosphere that will be on show. It should be a great game, as Arsenal are very capable of scoring a few themselves, but I think Newcastle are favourites and I'd be quite surprised if Arsenal pick up more than a point.
Prediction: Newcastle 3-2 Arsenal
West Ham vs. Manchester United
I think West Ham will give this a real go after playing at City with a weakened side and it will be a difficult evening for Manchester United but one they should just about be able to cope with? Much has been made about United's poor away record after that loss at Brighton but they tend to do OK on the road against the sides in the bottom half of the table and there's some pressure to pick up points now that Liverpool are on the rise. West Ham are obviously still under pressure themselves and could really do with 3 points but I think the visitors will sneak it.
Prediction: West Ham 1-2 Manchester United
Fulham vs. Leicester
This is the most difficult pick of the round in my opinion as it's Leicester who have more to play for but Fulham's recent displays against some strong teams have made me think they're still likely to be very competitive and if they turn up close to their best then they'll win. However, their attack remains depleted by the absence of Mitrovic so with Leicester fighting relegation and Vardy starting to look a little more like 2015/16 Vardy, it's tempting to back the Foxes? I'm very wary of Leicester's shaky defence but I'm gambling on a narrow away win because I don't think they'll go down.
Prediction: Fulham 1-2 Leicester
Brighton vs. Everton
I'm more pessimistic about Everton's survival chances as I can't see them winning this weekend, nor their next game, and probably not the one after that either. Brighton look excellent at the moment and though they have some very tough fixtures still to come, they can put themselves in a great position on the table with another win here.
Prediction: Brighton 2-0 Everton
Nottingham Forest vs. Southampton
Surely we won't see a big twist in the relegation battle with Southampton winning this? It would certainly add even more excitement but I think a home win is quite likely in this game as Forest have been pretty good at the City Ground and there'll be a very strong atmosphere. Other than the mini highlights against the North London teams we've seen very little from Saints for a while now and I think their relegation will be all but confirmed with a defeat in this one.
Prediction: Nottingham Forest 3-1 Southampton
Good luck with your own predictions - feel free to let me know what they are in the comments!
Keen to continue talking football and Superbru? Join our Facebook group for Superbru Football Fans here.