Premier League: Round 34 Predictions
The midweek round was a rough one for me with just 3 correct picks out of 10. The tactic of picking teams that really need to win to actually do so hasn't been going well so perhaps it's time for a re-think in this round!
Here are my predictions for Round 34 of the
Premier League Predictor
. Feel free to leave your own in the comments.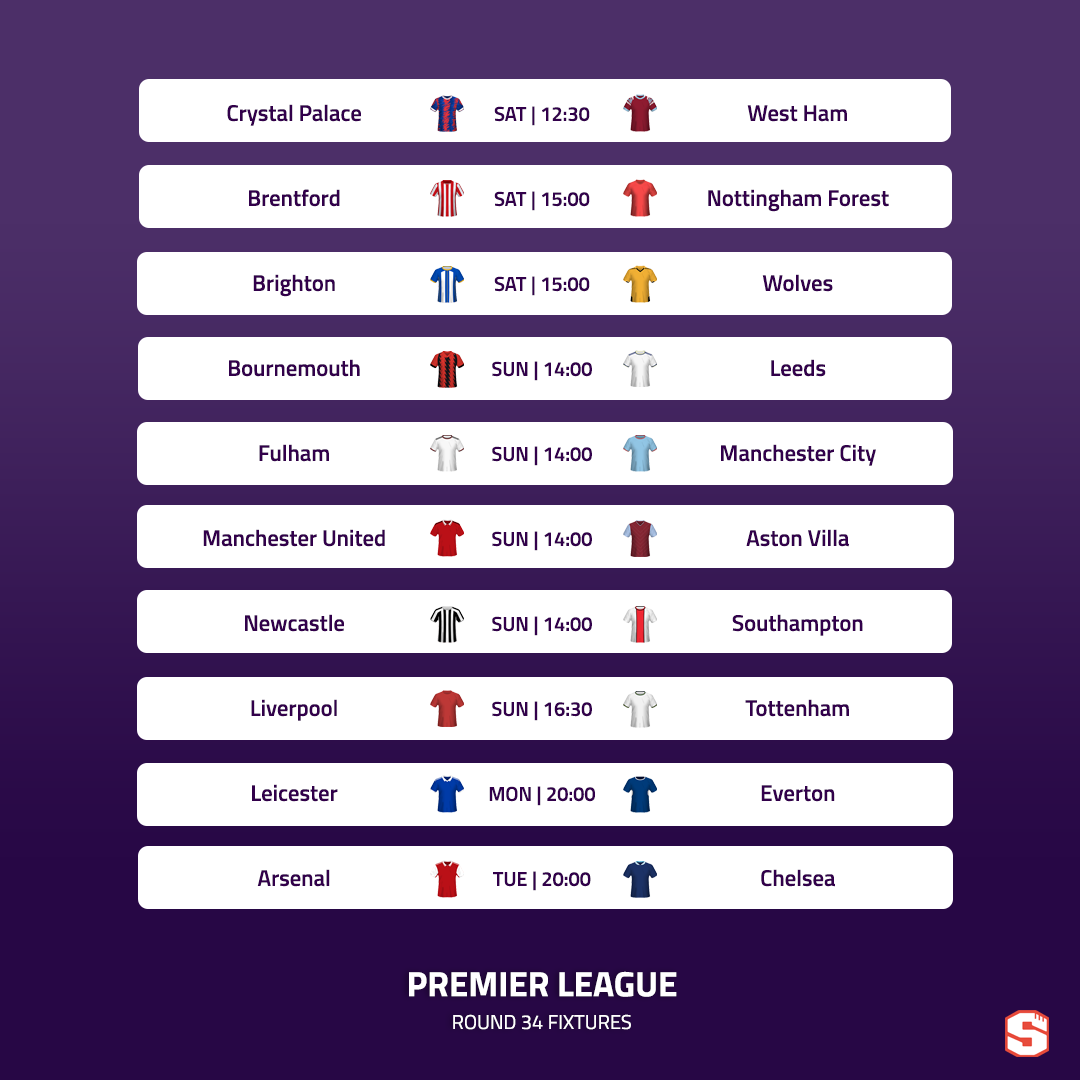 Crystal Palace vs. West Ham
Not an easy start but I think I'm going with Palace despite West Ham's recent improved away form. It sounds as if Zaha will be back for Palace which is obviously a significant boost and they're always tough to beat at Selhurst Park.
Prediction: Crystal Palace 2-1 West Ham
Brentford vs. Nottingham Forest
Forest got that impressive win over Brighton in midweek but I still don't trust them on the road so I'm backing Brentford here. Winning at Stamford Bridge isn't quite the achievement it usually is this season but it was still important for Brentford to get back to winning ways and now that they have I think they'll be OK in this game.
Prediction: Brentford 2-0 Nottingham Forest
Brighton vs. Wolves
Another one where home advantage makes sense to me as Brighton are the stronger side and Wolves are far better at Molineux than they are on the road. There's still lots at stake for Brighton so I expect them to bounce back from that loss at Forest.
Prediction: Brighton 2-0 Wolves
Bournemouth vs. Leeds
Bournemouth deserve so much credit for the position they've got themselves in, I'm sure I wasn't alone in thinking they'd be bottom of the pile this season. This is a difficult pick though as they can't stop winning away but have actually been poor in their last two home games. Leeds aren't a team I pick very often as you can't really trust them for a result but I feel like they could manage a point? I think there'll be goals.
Prediction: Bournemouth 2-2 Leeds
Fulham vs. Manchester City
Manchester City look absolutely top class at the moment so I'm obviously backing them over Fulham. The constant treble chat at this stage of every season is tiresome but the fact that they're in a position to be in with a chance so consistently is very impressive and it's certainly hard to see anyone stopping them from winning another Premier League title now.
Prediction: Fulham 0-3 Manchester City
Manchester United vs. Aston Villa
I think this might be where Aston Villa's unbeaten run finally comes to an end - they've been slightly less convincing in their last couple of games (though still getting results!) and Manchester United's home form is impressive. A draw is tempting but United tend to find a way at Old Trafford.
Prediction: Manchester United 2-1 Aston Villa
Newcastle vs. Southampton
I think Southampton are down after that Bournemouth loss and it's certainly unlikely they'll find any points at St James' Park. Newcastle are on fire at the moment - Alexander Isak continues to be a joy to watch.
Prediction: Newcastle 3-1 Southampton
Liverpool vs. Tottenham
Tottenham almost never win at Anfield and it definitely doesn't feel like this is the season where they can change that. Liverpool are finally finding a bit of momentum and it never feels wise to go against them at Anfield.
Prediction: Liverpool 3-1 Tottenham
Leicester vs. Everton
A massive fixture for both teams but I feel like Leicester are quite strong favourites at the King Power. The Foxes seem to be making steady progress under Dean Smith whereas you've got to fear for Everton given their recent performances and remaining fixtures.
Prediction: Leicester 2-0 Everton
Arsenal vs. Chelsea
It feels like Chelsea might not even manage another point all season (or a goal!) so you have to go with Arsenal here even after their disappointing loss at City. It's not often Arsenal will see a derby fixture against Chelsea as a favourable match to have when trying to get back on form but the Blues really are a mess this season.
Prediction: Arsenal 2-0 ChelseaUPDATE:
A fairly kind round so far in terms of predictability and I've managed 8/10. More home wins to come?
Liverpool vs. Fulham
I don't think there'll be an upset here, despite Liverpool's defensive issues. Fulham are missing a few key players so they aren't as well placed as usual to take some of the chances they'll likely get.
Prediction: Liverpool 3-1 Fulham
Manchester City vs. West Ham
A similar story here as we should see a fairly routine home win. West Ham need to be slightly careful because of their tough remaining fixtures but if they're looking at prioritising where their points are likely to come from, they've far more of a chance of beating Man United at home on Sunday than they have of beating City here.
Prediction: Manchester City 3-0 West Ham
Brighton vs. Manchester United
This is a much more difficult pick to finish with but I think I'm sticking with the home win trend as Brighton have had the better of United in recent league meetings and probably deserved to edge the recent FA Cup semi-final too. The Seagulls were excellent at the weekend and United aren't always great on the road.
Prediction: Brighton 2-1 Manchester United
Keen to continue talking football and Superbru? Join our new Facebook group for Superbru Football Fans here.