Premier League: Round 33 Predictions
After a reasonably good 4/8 with 2 Exacts in Round 32, it's now time for what should be a very entertaining midweek round as we have some absolutely huge fixtures at both ends of the table.
Here are my predictions for Round 33 of the
Premier League Predictor
. Feel free to leave your own in the comments.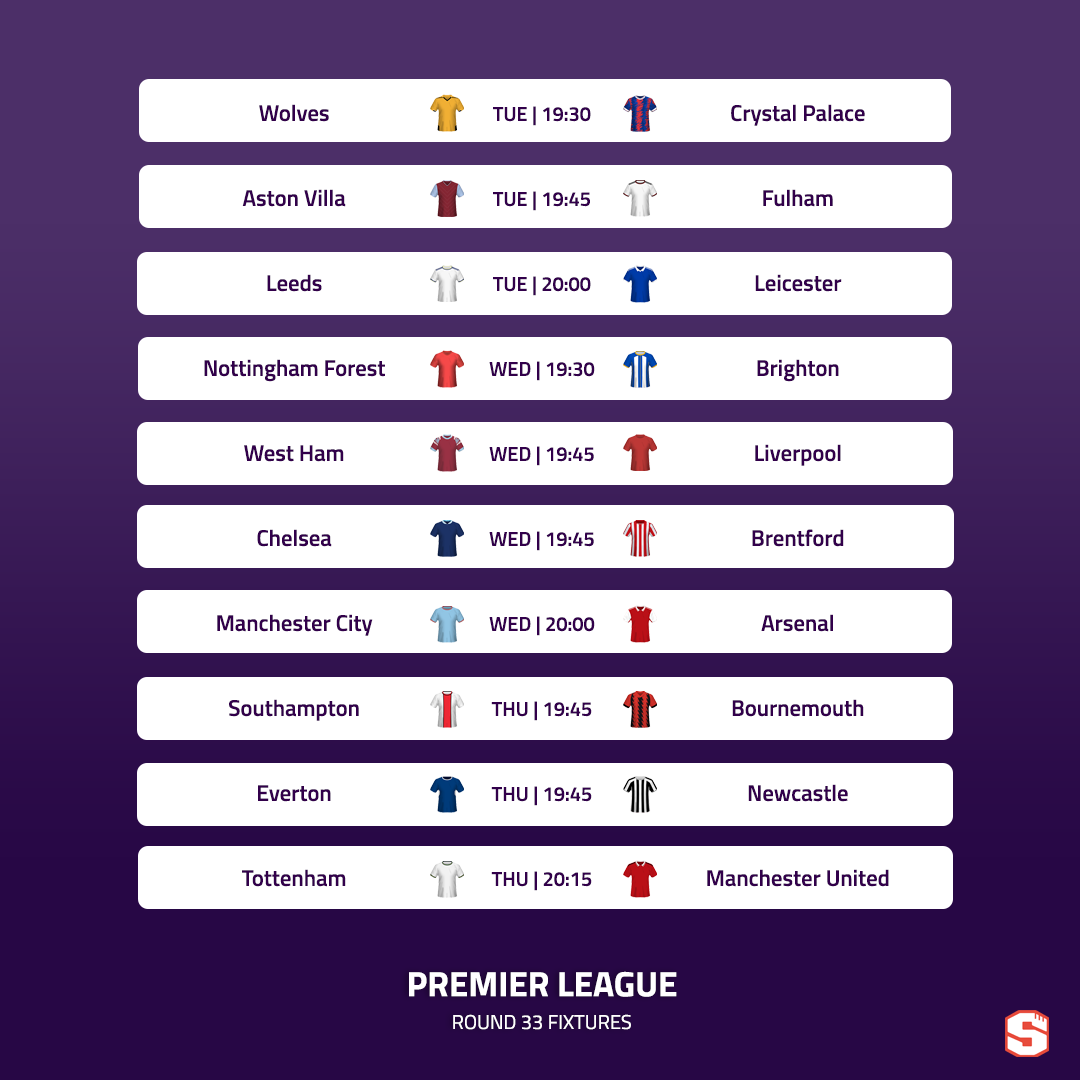 Wolves vs. Crystal Palace
This is an awkward one to start with as Palace remain unbeaten under Hodgson and Wolves are tough to beat at Molineux. I don't think I'm confident enough in either team to back to them so I'm going with a draw - it's also hard to tell how both will respond to the quick turnaround as neither squad is used to playing every 3/4 days.
Prediction: Wolves 1-1 Crystal Palace
Aston Villa vs. Fulham
This should be a home win. Fulham have done well to get back on track a little with consecutive wins but this is a very tricky fixture against one of the form sides in the league who have more to play for than the Whites.
Prediction: Aston Villa 2-0 Fulham
Leeds vs. Leicester
A truly crucial match for both teams but based on recent form, I feel Leicester are the more likely to win? It feels strange to be going against the home side in a game with so much at stake, but Leeds' recent home matches have been disastrous. Dean Smith selected a very attacking lineup for the win over Wolves at the weekend and there's no reason why he shouldn't here too given Leeds' defence.
Prediction: Leeds 1-2 Leicester
Nottingham Forest vs. Brighton
I'm a little hesitant on this one as it feels an upset is possible with Forest in desperate need of points and Brighton potentially still a little deflated by their FA Cup exit on penalties, but if both play to their usual form then there's only one winner. It's always hard to pick against Brighton because they're so well drilled.
Prediction: Nottingham Forest 0-1 Brighton
Chelsea vs. Brentford
There's little reason to suggest Chelsea are suddenly capable of winning games, other than the fact they've had a fair bit of time off since they weren't playing at the weekend which could lead to improvement? Brentford have a decent record against the Blues and even though their form streak is also poor, I feel they might get something at the Bridge.
Prediction: Chelsea 1-1 Brentford
West Ham vs. Liverpool
This is another difficult prediction as it feels like Liverpool should win, but then West Ham suddenly look decent again and Liverpool's away record is obviously poor this season. I'm a little worried West Ham might ease up again after their excellent display at Bournemouth which has moved them six points clear of the relegation zone and so they end up getting hammered here but based on their current form I'm going with a score draw. Liverpool can clearly be got at so if West Ham are at it then there's goals for them.
Prediction: West Ham 2-2 Liverpool
Manchester City vs. Arsenal
This is the 'big one' we've all been waiting for but it feels as if it's likely to be quite one sided as these teams are going in opposite directions at the moment. Over the course of the season I've gone from being adamant Arsenal will fall away, to being slightly doubtful that they will after all ahead of the Liverpool game, to now being surprised that they are doing so quite so quickly all of a sudden - I never saw that Saints result coming in a million years.
At the Etihad, it's hard to see them standing a chance having lost the reverse fixture. Saliba's injury has proved very costly and if you concede 3 against Southampton, it doesn't bode well ahead of facing this City team. Even if Arsenal somehow win this game, I think City are likely to win the title but I can only see a victory for the hosts.
Prediction: Manchester City 3-1 Arsenal
Everton vs. Newcastle
I'm not sure Everton will have quite enough quality to keep Newcastle out and get any points here, but they'll certainly make life far harder for the Magpies than Spurs did. This is going to be what has become a fairly typical Everton home game in the second half of the season these days as they fight for their lives in front of an excellent crowd and hope to keep a clean sheet while taking one of the few chances they get themselves. The problem is Newcastle are very good this season, and they've got City in their next home game, so the Toffees are going to have to pick up points on the road in order to survive in my opinion.
Prediction: Everton 0-2 Newcastle
Southampton vs. Bournemouth
This is Southampton's final chance to get themselves 'back in the mix' I think as a loss would give them too much to do. Bournemouth are the form side but the manner of that defeat on Sunday is concerning and I'm picking Saints simply because they have to win which isn't exactly a fool proof Superbru tactic but I feel like it works more often than not in relegation battle fixtures like this.
Prediction: Southampton 2-1 Bournemouth
Tottenham vs. Manchester United
Finally, we have a game in the 'top four race' which pretty much feels as if it's already over following Spurs' result at Newcastle which has left them with interim interim manager Ryan Mason now at the helm. Spurs really do look dreadful at the moment so I'm going with United. I don't expect a great performance from United either without their first choice centre back pairing but they should still be capable of winning this match and certainly scoring a couple of goals against this Tottenham defence.
Prediction: Tottenham 1-2 Manchester United
Good luck with your own predictions!
Keen to continue talking football and Superbru? Join our new Facebook group for Superbru Football Fans here.