Premier League: Round 32 Predictions
It's fair to say my strong run of Predictor form is over, after a disappointing 3/10 in Round 31. However, like Newcastle, I'll be looking to bounce back strongly this weekend and hopefully the fact that there's only 8 games will make things less painful for us all.
The reason for there only being 8 games is due to the
FA Cup semi-finals
taking place this weekend at Wembley! I can't see City losing but Brighton v Manchester United should be a great game and I'm leaning towards the Seagulls...
Here are my predictions for Round 32 of the
Premier League Predictor
. Feel free to leave your own in the comments.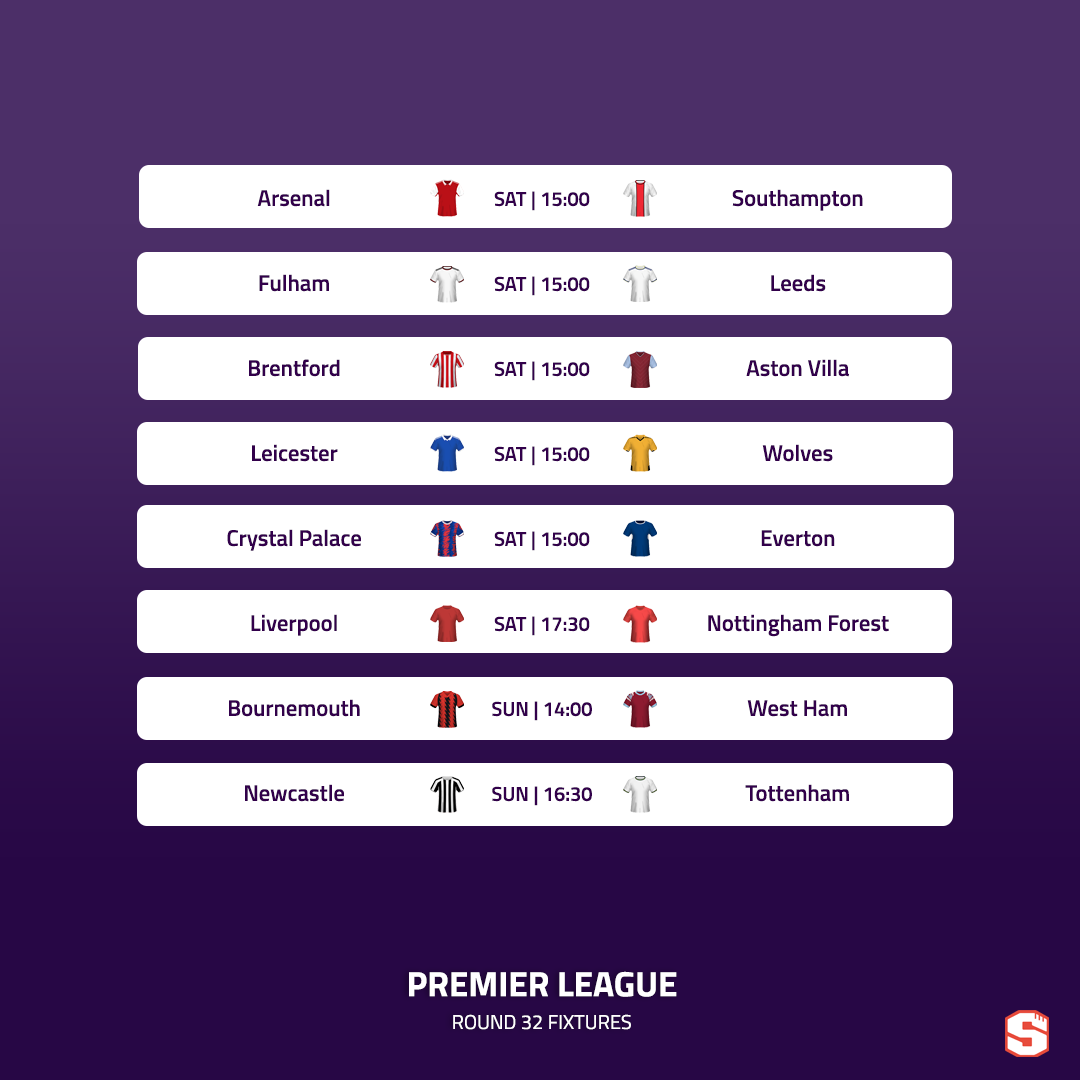 Arsenal vs. Southampton
Arsenal's dropped points in recent away games may well cost them the title but they'll be just fine here I think. They're strong at the Emirates. Southampton aren't.
Prediction: Arsenal 3-0 Southampton
Fulham vs. Leeds
After Fulham ended their losing streak last weekend while Leeds got absolutely battered again, it's hard to pick anything other than a home win here. Though I think it'll be a lot closer than Leeds' recent home results.
Prediction: Fulham 2-1 Leeds
Brentford vs. Aston Villa
There's certainly a chance Brentford find some form and manage a result here but it feels far more likely that Villa continue their excellent run. Emery teams are always fairly solid which means when they build an unbeaten run like this, it feels far more sustainable than it may do for some other sides. With Watkins in such good form in attack, I'm backing Villa for all 3 points rather than just the 1.
Prediction: Brentford 1-3 Aston Villa
Crystal Palace vs. Everton
Palace and Hodgson continued their stroll to safety with another win last week and this is a fixture they'll fancy too. I'm a little worried for Everton after they failed to win last week - their run of fixtures looks quite tough now.
Prediction: Crystal Palace 2-0 Everton
Leicester vs. Wolves
Leicester and Dean Smith need to win this one with it being his first home game in charge and I'm going to back the Foxes for a 'bounce' and three points. They were never going to win last weekend and I'm sure their fans were aware of that so there should be a good atmosphere here for a far more winnable fixture.
Prediction: Leicester 2-1 Wolves
Liverpool vs. Nottingham Forest
Forest don't tend to get hammered so I think they'll avoid the kind of result we've seen Liverpool hand out a few times this season but they also don't tend to win, particularly away from home, so I'm going with a comfortable Liverpool victory.
Prediction: Liverpool 2-0 Nottingham Forest
Bournemouth vs. West Ham
This is a tricky one as both teams have been on the up of late with Bournemouth's results particularly impressive. West Ham managed another good win in the Europa Conference League on Thursday but it's hard to tell if playing that midweek game will help or hinder them here. At home, Bournemouth have only lost to City and Brighton in 2023 who are both very good sides so I think I'm going to go with the Cherries.
Prediction: Bournemouth 1-0 West Ham
Newcastle vs. Tottenham
This would be a relatively tough pick if it was being played at Spurs but at St James' Park I'm fairly confident of a Newcastle win. Spurs have been struggling on the road for a while and with so much at stake here in terms of a top four place, the stadium is going to be bouncing and Newcastle will be very hard to stop.
Prediction: Newcastle 2-0 Tottenham
Good luck with your own predictions!
Keen to continue talking football and Superbru? Join our new Facebook group for Superbru Football Fans here.