Premier League: Round 31 Predictions
I only managed 5/10 in Round 30 which was in line with the community average but Liverpool's comeback against Arsenal to pick up a 2-2 draw handed me my fourth Exact of the round and some more green arrows. After months of very few Exacts, they're coming all at once for me at the moment so let's hope that continues!
Here are my predictions for Round 31 of the
Premier League Predictor
. Feel free to leave your own in the comments.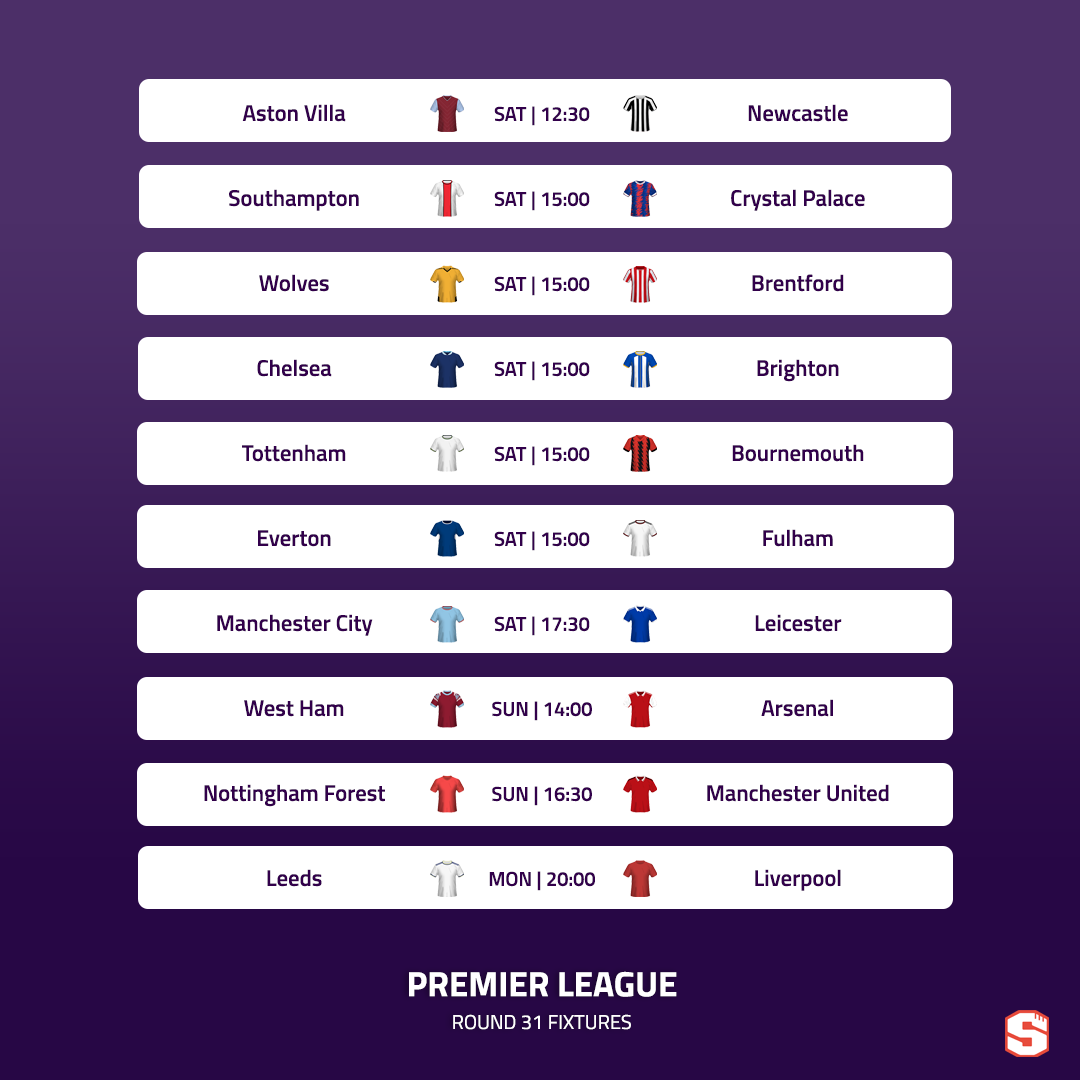 Aston Villa vs. Newcastle
A really interesting one to start as these are two very good sides. Newcastle managed the narrow win I predicted at Brentford last week to extend their excellent streak but this is an even tougher away game and I think Villa can match them. History shows away wins are rare in this fixture and Villa haven't lost at all for a couple of months.
Prediction: Aston Villa 1-1 Newcastle
Chelsea vs. Brighton
Brighton are still looking good (they were incredibly unfortunate at Spurs) and Chelsea are still struggling to score a goal so I think the Seagulls are actually more likely to win this than the hosts. Although Chelsea need a miracle to progress in the Champions League after losing 2-0 at Real Madrid in their first leg on Wednesday, that tie will remain their focus given there's so little to play for in the league so I wonder if we see Lampard rotate a lot here as as he has such a big squad.
Could throwing in some fringe players finally create some attacking sparks that could then transfer into the Madrid game? There's not much to lose if you're Lampard so I think they may finally score but I'm going with a draw. It wouldn't surprise me if Mendy is back in goal for Chelsea, too.
Prediction: Chelsea 1-1 Brighton
Everton vs. Fulham
Fulham are extremely beatable now so Everton need to take advantage and pick up all 3 points just as West Ham did last week. I'm fairly comfortable picking them at home under Dyche anyway, though surely Fulham will improve at least slightly at some point? I know they're comfortable on the table but there's still 8 rounds to go and that's a lot of matches for their fans to endure if the team are already on the beach.
Prediction: Everton 2-1 Fulham
Southampton vs. Crystal Palace
Roy Hodgson and Palace certainly proved me wrong last week! There was me thinking that their attacking display against Leicester was a one-off and they'd take a point at Leeds. Instead, Palace opted to wallop them 1-5 instead, so I think I ought to pick the Eagles here out of sheer respect for this new, thrilling Hodgson era.
Prediction: Southampton 1-2 Crystal Palace
Tottenham vs. Bournemouth
Tottenham were very fortunate against Brighton as I mentioned earlier but that win should still bring confidence and I think they'll be fine here. Bournemouth's win at Leicester was an absolutely massive result for the Cherries which they deserve huge credit for but this is probably one they'll lose before another huge fixture against West Ham next week.
Prediction: Tottenham 3-1 Bournemouth
Wolves vs. Brentford
This is one of the more difficult picks of the round as Brentford have gone off the boil somewhat and Wolves are fairly solid but are quite dependent on clean sheets since they don't score many themselves. I feel like Brentford will probably find a goal one way or another, so I think they'll get at least a point, but Wolves are tricky to beat so let's say 1-1
Prediction: Wolves 1-1 Brentford
Manchester City vs. Leicester
I thought Dean Smith was a little unfortunate to lose his job at Villa but having failed to stay at Norwich for long since, he needs success at Leicester but it's a difficult task after their last two results. This is obviously as hard as it gets at the Etihad first up, and I'd be surprised to see a new manager bounce result - City look very, very good at the moment.
Prediction: Manchester City 4-1 Leicester
West Ham vs. Arsenal
Arsenal ended up hanging on at Anfield despite going 2 up but I think they should make an immediate return to winning ways as a draw away at Liverpool shouldn't dent confidence. West Ham have been poor throughout this season and had to play in Belgium on Thursday night so I can't see an upset.
Prediction: West Ham 0-3 Arsenal
Nottingham Forest vs. Manchester United
Just as Casemiro returns so you feel confident picking United again, Shaw, Rashford, Varane and Martinez pick up injuries and they're the four players who you'd say come anywhere close to being as important as Casemiro in ten Hag's first choice XI. Can they beat Forest regardless? Probably, given the home side's recent results. But I'm only going for a narrow victory as I think this could easily go the other way or end up a draw.
Prediction: Nottingham Forest 1-2 Manchester United
Leeds vs. Liverpool
Picking Liverpool to win away feels a bit silly after their performances on the road this season but it's tempting after Leeds' result against Palace. I'm honestly not sure what to pick here as I don't have too much faith in either side - I think I might risk a draw because there's so much at stake for Leeds but I'll likely switch to a safer pick which is a Liverpool win depending on how my round is going.
Prediction: Leeds 2-2 Liverpool
Good luck with your own predictions!
Keen to continue talking football and Superbru? Join our new Facebook group for Superbru Football Fans here.