Premier League: Round 30 Predictions
As a couple of you kindly pointed out in the comments, I had a good Round 29 with 11/16 and 5 exacts! It's a shame there isn't more of a gap between that round and this next one as it's nice seeing all the green arrows but let's try and maintain it...
For the Easter weekend we have Frank Lampard back at Chelsea, numerous big matches in the relegation battle because half of the league is involved and then the small matter of Liverpool vs. Arsenal to finish.
Here are my predictions for Round 30 of the
Premier League Predictor
. Feel free to leave your own in the comments.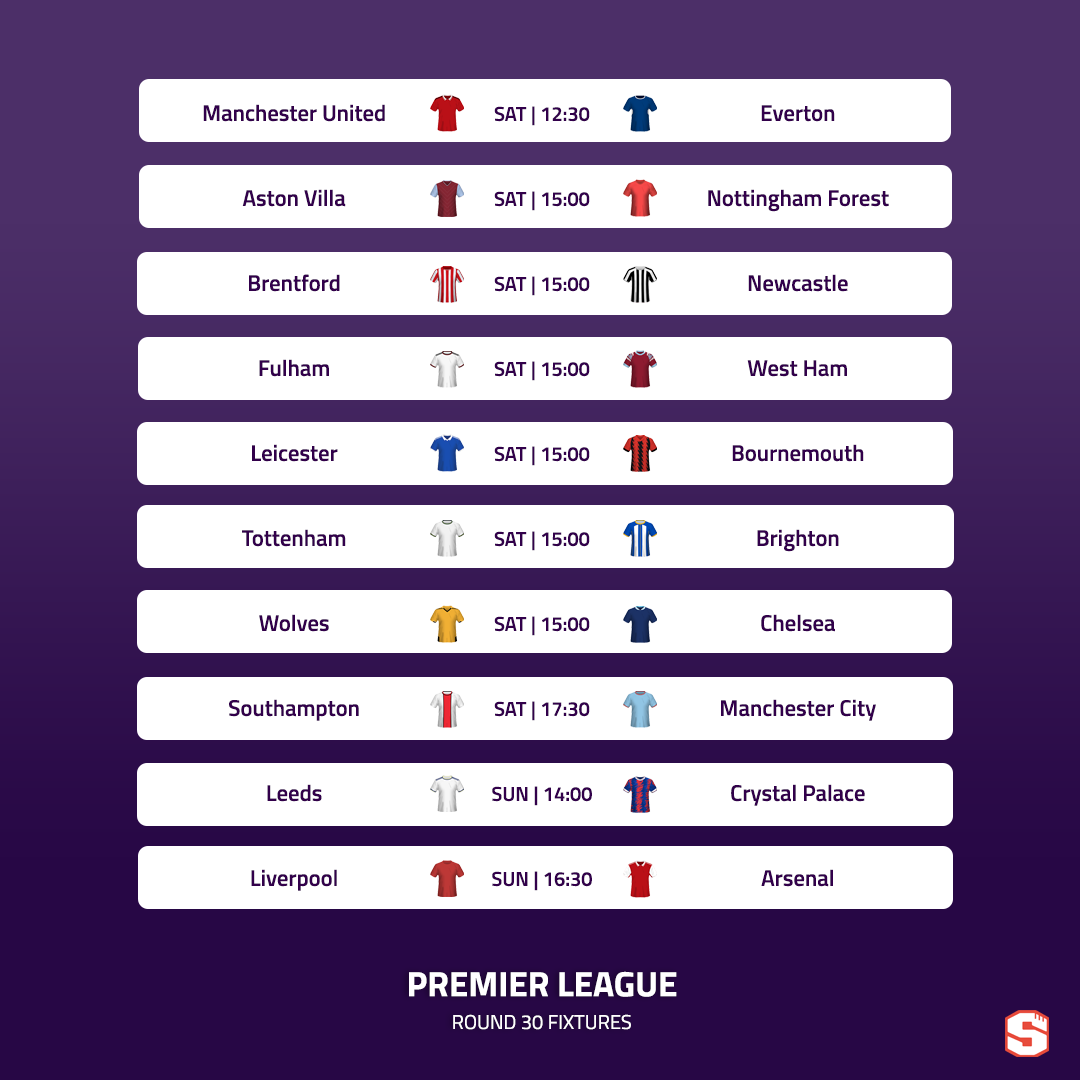 Manchester United vs. Everton
Everton have done really well to fight their way to some points in recent games and build a mini unbeaten streak but I'm not sure they'll get anything here. I think United will score a couple and then it's hard to see how Everton respond to that - so long as ten Hag doesn't take off both of his centre backs off like he did at Newcastle then you'd hope they can cope with set-pieces and they now know not to give Michael Keane space 30 yards out too!
Prediction: Manchester United 2-0 Everton
Aston Villa vs. Nottingham Forest
This should also be a comfortable home win because Villa are looking very, very good under Emery and Forest are terrible away from home. I'm not sure Emery's had enough credit for how high he's taken Villa on the table considering where they were under Gerrard.
Prediction: Aston Villa 2-0 Nottingham Forest
Brentford vs. Newcastle
This one's very tricky as I tend to avoid going against Brentford at home but Newcastle really are looking strong at the moment. I was set to go with a draw but it feels like the Magpies have so much more momentum and attacking threat than Brentford at the moment so I think they might keep their winning streak going with another win.
Prediction: Brentford 1-2 Newcastle
Fulham vs. West Ham
West Ham were awful in midweek and haven't won away from home since August so I don't think I can pick them but Fulham are also suddenly very beatable? I know there's a lot at stake for the Hammers but I still think it's a stretch to pick them to win at Craven Cottage as if Fulham are anywhere near their best they should still have more than enough for a result. I think I'm going with a draw but this is a tough pick because of Fulham's recent slide.
Prediction: Fulham 1-1 West Ham
Leicester vs. Bournemouth
This is one of those games where I'm picking Leicester because it's simply a must-win for them (a bit like Leeds in midweek). 3 points would be incredible for Bournemouth to open a 5-point gap between themselves and Leicester but the Foxes just can't afford that and with home advantage surely they'll fight their way to victory. I was surprised Iheanacho wasn't given a chance in attack immediately after Rodgers' exit because he seems like their best goal scoring option to me but perhaps he'll feature in this one instead.
Prediction: Leicester 2-1 Bournemouth
Tottenham vs. Brighton
I'd quite like to have seen Antonio Conte's reaction to the end of that Everton v Spurs game as it was absolutely textbook in terms of what he was talking about and I'm not sure Tottenham will be able to bounce back here as Brighton are a very good side. The Seagulls are still going nicely and haven't lost away from home for some time so I'm going with a draw here.
Prediction: Tottenham 2-2 Brighton
Wolves vs. Chelsea
The re-appointment of Lampard as interim will raise eyebrows but I can see the sense in the decision from both sides now that Potter has gone - if they hadn't already sacked him then you could argue Chelsea should hold on til they have a permanent replacement but that ship has obviously sailed.
With Wolves winning only 1 of their last 7 and a bounce fairly likely for Chelsea under a club legend, I think we'll see an away win. It'll be interesting to see if there are any drastic changes to the Chelsea lineup as Lampard prepares for a far bigger game against Real Madrid on Wednesday.
Prediction: Wolves 1-2 Chelsea
Southampton vs. Manchester City
It's too early to tell for sure but City look to be hitting peak form at the right time as they've been excellent in recent games and I can't see Saints stopping them.
Prediction: Southampton 0-3 Manchester City
Leeds vs. Crystal Palace
Palace got me an exact last weekend and I could have predicted a late winner in Hodgson's first game back but I certainly wasn't expecting so many shots on goal from the Eagles! I'm sure the Selhurst Park crowd will have been pleasantly surprised by such a positive display but it will be hard to replicate that away from home and I think Palace would take a point in this game if it was offered. Leeds will be going all out for 3 points as the home team and I think they're the more likely winners but I'm just not sure they'll be able to get the second goal they'll likely require.
Prediction: Leeds 1-1 Crystal Palace
Liverpool vs. Arsenal
The big one to finish! This is
the
big test for Arsenal - can they go and win at Liverpool to maintain their excellent form and quite possibly set themselves up for the title or will the occasion get to them? Because if they fail to win this, I think City are favourites. Personally, I currently have City as predicted winners anyway but that would probably change if Arsenal win here.
On paper, the good news for the Gunners is they won't have a better chance to win at Anfield this season because of how poor Liverpool are at the moment. If Jurgen Klopp's team play like they did at City or Chelsea then this could be 4/5-0 to Arsenal but Liverpool have obviously been far better at home and I think they'll turn up.
I know it's different this season and they've already proved a lot of people wrong including myself but Arsenal haven't won at Anfield in the Premier League for over a decade and I don't think I can pick them to do so until they do if that makes sense. I also don't have too much faith in Liverpool though so I'm going with an entertaining draw which wouldn't be the worst thing for Arsenal but would obviously still be welcomed by City.
Prediction: Liverpool 2-2 Arsenal
Good luck with your own predictions!
Keen to continue talking football and Superbru? Join our new Facebook group for Superbru Football Fans here.