Premier League: Round 3 Predictions
Last week was pretty tricky wasn't it? After my gamble on a draw in the opener at Villa Park failed to pay off, I was fairly pleased with an Exact for the 2-2 between Southampton and Leeds. However, it was all downhill after that!
It was stupid of me not to pick Brentford as I said how poor United were looking (admittedly they were even worse than anyone could have predicted!) but West Ham were unlucky at Forest and, as some of you mentioned in the comments, Chelsea can feel very hard done by.
Still, I'll leave the discussion on referee decisions to the VAR himself Mike Dean as he's decided to try and clear things up in the Daily Mail this week! The focus here is of course predictions so let's look ahead to Round 3.
Here are my thoughts on each game in this weekend's round of the
2022/23 Premier League Predictor
.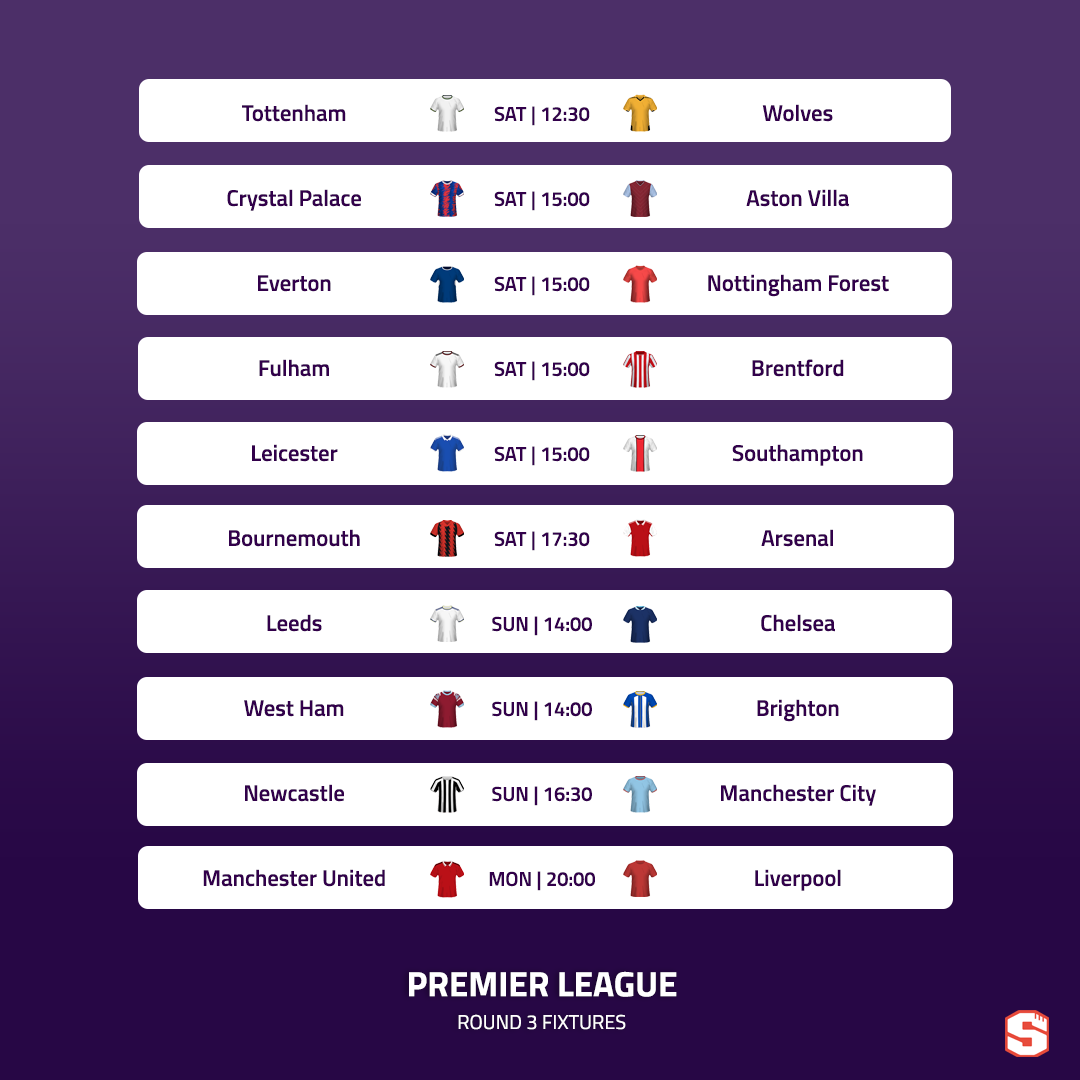 Tottenham vs. Wolves
Wolves have had some success at Spurs in recent years but it would be a considerable upset if they get a result this time around. Tottenham will be delighted to have snatched a point at the Bridge last week and there's a lot of attacking power in their squad for games like this with Richarlison now added to an already impressive front 3.
Prediction: Tottenham 2-0 Wolves
Crystal Palace vs. Aston Villa
Not an easy one. I like Palace under Vieira and taking a point at Anfield is seriously impressive. With home advantage I think they're probably favourites here? Villa have a really strong XI on paper but they haven't looked too sharp in the opening couple of rounds and it will be interesting to see how they react to their defence plans being significantly changed already with the injury to Carlos.
Prediction: Crystal Palace 2-1 Aston Villa
Everton vs. Nottingham Forest
This should be Everton's first win of the season but if I was a Toffees fan I'd be seriously concerned because they are so, so desperate for a striker. It was painful to watch them try and get up the pitch at times against Villa so I feel like Lampard needs to start the only option he has in Rondon but it's obviously not ideal and I'm not sure if he's able to play a full 90? On the plus side, Everton are much more solid defensively this season thanks to their recruitment so I'm torn between them sneaking a 1-0 win or this being goalless/perhaps 1-1.
Forest are going to get stronger and stronger as their new players begin to gel - Morgan Gibbs-White is their 16th summer signing! - but they were very fortunate not to concede at least once against West Ham. I'm hesitantly going with Everton but might be tempted into changing if Forest lineup with the likes of Dennis, Freuler and Gibbs-White all in from the off!
Prediction: Everton 1-0 Nottingham Forest
🤝 Nottingham Forest have officially confirmed the signing of Morgan Gibbs-White from Wolves for a fee that could reportedly rise as high as £42.5 million 💸

He's Forest's *sixteenth* signing of the summer! 🔥 #NFFC pic.twitter.com/n8md3yo8kw

— Superbru (@Superbru) August 19, 2022
Fulham vs. Brentford
This should be an interesting derby and a fairly even game, though I'd be slightly surprised to see Fulham win it. Brentford are a fair bit stronger than the hosts in my opinion and if they can keep Mitrovic quiet (easier said than done), there aren't too many other clear goal threats in the Fulham team. Ivan Toney has started the season well and I'm excited to see how Damsgaard gets on if he's given a debut. Let's go 1-1 since it's at Craven Cottage.
Prediction: Fulham 1-1 Brentford
Leicester vs. Southampton
This is a great chance for Leicester to get their first win on the board and I think they'll take it. Despite their transfer window disappointment, we've seen there's goals in this team in the opening two rounds and they should have enough to beat Saints.
Prediction: Leicester 2-0 Southampton
Bournemouth vs. Arsenal
Arsenal are playing just as their fans will have hoped they would based on their new signings - Jesus and Zinchenko have both been excellent. There's no reason why they can't keep up their form and winning ways in this one against Bournemouth who have a far weaker squad.
Prediction: Bournemouth 1-3 Arsenal
Leeds vs. Chelsea
I know they often raise their game against Spurs, but Chelsea looked really strong last weekend and if they play even close to that level this should be fairly comfortable for them. Kante picking up another injury is a blow to the Blues but they should still control proceedings at Elland Road and I think this is probably a difficult test that is coming slightly too early in the season for a new-look Leeds team.
Prediction: Leeds 0-2 Chelsea
West Ham vs. Brighton
As I mentioned in the intro, I thought West Ham were really unfortunate at Forest last week so I'm not looking too much into that defeat and having the Europa Conference League qualifier on Thursday was probably favourable for David Moyes, particularly to give Scamacca a start which clearly went well since he managed a goal. Do they have enough to beat Brighton though? I'm not sure given how comfortable the Seagulls are with their system which has resulted in two good results to start the season. Let's go with a draw.
Prediction: West Ham 1-1 Brighton
Newcastle vs. Manchester City
I'm not sure when we'll see a round where not picking Manchester City feels like a good idea - it's not this one. Newcastle will continue to get stronger and stronger but they aren't yet at a point where you'd say they can compete with a team as good as City are.
Prediction: Newcastle 0-3 Manchester City
Manchester United vs. Liverpool
It's safe to say I won't be backing United this week. At this point, it's hard to see how things change for them without a change of ownership which will surely take some time even if recent reports about a takeover being possible are true, so I feel quite sorry for their fans and particularly Erik ten Hag.
However, ten Hag undoubtedly still has to take some blame for last week along with the players as they were nowhere near good enough against a team that are considerably weaker than the opponent they now face here. Liverpool haven't been at their best so far, but given the way they press this could well prove far easier than their games against Fulham and Palace. I appreciate ten Hag will be eager to stick to his principles as otherwise there's not much point in him taking on this project, but if de Gea is encouraged to do much more than just smash it up the pitch when he receives the ball, things could get really ugly against this Liverpool front 3 who are so well trained off the ball.
Prediction: Manchester United 1-3 Liverpool
Good luck with your own Round 3 picks!
Keen to continue talking football and Superbru? Join our new Facebook group for Superbru Football Fans here.