Premier League: Round 29 Predictions
Following the final international break of the season, we're now into what is going to be a hectic couple of months of club football to decide this season's trophies!
To kick things off we have a large Round 29 of the Premier League Predictor as in addition to the 10 matches shown below there are several rescheduled fixtures next Tuesday/Wednesday. I'll add some picks to this article for those games on Tuesday once we're through these first 10.
Here are my predictions for Round 29 of the
Premier League Predictor
. Feel free to leave your own in the comments.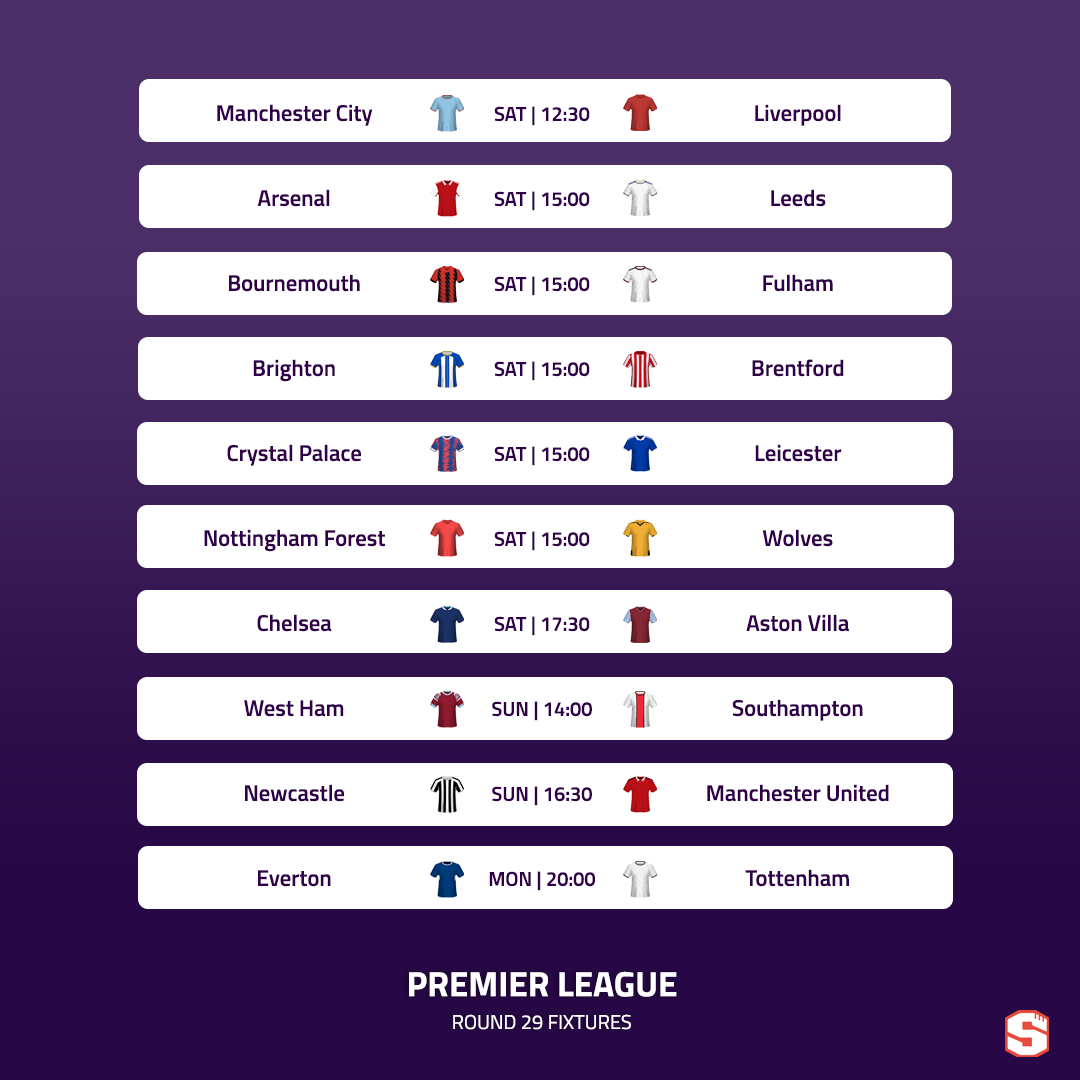 Manchester City vs. Liverpool
A difficult match to start with as though this has obviously been a bigger fixture in previous seasons than it is this year due to Liverpool's results, the Reds still have a great chance of hurting City's title hopes and I think they'll be right up for it. With Haaland's injury and Liverpool finally looking a little better on the fitness front I am wary that we could see an upset in this early kick-off, but backing City still makes sense in my opinion given their home record against Liverpool and the away form we were seeing from Jurgen Klopp's side before the break.
Prediction: Manchester City 2-1 Liverpool
Arsenal vs. Leeds
I think Arsenal will win this comfortably. They've been excellent in their last few matches and Tyler Adams will be missed by Leeds. This is a kind fixture for Arsenal to get back into the swing of things before Anfield next weekend.
Prediction: Arsenal 3-0 Leeds
Bournemouth vs. Fulham
Just as Palhinha returns for Fulham, Mitrovic and Willian get themselves banned instead so I think Bournemouth have a great opportunity here against a weakened away side. With so much at stake for the Cherries, I think they can get at least a point here so let's back them for all three since I've rarely had a chance to pick Bournemouth to win this season.
Prediction: Bournemouth 2-1 Fulham
Brighton vs. Brentford
I don't like going against Brentford but Brighton have been just as impressive this season and at home they have to be considered favourites. I think this might end up being fairly cagey but the Seagulls are the more likely to edge it in my opinion.
Prediction: Brighton 1-0 Brentford
Crystal Palace vs. Leicester City
Tricky one. I see the re-appointment of Roy Hodgson as a pretty negative one (as much as I like and respect him!) because I think Vieira or indeed another more long-term option should be able to keep the Eagles up anyway based on their fixtures but Hodgson's return should provide some kind of a bounce in this game and I think Palace will probably win. I'm not sure whether Palace will improve much in attack which is a concern but they should still be able to find a goal or two in this specific game as Leicester remain poor defensively.
Prediction: Crystal Palace 2-1 Leicester
Nottingham Forest 1-1 Wolves
I'm going with a draw here as Forest are missing a number of players with injury but I'm not sure Wolves will be good enough to take all three points. If this is level fairly late on, I think both teams will be eager to ensure they don't lose.
Prediction: Nottingham Forest 1-1 Wolves
Chelsea vs. Aston Villa
Chelsea have a good record in this fixture and it sounds as if they have quite a few players back from injury so I think I'm comfortable backing them for the 3 points. Villa are a decent side but tend to struggle at the Bridge.
Prediction: Chelsea 2-0 Aston Villa
West Ham vs. Southampton
After their recent away performances, I have a feeling Southampton might just sneak a result here so I'm risking an upset. I'm not sure why, as both teams are in big trouble so there's equal motivation and it's West Ham with home advantage, but it feels as if things could turn quite toxic if Southampton manage to get themselves in front and Saints have only lost 1 of their last 4 despite tough fixtures.
Prediction: West Ham 1-2 Southampton
Newcastle vs. Manchester United
With Newcastle the home side and Casemiro suspended for United, I'm going with a draw here. I'm not sure the hosts will be strong enough to win but they're very tough to beat at St James' Park and without Casemiro Man Utd seem quite a lot weaker.
Prediction: Newcastle 1-1 Manchester United
Everton vs. Tottenham
Like most people, I'm not really sure what will happen here. Everton seem to be on the up and will have a lively home crowd under the lights but it's hard to gauge how Spurs will perform with so much off-field chaos unfolding. I was going to go 0-1 but I think Everton will score with their home crowd behind them to let's go with 1-1 for now. It feels to me like one of those games where Spurs might nick a win despite everything that's going on only to start dropping points again once things are supposedly more calm so I might change on Monday depending on how my round is going!
Prediction: Everton 1-1 TottenhamUpdate: Midweek fixtures
This round has been going nicely so far with 6/10 and 4 of those 6 exact! A big thank you to Bournemouth, Palace, Wolves and Michael Keane for their help in getting me those points.
On to the midweek matches...
Bournemouth vs. Brighton
I'm less sure Bournemouth can pick up three points in this one as Brighton are a far stronger side than Fulham at the moment. I think it'll be fairly tight but the Seagulls should take the points.
Prediction: Bournemouth 0-1 Brighton
Leeds vs. Nottingham Forest
This is an absolute must-win for Leeds and I think they'll pick up the points because of Forest's terrible away form. Like the other managers in this crazy relegation scrap, Gracia has to target home fixtures and this is one of their easiest remaining matches on paper.
Prediction: Leeds 2-1 Nottingham Forest
Leicester vs. Aston Villa
Brendan Rodgers' exit is no real surprise as Leicester have been sliding for a long time now but it's hard to tell if they'll suddenly pick up a win now that he's gone, particularly against a team as strong as Villa. Without a new permanent head coach in place I don't really see a bounce coming but I think the Foxes might manage a point at home despite Villa being the stronger side as was proven by their result at Chelsea on Saturday.
Prediction: Leicester 1-1 Aston Villa
Chelsea vs. Liverpool
I also wasn't surprised to see Chelsea run out of patience with Graham Potter, though this entire season is a far worse look for the Blues' new ownership than it is for Potter in my opinion and they absolutely have to get their next manager appointment right. Again, I'm not sure there'll be much of a bounce following his exit given it's just one of his staff members taking over for now and this game feels a lot like the reverse fixture to me in that both teams are entering the fixture in terrible form.
Liverpool were dreadful again on Saturday, particularly defensively, so I think we might just see another draw between these two with neither side good enough to win. Of course, a moment of magic from one of the many talented players on show could edge it, but it's very hard to predict who will produce it.
Prediction: Chelsea 1-1 Liverpool
Manchester United vs. Brentford
Tricky one. United were awful at Newcastle on Sunday and with Casemiro still out for this game, there's definitely a chance Brentford manage at least a point. I don't know why I still feel like United are the team to pick at home, though. There's a chance that their now very vulnerable position in the top four race livens them back up a bit and Rashford remains very dangerous. If this was at Brentford I'd definitely be backing the Bees.
Prediction: Manchester United 2-1 Brentford
West Ham vs. Newcastle
West Ham remain unconvincing despite that win on Sunday whereas Newcastle look to be hitting peak form again after a dip so I'm going with an away victory here. I was impressed with Alexander Isak in the few games I saw of him at Sociedad but he really is looking like a very good centre forward now. It wouldn't surprise me if he wins this match for the Magpies.
Prediction: West Ham 0-1 Newcastle
Keen to continue talking football and Superbru? Join our new Facebook group for Superbru Football Fans here.