Premier League: Round 28 Predictions
After making the costly mistake of not picking Brentford on Wednesday night I had a fair few red arrows so I'm hoping for an improved performance this weekend so that I can go into the international break on the up!
We have just 7 matches in this round due to the FA Cup quarter-finals also taking place (I'll be picking 4 home wins in that) so let's hope for at least 5 correct picks...
Here are my predictions for Round 28 of the
Premier League Predictor
. Feel free to leave your own in the comments.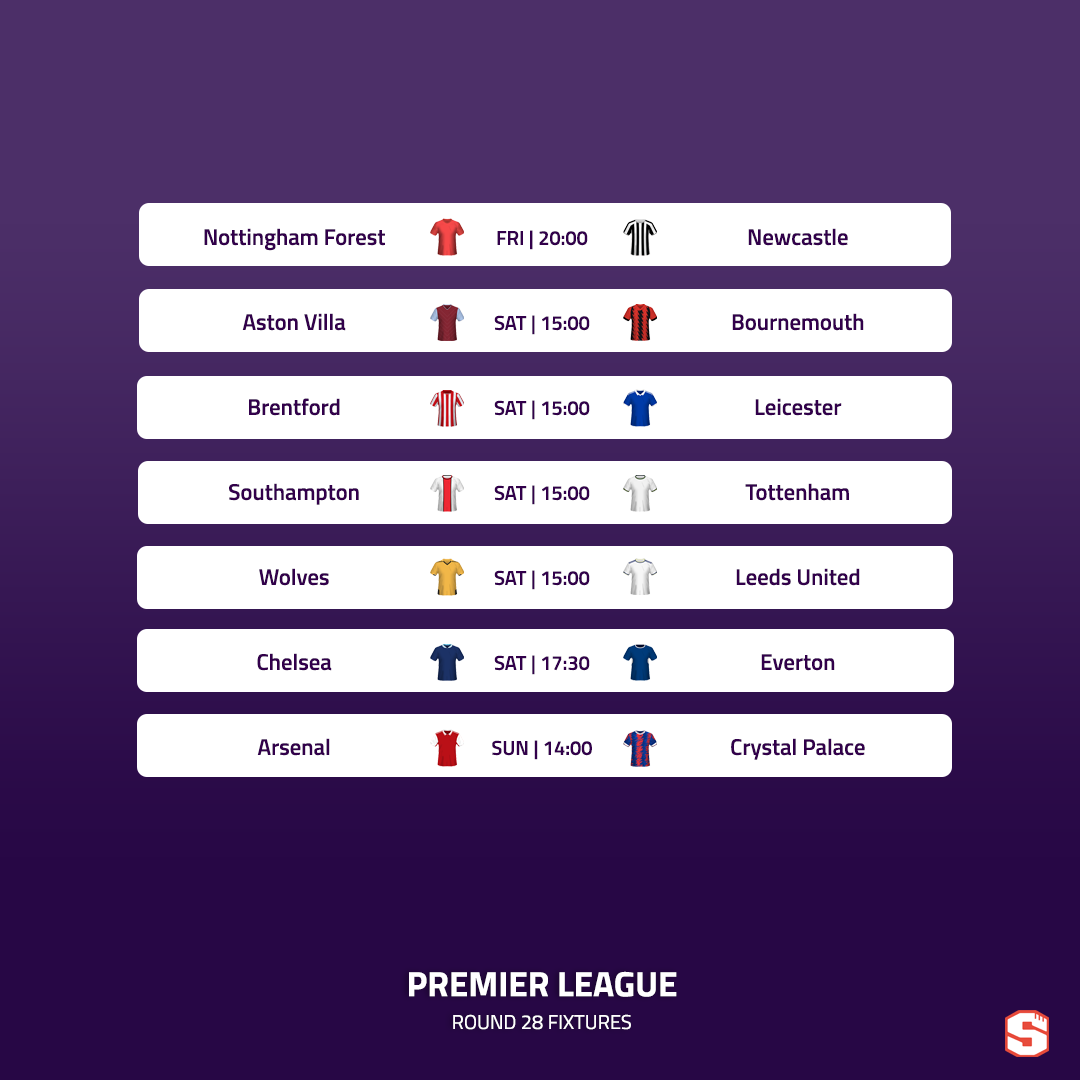 Nottingham Forest vs. Newcastle
Not the easiest one to start with as though Newcastle are favourites, Forest haven't lost at home for ages. I'm very tempted by a draw but Forest might just have a few too many injuries, particularly if Brennan Johnson isn't passed fit. I'm fairly confident Newcastle will get at least a point and after their win last weekend, let's back them for another narrow victory here.
Prediction: Nottingham Forest 1-2 Newcastle
Aston Villa vs. Bournemouth
I think Bournemouth deserve massive credit for some of the results they've managed this season. The problem is it's so hard to ever pick them to get a result because on paper they've no right to be getting some of the results that they have! I'm expecting a fairly uneventful clash here which Villa should come out on top of but after that win over Liverpool it wouldn't surprise me if Bournemouth manage to cost me some points again.
Prediction: Aston Villa 1-0 Bournemouth
Brentford vs. Leicester
After doubting them in midweek I can't really afford to go against Brentford again and they are of course favourites here given Leicester's form. I think the Foxes have to be very careful as even the goals they may end up finding between now and the end of the season through Maddison and Iheanacho still might not be enough if they aren't able to improve defensively.
Prediction: Brentford 3-1 Leicester
Southampton vs. Tottenham
Tottenham are far from consistent away from home so I have a little bit of doubt over this pick as well but it feels silly to back Saints again having done so on Wednesday. There's quite a carrot for Spurs here since United aren't playing as they could put themselves in a really good position on the table for the international break.
Prediction: Southampton 1-2 Tottenham
Wolves vs. Leeds
Leeds have lost 9 of their 13 away games so far this season and with Tyler Adams now out injured for this one, I think you have to pick Wolves. Molineux is always a fairly tricky place to go and I think the hosts will be fairly confident they can deal with whatever Leeds try and throw at them so I'm thinking it's mainly about whether or not they can find some goals themselves.
Prediction: Wolves 1-0 Leeds
Chelsea vs. Everton
This could easily be the upset of the round as Chelsea haven't been good against teams that defend like Everton are going to in this match with a low block
but
it does seem like Graham Potter's side are on the up and Everton have a terrible record at Stamford Bridge. If Chelsea get an early goal I think it will be very comfortable for them so let's pick based on that.
Prediction: Chelsea 2-0 Everton
Arsenal vs. Crystal Palace
Palace have opted to sack Vieira ahead of this one which I'm not sure how I feel about. On the one hand, I can understand it because the bottom half of the Premier League table is scarily tight and the board will want to do whatever they can to avoid getting dragged in further to what is going to be a horrible battle, but on the other hand I feel Vieira has done a lot of good at Palace and deserves a crack at what is a fairly favourable run-in fixtures wise. Vieira was a brave appointment when brought in but it really paid off in the first season and they were playing some exciting stuff at the start of this campaign, so it's a shame the goals dried up this year.
Will his departure result in a bounce under an assistant manager here? I doubt it. However, Arsenal's Europa League tie on Thursday does add some extra doubt. I don't really understand why Arteta played Gabriel, Zinchenko, Xhaka and Martinelli for 120 minutes in a competition that the Gunners are probably better off out of anyway, but they should still have enough to win this fixture and they'll have to hope Saliba's injury isn't long-term.
Prediction: Arsenal 2-0 Crystal Palace
Keen to continue talking football and Superbru? Join our new Facebook group for Superbru Football Fans here.