Premier League: Round 27 Predictions
Round 26 of the PL will definitely be one I remember for that remarkable 7-0 at Anfield rather than the fairly average 6/10 I managed with my picks. I feel like that's the sort of result that will only really sink in a few seasons down the line but will it push Liverpool into a top four finish and ruin all of United's league momentum?
Here are my picks for Round 27 of the
Premier League Predictor
. Feel free to leave your own in the comments.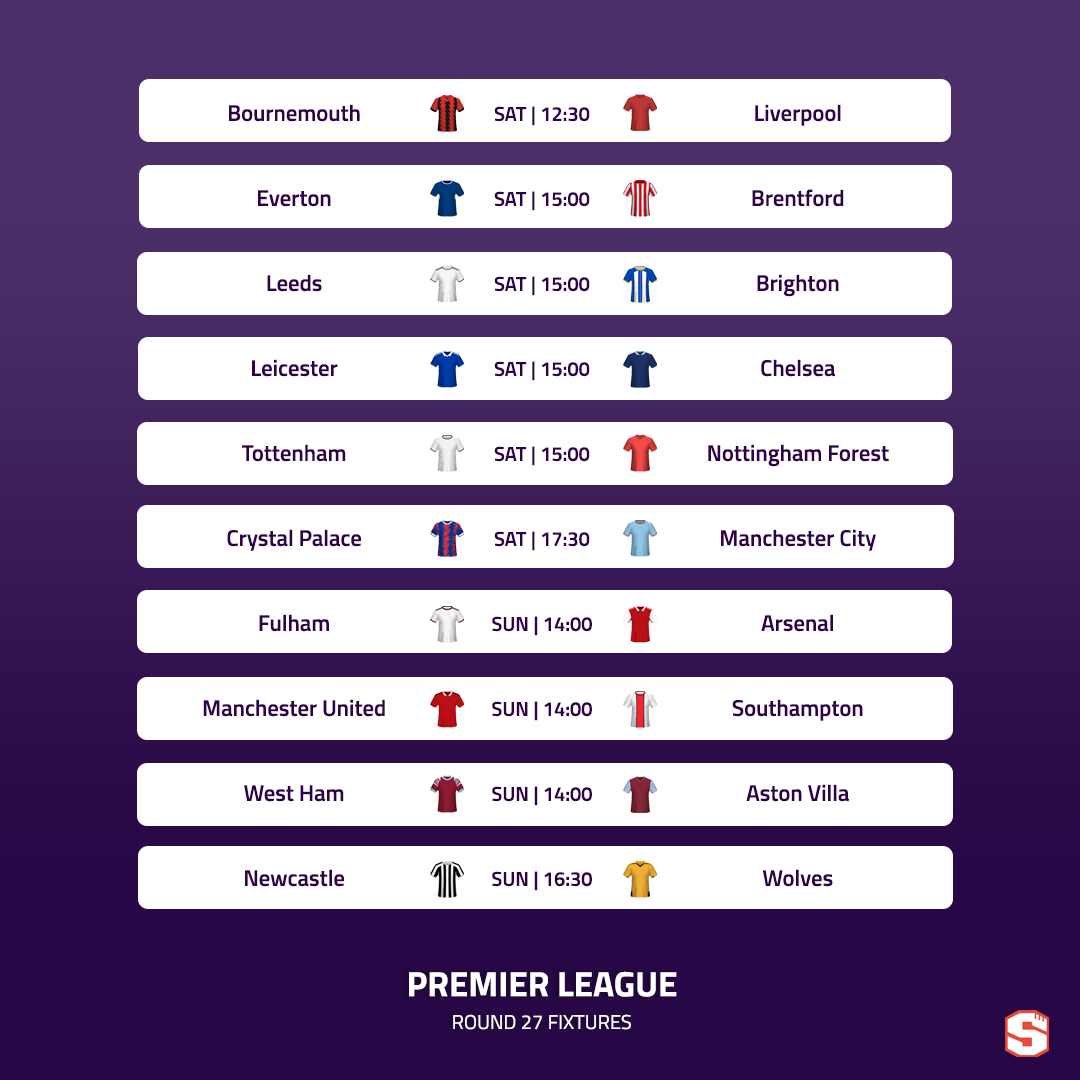 Bournemouth vs. Liverpool
This is a kind fixture for Liverpool to ensure they can continue the momentum generated by that 7-0 win and it would obviously be quite an upset if Bournemouth get anything. Now that they have players back from injury, Liverpool have a pretty frightening number of attacking options and that's with Luis Diaz still working his way back to fitness.
Prediction: Bournemouth 0-2 Liverpool
Everton vs. Brentford
I think Brentford will get at least a point here - they're the side with far more goals in their squad although Calvert-Lewin would give the home crowd a lift if he's able to play some minutes. Given how strong Brentford's unbeaten run now is, it's tough to pick this Everton side to beat them even though there's so much at stake for the hosts.
Prediction: Everton 1-1 Brentford
Leeds vs. Brighton
Brighton continue to be a great watch and I think they'll have too much for Leeds who offered very little at Chelsea last week. It's been a long time since Brighton lost away from home.
Prediction: Leeds 1-2 Brighton
Leicester vs. Chelsea
I was very tempted to go with a draw here as I think Chelsea will struggle to match the performance level they showed against Dortmund in that excellent Champions League win on Tuesday, but I think it makes sense to tip the visitors to pick up a narrow away win since many teams have been going to the King Power and winning this season. Graham Potter's side should be able to create plenty of chances against this Leicester backline and confidence will be much higher now that they've finally had a good week.
Prediction: Leicester 1-2 Chelsea
Tottenham vs. Nottingham Forest
A very difficult one. I think I'm in agreement with those saying it makes sense for Tottenham to part ways with Antonio Conte as soon as possible - he hasn't ended their trophy drought, it seems like most fans don't want him there anymore, and he himself could probably do without this final stretch of the season after what's been a very difficult year for him off the field (as well as on it).
After such a flat display against Milan, I think the atmosphere could be quite negative for this one, yet I'm struggling to pick Forest because on paper it should still be Spurs that win? I seriously considered it but Tottenham's home league form is strong and Forest's away record... isn't.
Prediction: Tottenham 2-0 Nottingham Forest
Crystal Palace vs. Manchester City
City should get the job done here given their good record in this fixture and Palace's current form. Guardiola may want to rest players ahead of Leipzig but I think he'll be selecting a strong lineup in the hope he can then withdraw players if they are on the way to a good result.
Prediction: Crystal Palace 0-2 Manchester City
Fulham vs. Arsenal
If Joao Palhinha wasn't suspended, I'd be backing Fulham to pick up a point here as they're tough to beat at Craven Cottage but they struggled without him at Brentford and I think Arsenal will just about edge it despite having to play in Lisbon on Thursday. Gabriel Jesus being able to play some minutes would also be a huge boost for the Gunners ahead of the run-in.
Prediction: Fulham 1-2 Arsenal
Manchester United vs. Southampton
United will be relieved they've already had that Betis Europa League tie in which to bounce back from last Sunday and I think they'll be fine here. I can see Southampton getting a goal, quite possibly through a set-piece, but they're unlikely to be able to cope with Rashford in this form.
Prediction: Manchester United 3-1 Southampton
West Ham vs. Aston Villa
West Ham have been beating Villa a lot in recent seasons but I'm really not convinced by them at the moment and this feels like a great opportunity for Villa to finally get a win in this fixture, particularly since West Ham were in Cyprus on Thursday night. It's obviously likely to be close and I wouldn't be surprised to see any of the 3 outcomes but Villa feel like favourites to me.
Prediction: West Ham 1-2 Aston Villa
Newcastle vs. Wolves
Finally, will Newcastle get back to winning ways this weekend? I think they probably will, though this game is likely to be fairly low scoring in my opinion. Both teams are much better defensively than they are going forward, but after so many matches without a win, I think the home crowd will drive Newcastle on to edge this.
Prediction: Newcastle 1-0 Wolves
UPDATE: An average 5/10 so far... I've got all the ones right that most others did but failed to pick any of the games picked by <40%.
Brighton vs. Crystal Palace
I basically always pick a draw for this fixture because Palace always find a way to avoid defeat against Brighton but it does feel a bit different this time around. Brighton are obviously very good this season whereas I think it's time to start worrying for Vieira who desperately needs a win. The Seagulls won't get a better chance to finally find a win against Palace again and I think they'll just about edge it.
Prediction: Brighton 2-1 Crystal Palace
Southampton vs. Brentford
The results these teams had at the weekend make this really interesting as Brentford are no longer invincible and Southampton continue to be difficult to score against. As a result, I think I'm going for a draw in this game now rather than a Brentford win. The bottom of the table is already incredibly tight and I think with so much at stake, Saints might just manage another point to get themselves level with Leeds.
Prediction: Southampton 1-1 Brentford
Keen to continue talking football and Superbru? Join our new Facebook group for Superbru Football Fans here.