Premier League: Round 26 Predictions
Round 25 of the Premier League was one that fell in line with the community average for me as I had 6/10 correct overall with an Exact for that Liverpool 2-0 win in the final game.
This week we have a round that will see most of the away teams struggle to pick up wins if my predictions prove to be correct as there are plenty of big matches in terms of either the table or derbies/rivalries, so the home crowds could have a big impact.
Here are my picks for Round 26 of the
Premier League Predictor
. Feel free to leave your own in the comments.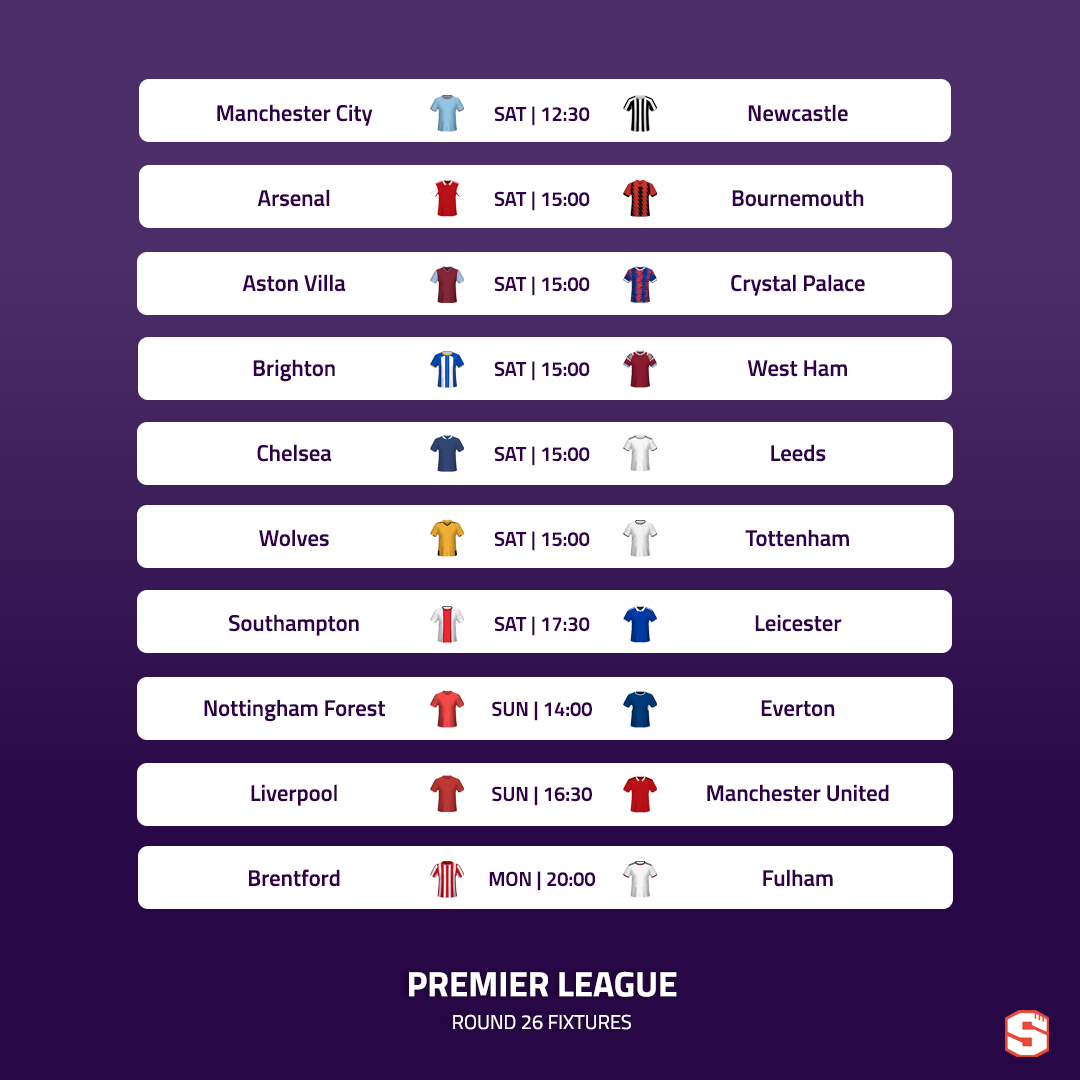 Manchester City vs. Newcastle
I'm concerned I might get stung by another upset in the early kick-off as I think this will be close but City should get the job done based on Newcastle's recent form. It's been a great season for Newcastle but I do think they have to be careful they don't keep sliding here as their league form has obviously fallen off and after focusing so much on the League Cup final, it's possible that we see a slight hangover from that now as they'll obviously be disappointed to have lost. They'll make life difficult for City but Guardiola's side are playing really well at the moment.
Prediction: Manchester City 2-1 Newcastle
Arsenal vs. Bournemouth
I won't spend long on this one as Arsenal should win comfortably. They've been very impressive since the City defeat and they should find Bournemouth as straightforward to beat as City did last week.
Prediction: Arsenal 3-0 Bournemouth
Aston Villa vs. Crystal Palace
Palace are certainly due a win and Zaha's return will help but I think Villa are the stronger side and it's hard to pick the visitors when you look at their form streak. Said streak shows a draw is very possible and I'm tempted by that but I think I'm going for a narrow home win.
Prediction: Aston Villa 2-1 Crystal Palace
Brighton vs. West Ham
Brighton literally never lose against West Ham in the Premier League so I'm backing them to maintain that streak and just about come out on top here. I'm slightly wary that they haven't been scoring quite as many goals of late but West Ham have been awful away pretty much all season.
Prediction: Brighton 1-0 West Ham
Chelsea vs. Leeds
This is one of the hardest picks of the round because every week you think Chelsea can't possibly get worse and yet they somehow do. Potter is clearly under severe pressure, from the fans if not the board, and I'm wondering if we see Aubameyang start since he was back on the bench last weekend? Many might expect a low scoring game because of both team's struggles in front of goal and I completely understand that but I feel Leeds will score as Chelsea will badly miss Thiago Silva so maybe this ends up becoming quite open and end to end because of both sides' desperation?
Prediction: Chelsea 2-1 Leeds
Wolves vs. Tottenham
Losing at Sheffield United in midweek when the FA Cup represented such a good opportunity to end their trophy drought was very Tottenham but they've been strong in the Premier League recently and I think they'll win at Molineux where they have a fairly good record. In addition to struggling in attack, Wolves aren't quite managing clean sheets either so I'm not sure they'll have enough to get anything in this game.
Prediction: Wolves 0-1 Tottenham
Southampton vs. Leicester
This is a horrible game to predict. I was willing to put Leicester's recent defeats down to the strength of their opposition but then they also lost to Blackburn in the Cup... and then you've got Saints who remain bottom of the league, haven't won at home for ages and then reached a new low in midweek by losing to Grimsby. Backing Saints to win even though they absolutely need to is definitely a stretch so I'm torn between a draw and a Leicester victory. It sounds as if Maddison will be back so let's go with the latter.
Prediction: Southampton 1-2 Leicester
Nottingham Forest vs. Everton
I think the most Everton can get here is a point since they've been poor on the road and Forest are in such strong home form. However, the Toffees offer so little going forward that I can doubt they can even get that. This is a strong chance to pick up 3 more points for Forest in front of their own fans to prevent themselves getting dragged into the relegation fight.
Prediction: Nottingham Forest 1-0 Everton
Liverpool vs. Manchester United
United are the more likely to win this game in my opinion as they remain so impressive under ten Hag but it would still be a huge achievement to actually take the points at Anfield and I think a draw is probably on the cards. After that humiliation against Madrid, Liverpool can't now afford to be turned over by their biggest rivals at home and I think they'll make sure they avoid defeat.
Prediction: Liverpool 1-1 Manchester United
Brentford vs. Fulham
This should be a really good game as it's a derby between two sides in excellent form. Despite Fulham's impressive recent away form, I think I'm going with Brentford as I think Joao Palhinha will be a big miss for the visitors. It's been a while since we've seen Brentford in action but their unbeaten run can't be ignored and I think they'll be right up for this.
Prediction: Brentford 2-1 Fulham
Best of luck with your own picks!
Keen to continue talking football and Superbru? Join our new Facebook group for Superbru Football Fans here.