Premier League: Round 25 Predictions
Round 24 of the Premier League wasn't short of upsets so like most, I struggled a bit and only managed 4/10. I feel like I should have picked Liverpool but didn't even consider Southampton, Bournemouth or the Forest draw!
This week we have a slightly unusual round since there are only 8 matches this weekend because of the League Cup Final. However, things have worked out quite nicely as there are two additional fixtures added for midweek which are rescheduled games that bring us up to the usual 10 matches.
Here are my picks for Round 25 of the
Premier League Predictor
. Feel free to leave your own in the comments.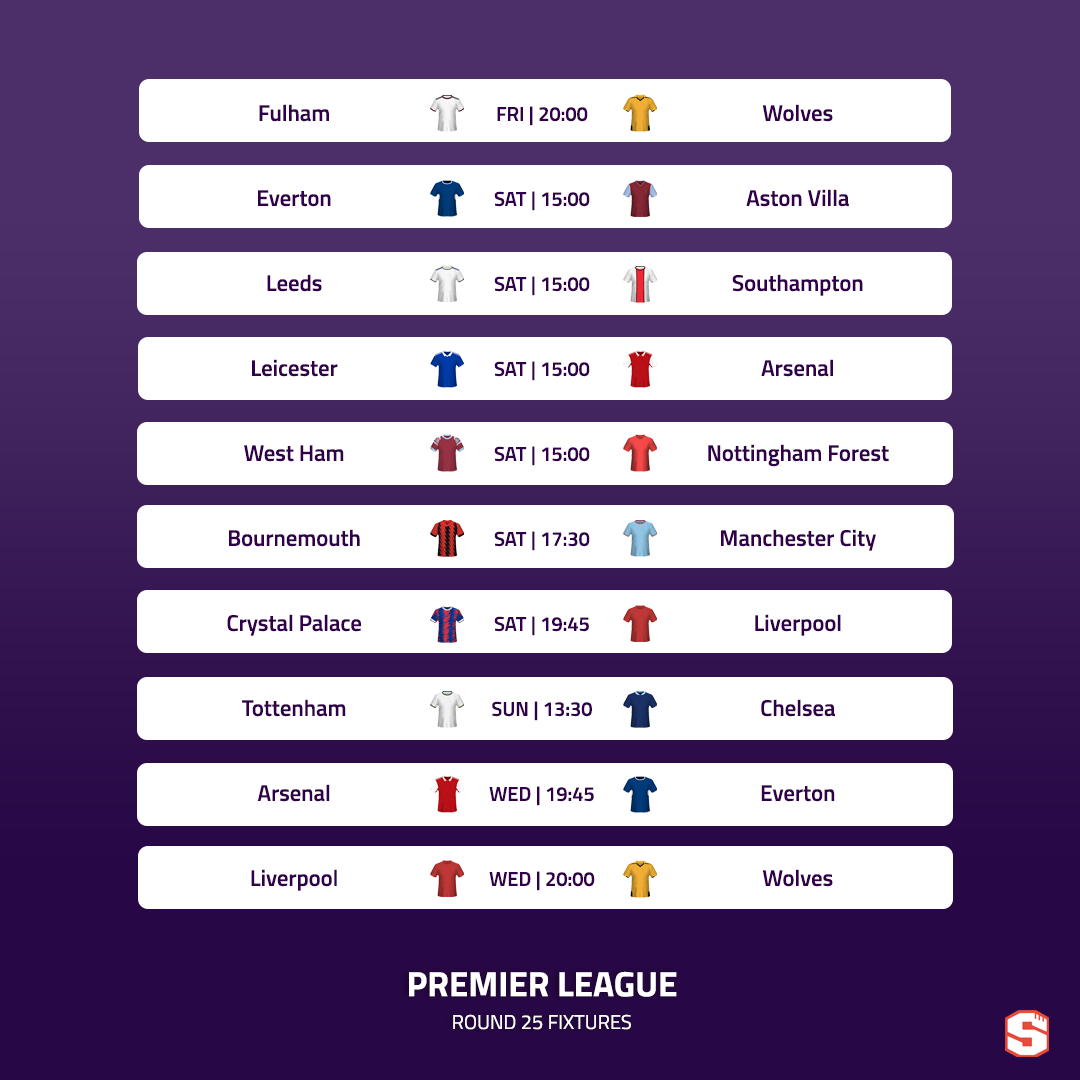 Fulham vs. Wolves
I think you have to go with Fulham for this opener - they had a great win last week whereas Wolves got turned over by Bournemouth and remain extremely short of a striker. It's unlikely to be the most entertaining Friday night fixture of the season but the hosts should get the job done.
Prediction: Fulham 2-0 Wolves
Everton vs. Aston Villa
This is a tricky one as it's hard to go against Everton at home given how they've done so far under Dyche, but Villa were unlucky to lose against Arsenal where they played well and I think they're a far better side than the Toffees. As a result, I think I'm going for a draw. Everton will be tough to beat at Goodison for the remainder of the season but I think Villa will score.
Prediction: Everton 1-1 Aston Villa
Leeds vs. Southampton
An absolutely huge fixture, so big in fact that Leeds decided they should probably appoint a permanent head coach for it. I'm really intrigued to see how Javi Gracia will get on as he was brilliant at Watford but doesn't strike you as a typical relegation battle specialist so it could go either way. Saints, meanwhile, have opted to stick with caretaker manager Ruben Selles until the end of the season which makes sense given the positive relationship he seemed to have with both players and fans in that win over Chelsea last weekend.
With home advantage and a potential new manager bounce, I think I'm going with Leeds to finally win a match. There should be a strong atmosphere to help them when going forward and then they shouldn't concede too many goals against this Saints team so long as they avoid the rather stupid mistake Chelsea made of conceding a free-kick fairly close to the penalty box. They're like penalties for James Ward-Prowse.
Prediction: Leeds 2-1 Southampton
Leicester vs. Arsenal
Arsenal really had to win at Villa last weekend so it was very impressive to see them manage to do so after falling behind twice. They should be full of confidence as a result so it makes sense to back them here. Leicester are back to being dangerous and capable of an upset but Arsenal are the far less risky pick.
Prediction: Leicester 1-3 Arsenal
West Ham vs. Nottingham Forest
It sounds like this is a must-win game for David Moyes if he's to stay in his job and I think West Ham should just about manage three points now that their fairly concerning situation has become impossible to ignore since they've fallen into the relegation zone. It feels harsh on Forest after their result last week - they could easily manage another draw here but they've only managed 1 away win so far this season.
Prediction: West Ham 2-1 Nottingham Forest
Bournemouth vs. Manchester City
City need to make sure they actually win this game unlike their last two matches at Leipzig and Forest, but I think they'll do so as they're still playing at a very high level at the moment. The difference in quality between the two squads is obviously very large.
Prediction: Bournemouth 0-3 Manchester City
Crystal Palace vs. Liverpool
This could go either way after such a bad night for Liverpool at Anfield on Tuesday but I think they'll probably win - they have a great record in this fixture and I expect them to be inconsistent for the remainder of the season rather than outright terrible. There's a lot of attacking talent available to Klopp now so they should manage some goals, something Palace look short of at the moment.
Prediction: Crystal Palace 0-2 Liverpool
Tottenham vs. Chelsea
Chelsea are another team that currently look incredibly short of goals *but* they very rarely lose against Tottenham. The Blues' form is obviously terrible but they're fairly solid defensively and I think they can manage a draw here with Spurs very inconsistent.
Prediction: Tottenham 1-1 Chelsea
I'll add some picks for the rescheduled matches next week but Arsenal and Liverpool wins appear fairly likely... Best of luck with your own predictions!
Keen to continue talking football and Superbru? Join our new Facebook group for Superbru Football Fans here.