Premier League: Round 24 Predictions
I probably should have switched to Man City for that final match once I saw Partey was out, but I'm still pleased with 7/11 in Round 23 with a couple of Exacts so let's see if we can follow it up with another good round here.
The fixture schedule is getting very busy now for a lot of teams so it'll be interesting to see if that causes a few upsets for the sides with fewer games.
Here are my picks for Round 24 of the
Premier League Predictor
. Feel free to leave your own in the comments.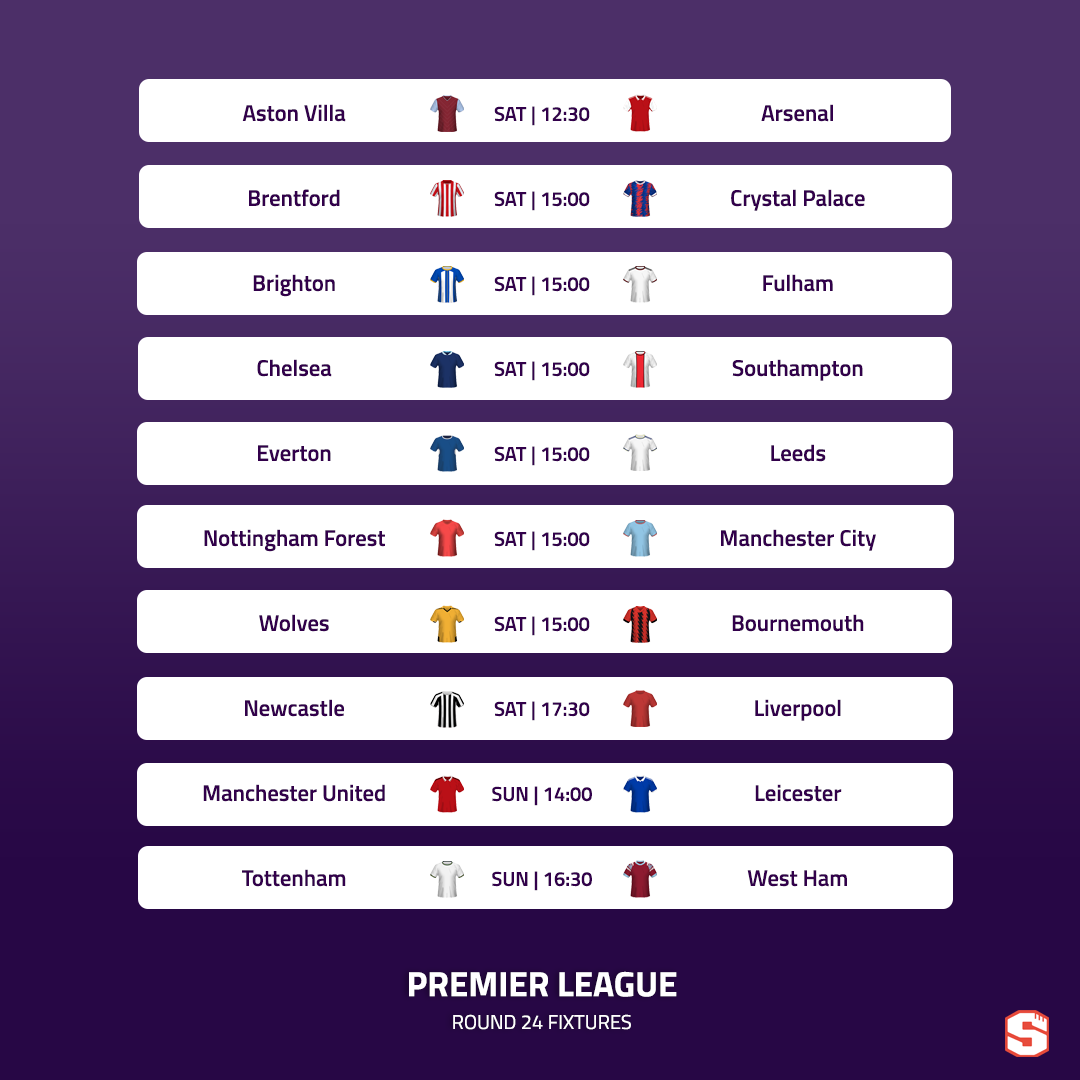 Aston Villa vs. Arsenal
Having now failed to win 3 on the bounce, it's easy to see Arsenal slipping again here, particularly without Partey, but Villa's recent form means I'm backing the Gunners to respond with a victory. Emery will be eager to prove a point against his former team but Villa haven't defended like an Emery side lately.
Prediction: Aston Villa 0-2 Arsenal
Brentford vs. Crystal Palace
Brentford continue to really impress. I'm not sure they're getting enough credit for their current form - a 10 match Premier League unbeaten run from a side that was newly promoted last season is remarkable. It makes sense to back them to win here as Palace are struggling to find the kind of flair I enjoyed watching them show in the first half of the season.
Prediction: Brentford 3-1 Crystal Palace
Brighton vs. Fulham
There isn't really anything negative to say about either of these teams so far this season, they've been excellent. I was very tempted by a draw but I think Brighton might just edge what should be a fairly cagey game with home advantage.
Prediction: Brighton 1-0 Fulham
Chelsea vs. Southampton
Chelsea obviously need to start converting the chances they're creating and surely they can do so against this Saints side. I think the Blues will be relieved they're avoiding a new manager bounce after Jesse Marsch's talks broke down with Southampton.
Prediction: Chelsea 2-0 Southampton
Everton vs. Leeds
Massive, massive game. I personally feel it'll be one of these two teams that are relegated alongside Bournemouth and Southampton so three points for either side would be huge. Calvert-Lewin being sidelined yet again is a huge blow for Everton but I think they still seem more likely to win than Leeds because of the mess the visitors have made in trying to appoint a new manager?
Having an interim manager for a bit is one thing but when you're forced into doing so having clearly tried to appoint numerous other people, it's hard for concern not to spread through the squad and fanbase. Everton were exellent in Dyche's opener at Goodison and they might well manage another vital home win here.
Prediction: Everton 2-1 Leeds
Nottingham Forest vs. Manchester City
I can only see City winning here given the reverse fixture we saw between these two and City's win at the Emirates on Wednesday. Forest are admittedly far better than they were back when that reverse fixture was played, but it's still hard to see them keeping City quiet unless Navas has a truly exceptional afternoon in goal.
Prediction: Nottingham Forest 0-3 Manchester City
Wolves vs. Bournemouth
This should be comfortable for Wolves as they continue to improve. Bournemouth have a horrid run of fixtures coming up where they'll struggle to find many goals let alone points.
Prediction: Wolves 2-0 Bournemouth
Newcastle vs. Liverpool
I think Liverpool have a great chance here with players coming back and Newcastle much weaker without Guimaraes, but I don't want to get too ahead of myself considering that Everton win was the first time they've played even slightly well in weeks. Newcastle's only defeat this season was in the reverse of this game and they certainly know how to defend so perhaps a draw is the best option.
Prediction: Newcastle 1-1 Liverpool
Manchester United vs. Leicester
I'm going to check the team news for this one as I think a slight upset is possible here with this fixture sandwiched between United's matches against Barcelona. If ten Hag opts to rotate, and particularly if he gives Rashford a rest, Leicester have a great chance given their recent form and I might switch to a draw. If United are at full strength, they should be fine after such a good display at the Camp Nou. They're becoming a very good side under ten Hag.
Prediction: Manchester United 2-1 Leicester
Tottenham vs. West Ham
Tottenham tend to win at home against West Ham so I'm backing them for a narrow victory despite their recent issues and the absence of Conte who I hope makes a full recovery very soon. West Ham will make life difficult but Spurs have the greater attacking threat in Kane.
Tottenham 2-1 West Ham
Best of luck with your own predictions!
Keen to continue talking football and Superbru? Join our new Facebook group for Superbru Football Fans here.