Premier League: Round 23 Predictions
Round 22 certainly wasn't short of upsets, was it? I only managed 3 correct picks which is rather pathetic so let's hope I can pick the right upsets this weekend as I think there'll be a few more.
Keep in mind the Champions League and Europa League are back next week too - not just because it's going to be great to watch but because a few managers will have one eye on their knockout first leg ties.
Here are my picks for Round 23 of the
Premier League Predictor
. Feel free to leave your own in the comments.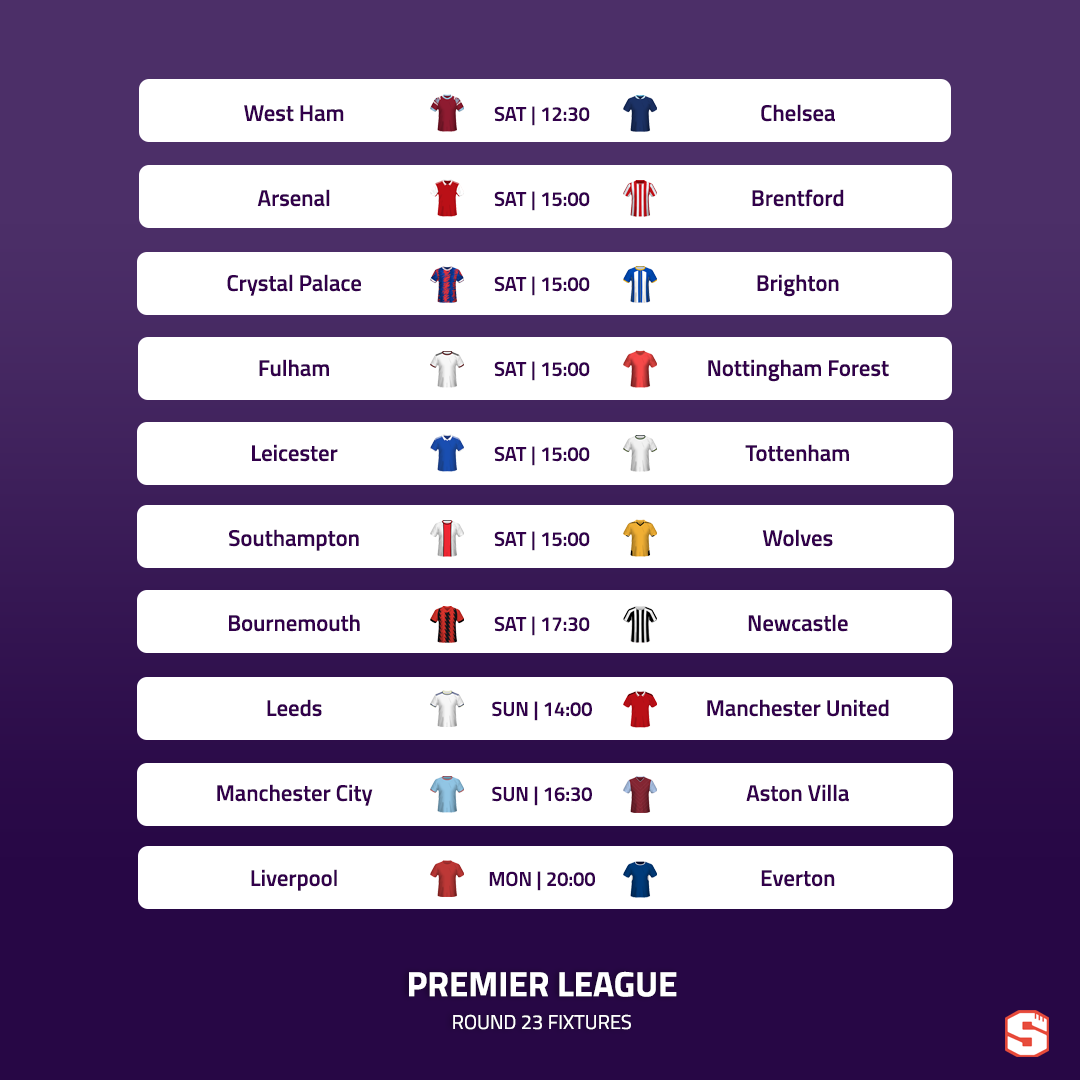 West Ham vs. Chelsea
There was quite a lot of hype around Chelsea ahead of the last round after their expensive signings but their performance against Fulham was then a reminder that it's still going to take quite some time before they're a force again as a team. Despite Enzo's strong debut, they lack midfield solidity and balance, largely due to injuries, and I think West Ham can cause problems on the counter as they often do in this fixture. The Hammers appear to be improving slightly and Chelsea have been poor away from home so I'm going with a draw.
Prediction: West Ham 1-1 Chelsea
Arsenal vs. Brentford
This isn't the easiest fixture for Arsenal as they look to bounce back from last week's loss but I think they should be okay - I still remember getting stung when picking against them in the reverse of this fixture! Seeing City lose at Spurs after the Everton defeat will have been a nice little boost for the Gunners and I think they'll win this pretty comfortably and then it's all about their first meeting of the season with City later in this round.
Prediction: Arsenal 3-1 Brentford
Crystal Palace vs. Brighton
We tend to get fairly entertaining games between these two rivals and while Brighton have clearly been the stronger side so far this season and are therefore the more likely winners in my opinion, we often see draws between them and I think Palace should be competitive enough for a point here even without Zaha.
Prediction: Crystal Palace 1-1 Brighton
Fulham vs. Nottingham Forest
Forest have continued their impressive run and they deserve a lot of credit for the results they're getting with an entirely new team but they're much stronger at home than they are away and I think Fulham will win this. I've been impressed with Marco Silva's team all season and Willian continues to look very sharp in attack despite his age!
Prediction: Fulham 2-1 Nottingham Forest
Leicester vs. Tottenham
I'm really torn on this one because Leicester's home form has been woeful but their result at Villa last week feels quite significant and Spurs will be without a couple of key men in Romero and Lloris. However, Lloris hasn't exactly been on fire this season anyway and Tottenham obviously had a good result themselves last time out. I was going to play safe with Spurs based on Leicester's home form but let's gamble on Iheanacho stealing the show again now that he's being given a chance.
Prediction: Leicester 2-1 Tottenham
Southampton vs. Wolves
I thought Nathan Jones might be in danger of losing his job after that bizarre press conference following the defeat at Brentford, but it seems he has another chance to save himself here. Realistically, Wolves are the far more likely winners though after their excellent win over Liverpool. The visitors also have a great record in recent meetings with Saints.
Prediction: Southampton 0-2 Wolves
Bournemouth vs. Newcastle
Most signs suggest this will be pretty low scoring but I think Newcastle will edge it, and they certainly shouldn't lose based on their long unbeaten run. It's hard to see how Bournemouth stay up now given that they'll need another run of form like they had in September and October following Parker's dismissal and I'm not really sure where the spark for that is coming from unless one of their new signings proves to be a real star.
Prediction: Bournemouth 0-1 Newcastle
Leeds vs. Manchester United
Like most, I didn't see that result coming at Old Trafford on Wednesday, and I feel Man Utd should put things right here although there are two factors putting me off - Wilfried Gnonto and the absence of Casemiro. It's clearly very possible for Leeds to get a result, especially since they'll have the home crowd this time around, but I've been impressed with ten Hag this season and I feel he should be able to get his side to respond after a poor display in midweek.
Prediction: Leeds 1-3 Manchester United
Manchester City vs. Aston Villa
After the defeat at Spurs, questions over Haaland again (which is ridiculous) and the Premier League's investigation into their finances, I feel like this game is setup for City to really come out swinging and prove a point. I was thinking Unai Emery would do a fairly good job of setting up to limit City's goals in this game and he still might but that 2-4 against Leicester was a scoreline I really didn't see coming.
Prediction: Manchester City 3-0 Aston Villa
Liverpool vs. Everton
This could prove the perfect fixture for Liverpool to end their run of form but Everton will of course also be right up for it and there really isn't much for the Toffees to fear. I can't see Everton winning but do feel they have a great chance of a point with belief boosted by that opening result under Dyche.
Liverpool 1-1 Everton
UPDATE: Arsenal vs. Manchester City
I'm fairly pleased with 7/10 so far, despite Everton letting me down at Anfield. This is obviously an incredibly difficult pick to finish with and as I said before, let's start by saying it's a shame it's on a Champions League night as we'll all have to be double screening this with Dortmund v Chelsea!
The weekend's results mean the momentum is suddenly with City heading into this game and they can go top with a win, so when you also consider their head-to-head record in this fixture it makes sense to pick the visitors. However, for some reason I have a feeling that Arsenal will get something, and I can even see them winning because City can definitely be got at defensively.
I was very close to picking Arsenal but I think I'm going with a draw. City have the greater experience of huge matches in a title race like this and the Gunners are certainly showing signs of the pressure getting to them. The atmosphere will definitely help the hosts but rather than that resulting in a late winner, perhaps it'll be a vital equaliser they end up grabbing instead which would keep things in their hands. All this said, we're still miles away from the run-in and I remain of the opinion that City will win the title even if they lose this match.
Prediction: Arsenal 1-1 Manchester City
Keen to continue talking football and Superbru? Join our new Facebook group for Superbru Football Fans here.