Premier League: Round 22 Predictions
After a break for the FA Cup and a very frantic end to the January transfer window, we're all set for Round 22 of the Premier League this weekend and what should be a fascinating second half of the season.
Overall, I'm doing fairly well in the Predictor after a good Round 21 with 6/10 which included 3 exacts. Let's hope we can continue with that kind of form here...
Here are my picks for Round 22 of the
Premier League Predictor
. Feel free to leave your own in the comments.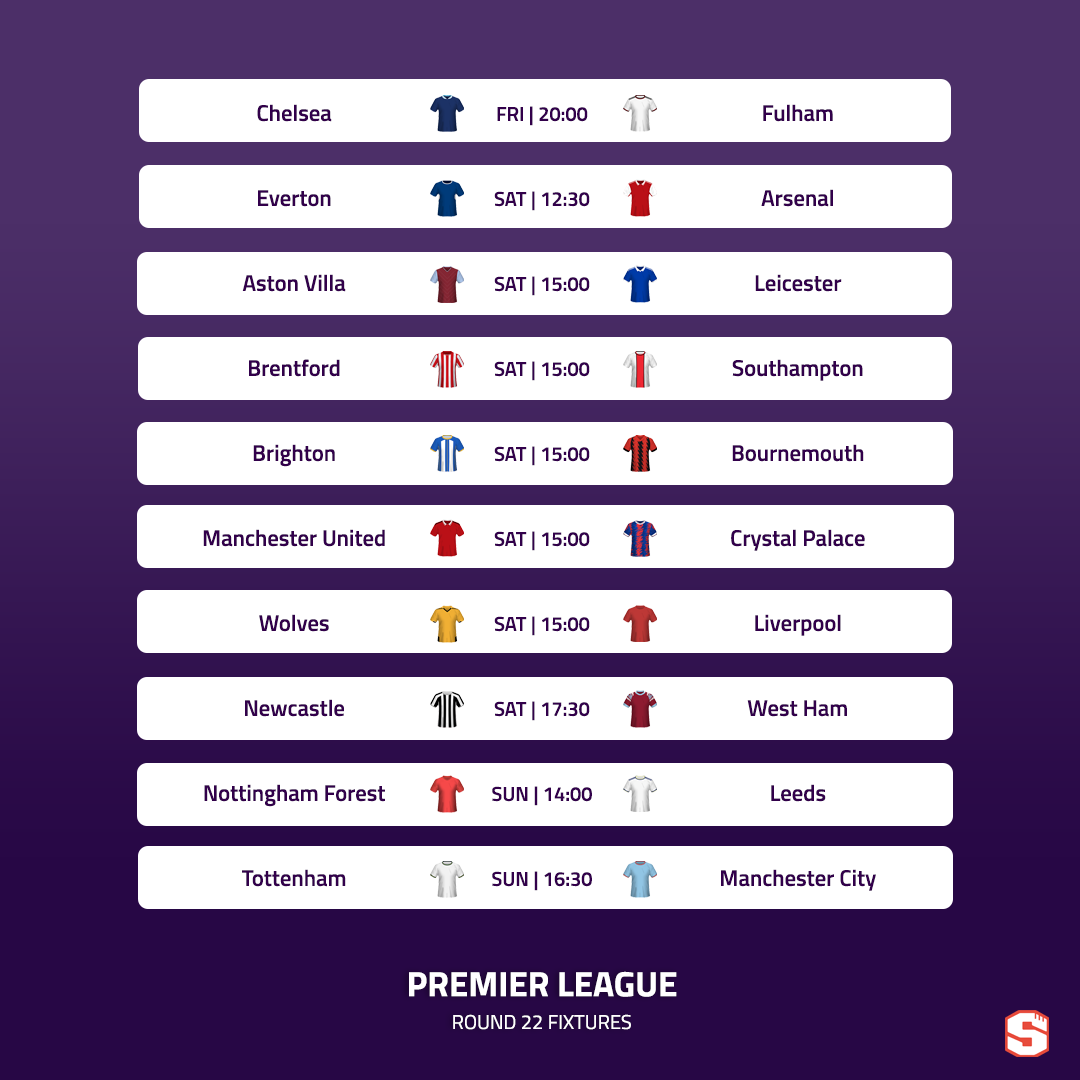 Chelsea vs. Fulham
As everyone keeps saying, Chelsea have spent a lot of money on transfers and it will take some time before we find out whether some of the most expensive deals have proved anywhere near worth it, but their fans will clearly be excited going into this match after so much activity and there should be a good atmosphere. More importantly for Potter in my opinion, is that Reece James, Ben Chilwell and Raheem Sterling are back and that should give Chelsea enough to gain some revenge for their loss in the reverse of this fixture.
Prediction: Chelsea 2-0 Fulham
Everton vs. Arsenal
I think Sean Dyche is the right appointment for Everton (Bielsa would have been crazy) but the Toffees' owners haven't been making too many other good decisions and it won't be easy for them to survive with their already limited attacking options weakened rather than strengthened in the window. Everton actually have a great record at home in this fixture and I was tempted by a draw in Dyche's opening game but Arsenal are playing at such a high level at the moment that it seems a bit foolish to pick an upset, particularly since it feels unlikely even a new manager will provide too much optimism at Goodison given the current situation at the club.
Prediction: Everton 0-2 Arsenal
Aston Villa vs. Leicester
I think Villa should continue their strong form under Emery here, as Leicester are still struggling to impress since the World Cup. They look fairly settled as a team whereas Leicester are probably hoping their new signings can trigger a fresher feel to improve results in the next few weeks.
Prediction: Aston Villa 2-1 Leicester
Brentford vs. Southampton
I'm excited to see how Southampton's new signings work out for the remainder of this season, particularly Onuachu and Sulemana, but I think Brentford will be fine in this game. The Bees remain unbeaten since the World Cup, giving them a nice and brightly coloured form streak on Superbru, so there won't be many picking against them.
Prediction: Brentford 3-1 Southampton
Brighton vs. Bournemouth
It's a similar story here as Brighton are in excellent form and have been great to watch. This should be a fairly comfortable home win.
Prediction: Brighton 2-0 Bournemouth
Manchester United vs. Crystal Palace
We saw Palace take a point off United only a couple of weeks ago in the reverse fixture but I doubt they can get anything at Old Trafford. Eriksen's injury could have been a real problem for ten Hag and United so they did very well to get Sabitzer in so quickly as a replacement, I think he's a very good player.
Prediction: Manchester United 3-1 Crystal Palace
Wolves vs. Liverpool
Tough one. Liverpool's record in this fixture is excellent, but it feels as if the only real reasons to pick them to win this game are based on what they were in previous seasons as at the moment, they look very ordinary. I expect them to be strong again once Diaz, Jota, Firmino and van Dijk are back but since it sounds as if they won't be for this game, I think Wolves can manage a point at home.
Prediction: Wolves 1-1 Liverpool
Newcastle vs. West Ham
Newcastle have been rock solid defensively for weeks now so this pick feels as if it's a question of whether or not they can score and take the points; I think they will. It's been a long time since West Ham have won on the road and this will be very difficult in front of what is a very optimistic home crowd at the moment.
Prediction: Newcastle 2-0 West Ham
Nottingham Forest vs. Leeds
This is a tough pick and there's a lot of new signings on either side to make things even less predictable. It's impossible to keep up with all of the players Forest have brought in but Keylor Navas stands out as a very strong addition as he's clearly an upgrade even if Henderson was fit. I think McKennie will prove a good signing for Leeds and Gnonto is excellent to watch but aside from Anfield, Leeds have failed to win away all season. That makes Forest favourites, but I think the visitors might get a point.
Prediction: Forest 1-1 Leeds
Tottenham vs. Manchester City
Tottenham have had the better of City in recent years when playing them at home but it still feels difficult to pick them to win here. There might be no Conte as he recovers from surgery which wouldn't help and though I was as surprised as most others about Cancelo's City exit, I wonder if it might help Guardiola and his team?
Clearly, Cancelo wasn't happy and he therefore may have been a disruption in the dressing room, so does the clear message sent by Guardiola in removing a very talented player from the squad actually push the rest of the squad to perform well and provide a big confidence boost to the likes of Ake and Lewis who have been playing instead? We'll find out over the next couple of months, but for this specific match, we saw how City can hurt this Spurs side in the second half of the reverse fixture.
Tottenham 1-2 Manchester City
Following those 10 matches we also have the rescheduled game between Manchester United and Leeds on Wednesday. I haven't locked anything yet but I'll likely pick Man Utd by a couple of goals.
Good luck with your picks in Round 22!
Keen to continue talking football and Superbru? Join our new Facebook group for Superbru Football Fans here.