Premier League: Round 21 Predictions
We're set for quite a weekend of fixtures in the Premier League with drama guaranteed at both ends of the table. This round is also followed by a 2-week break for a few clubs due to the
FA Cup
taking place (join our
Predictor
if you like!) so I think there'll be a few managers nervous about their jobs..
Round 20 was slightly above average for me as I managed 7/12 with one exact. City just about came through in the end last night but they aren't quite looking title winners just yet, are they?
Here are my picks for Round 21 of the
Premier League Predictor
. Feel free to leave your own in the comments.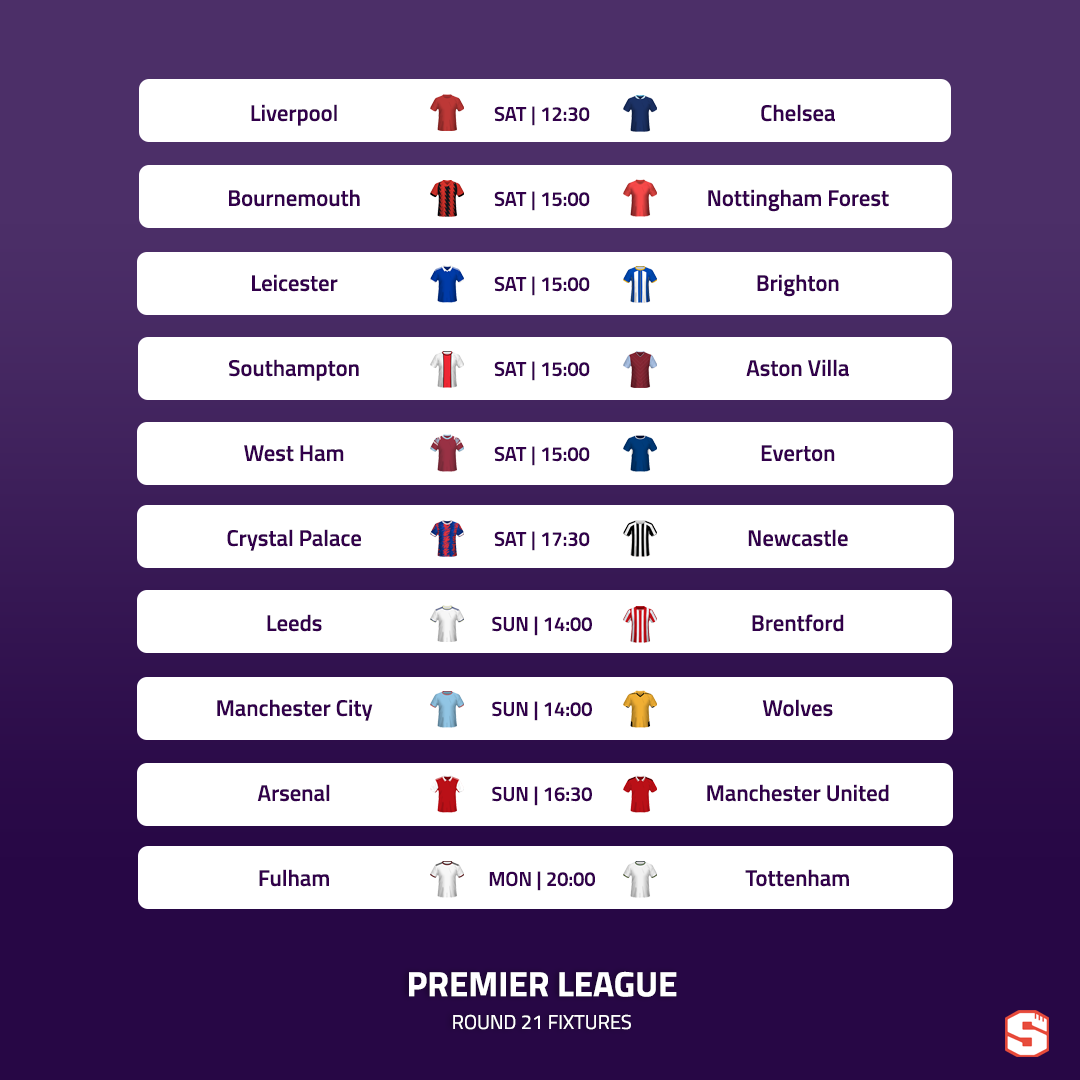 Liverpool vs. Chelsea
This is obviously always a big fixture but in some ways it's even harder to pick than usual this season because they've both been so bad rather than good. The sheer number of big chances Liverpool are conceding is crazy because of their midfield issues but Chelsea aren't a team that can exploit that like Brighton did last week at the moment in my opinion and the Blues are fairly poor in midfield themselves. It means I have no idea what's going to happen - Liverpool are probably favourites but I think the tendency for this fixture to finish level in recent meetings may continue.
Prediction: Liverpool 1-1 Chelsea
Bournemouth vs. Nottingham Forest
I'm going to risk a slight upset here as I think Bournemouth might be able to edge this with Henderson and Awoniyi both out for Forest. It sounds as if Chris Wood has been registered in time to feature for Forest as a replacement striker but I'm not sure he will and this is a good opportunity for Bournemouth to get points on the board.
Prediction: Bournemouth 2-1 Nottingham Forest
Leicester vs. Brighton
These two are just going in opposite directions at the moment as after a great few seasons, Leicester are falling intro trouble whereas Brighton look fantastic. I think you have to pick the Seagulls.
Prediction: Leicester 0-2 Brighton
Southampton vs. Aston Villa
Saints have finally ended their losing streak but considering the only teams they've beaten since August are Bournemouth and Everton, I'm still not ready to back them to beat Villa. This might be close, particularly since there's a strong chance Ward-Prowse will score any free-kick inside the opposition half, but I think a narrow away win is most likely.
Prediction: Southampton 0-1 Aston Villa
West Ham vs. Everton
I was planning to pick West Ham to win this match anyway but now that they've also signed Danny Ings who will probably go straight into the team for a debut, it just seems written in the stars that he'll score. I think Everton will have been annoyed to have missed out on Ings themselves as they're also desperately in need of a goalscorer to keep them in the league.
Prediction: West Ham 2-0 Everton
Crystal Palace vs. Newcastle
Palace are capable of a point here but they've had less time to prepare than Newcastle which I think is removing any temptation I may have to pick against the visitors. It'll be interesting to see if Newcastle can remain as solid throughout the second half of the season as they've been in the first period.
Prediction: Crystal Palace 0-2 Newcastle
Leeds vs. Brentford
Tricky one. Leeds definitely have reason for optimism after their last couple of games - mainly just Wilfried Gnonto - but I'm still not sure they can beat Brentford when you look at the form of each side since the World Cup. The teams are probably due a win/loss respectively but I think I'm going with a draw.
Prediction: Leeds 1-1 Brentford
Manchester City vs. Wolves
At half time in last night's game I was thinking City were in a tricky spot as that would have been 3 straight defeats but after such an impressive second half display and that aggressive post-match press conference from Guardiola, I think they'll be at it in this game. Wolves will be solid enough on the whole under Lopetegui but a defensive gameplan can quickly unravel at the Etihad.
Prediction: Manchester City 3-0 Wolves
Arsenal vs. Manchester United
Most signs point to an Arsenal win in this one. I know Spurs aren't great at the moment but I thought the Gunners winning away in the North London derby was still a big statement and it suggests they should be composed enough to get the job done against United too. The slight consideration I had to pick United to complete a league double over Arsenal was removed by that Casemiro yellow card at Palace. He's become very important to United since arriving and it will be very tough to stop the links between Martinelli, Ødegaard and Saka without him.
Prediction: Arsenal 3-1 Manchester United
Fulham vs. Tottenham
This will likely be a very even match to finish and I'm going with a draw. Tottenham look all over the place at the moment and Hugo Lloris in particular has become a big problem form wise. Heung-min Son is another player that just looks miles away from the level he was at and while that's not always explained by football reasons - Conte has recently admitted himself that he's found the season tough from a personal point of view which is obviously very understandable given the friends he has lost - it is an issue for Spurs and so while they have the weaker squad, I think Fulham are the team playing with greater intensity at the moment and they should pick up at least a point.
Fulham 1-1 Tottenham
Good luck with your picks in Round 21!
Keen to continue talking football and Superbru? Join our new Facebook group for Superbru Football Fans here.