Premier League: Round 20 Predictions
I think the fact it ended up being spread over quite a long period eased the pain somewhat, but Round 19 of the Premier League Predictor was a very difficult one. I managed just 4.5 points!
So I'm looking straight ahead to Round 20 which is set to be very challenging but also incredibly exciting as we have a Manchester derby, a North London derby, and two huge fixtures in the relegation battle as 18th plays 20th and 19th plays 17th.
Here are my picks for Round 20 of the
Premier League Predictor
. Feel free to leave your own in the comments.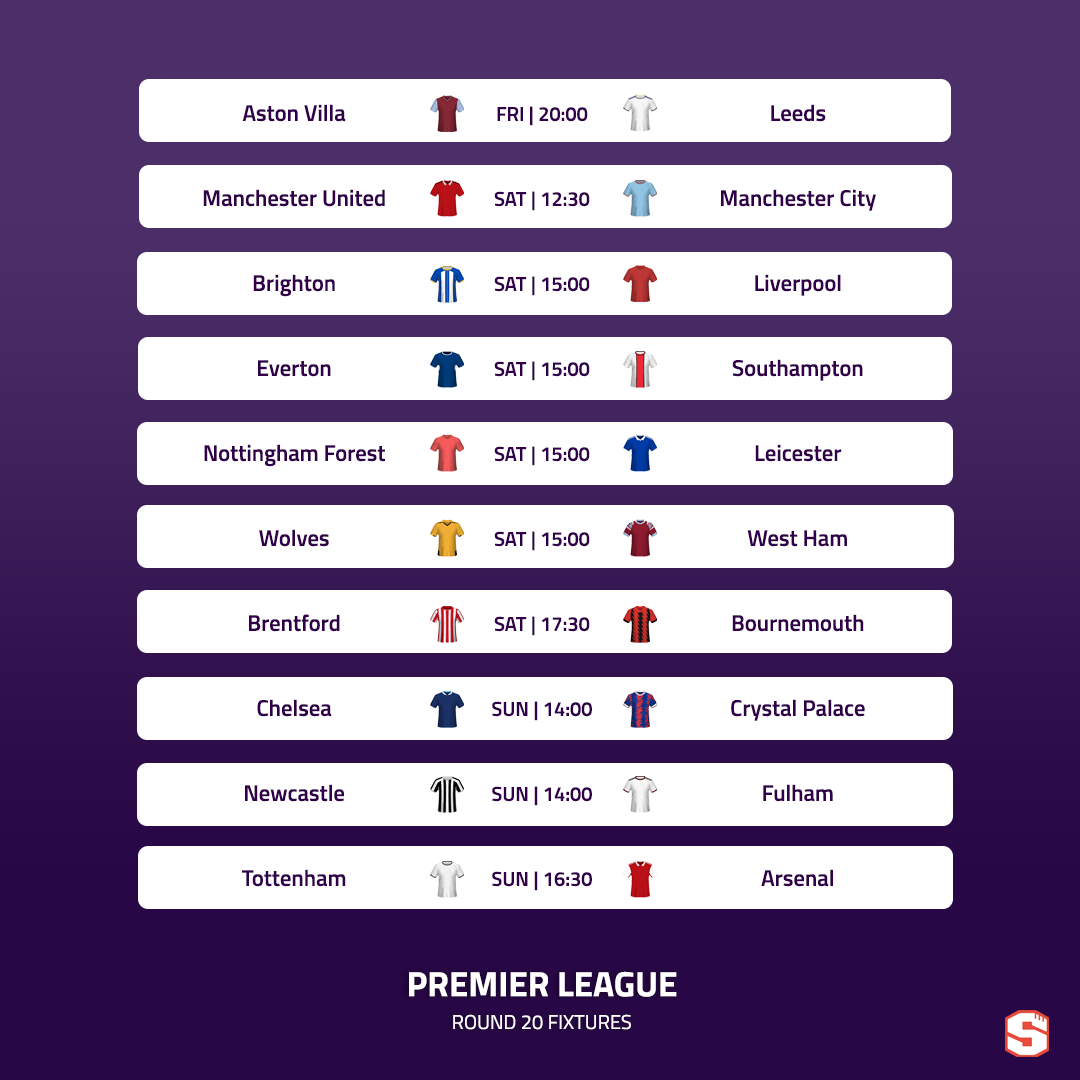 Aston Villa vs. Leeds
The draw with Wolves and defeat to Stevenage in the Cup are concerning for Villa, but I'm still of the opinion that they'll be strong under Emery and they should win this. Leeds continue to be chaotic and fairly unpredictable but it's been a while since they've won a match.
Prediction: Aston Villa 2-1 Leeds
Manchester United vs. Manchester City
City tend to win at Old Trafford and I don't think I can pick against them but United's recent form is certainly making me think twice. Casemiro has made such a difference since arriving from Madrid and Rashford's form will be a big concern for Guardiola as he could easily hurt City on the counter in this game. Overall, City remain the stronger side though and I think Foden may thrive in a big match like this once again.
Prediction: Manchester United 1-2 Manchester City
Brighton vs. Liverpool
Aside from goals, I'm not really sure what to expect here. Brighton look really dangerous in attack which is bad news for Liverpool without van Dijk but the Reds have a good record at the Amex and I think they can hurt the Seagulls depending on their lineup. With Diaz and Jota already out and Firmino still a doubt, if reports that Darwin Nunez is also now injured are correct then I may change my pick to a draw but if he can start alongside Salah I think Liverpool will edge this.
Prediction: Brighton 1-3 Liverpool
Everton vs. Southampton
A huge match for both sides. After Round 19, I thought Saints had no chance in this game having been beaten at home by Forest and I also thought Lampard would be out of a job after that humiliation against Brighton. However, since then, Southampton have had two very strong results in the cup competitions and the Everton board has backed Lampard to turn things around.
So what can we expect now? No idea. But I'm banking on Saints having one of those seasons where a team is terrible in the league but quite good in the cup. If you can allow Forest a first away league win of the season, then you can probably give Everton a much needed home victory too.
Prediction: Everton 2-0 Southampton
Nottingham Forest vs. Leicester
Forest have to be considered favourites here I think as they're building some momentum at the moment and there'll be a great atmosphere at the City Ground. I think Leicester might be able to manage a point but they've been very flat since the World Cup so I'm going with Forest.
Prediction: Nottingham Forest 1-0 Leicester
Wolves vs. West Ham
Another huge match at the bottom which both teams will be desperate not to lose. With that in mind, I think I'm going for a draw. West Ham have had slight signs of optimism in that they scored a couple at Leeds and then won at Brentford in the FA Cup, while Wolves are improving under Lopetegui without those performances translating to wins just yet.
Prediction: Wolves 1-1 West Ham
Brentford vs. Bournemouth
I'm slightly wary that Brentford are better at winning matches that they aren't expected to than the ones that they are, but surely they'll have too much for Bournemouth who are sliding down the table pretty quickly.
Prediction: Brentford 3-1 Bournemouth
Chelsea vs. Crystal Palace
That Fulham defeat really was a comedy of what more could possibly go wrong for Chelsea. Another defeat, a former player scoring against you, another player out injured, Kepa having another disaster in goal and then your shiny new loanee getting a straight red card and 3-match suspension when he's supposed to be covering all of your other attackers who are out injured is about as bad as it gets. Will their fortunes finally change against Palace? I'm not really sure why I'm picking them. Maybe it's just because they're so overdue a win. Or purely out of sympathy for Graham Potter.
Prediction: Chelsea 2-1 Crystal Palace
Newcastle vs. Fulham
Fulham have done incredibly well to get within 4 points of Newcastle and another win here really would be something but I think you have to go with the hosts. After such a good win over Chelsea on Thursday, there's really not much time for Marco Silva's team to prepare for another tricky game.
Prediction: Newcastle 2-0 Fulham
Tottenham vs. Arsenal
My rule has always been to avoid picking an away win in a North London derby on Superbru but it's very tempting to go against that here given the form of each side. This is Arsenal's best opportunity to win at Tottenham in years and I think they'll take the points but I am going to wait and see the Spurs lineup before fully committing. Kane almost always scores against Arsenal and if both Richarlison and Kulusevski are back from injury and able to feature, I think I'll switch to a draw as Tottenham should then be strong enough to take a point in such a meaningful fixture.
Prediction: Tottenham 1-2 Arsenal (for now)
Following those 10 fixtures, we also have two rearranged games in Round 20 as Palace host United and City take on Tottenham. I'm fairly confident I'll be backing the Manchester teams in those games but will let you know in the comments if I have a change of heart!
Good luck with your picks in Round 20.
Keen to continue talking football and Superbru? Join our new Facebook group for Superbru Football Fans here.