Premier League: Round 2 Predictions
My draw pick for Leicester v Brentford dragged me up to 5/10 which was in line with the community average, but Round 1 wasn't great for me thanks to that Wolves own-goal and Chelsea finally winning at Goodison!
So while it's still incredibly early days, let's hope this week is a little better.
Here are my thoughts on each game in Round 2 of the
2022/23 Premier League Predictor
.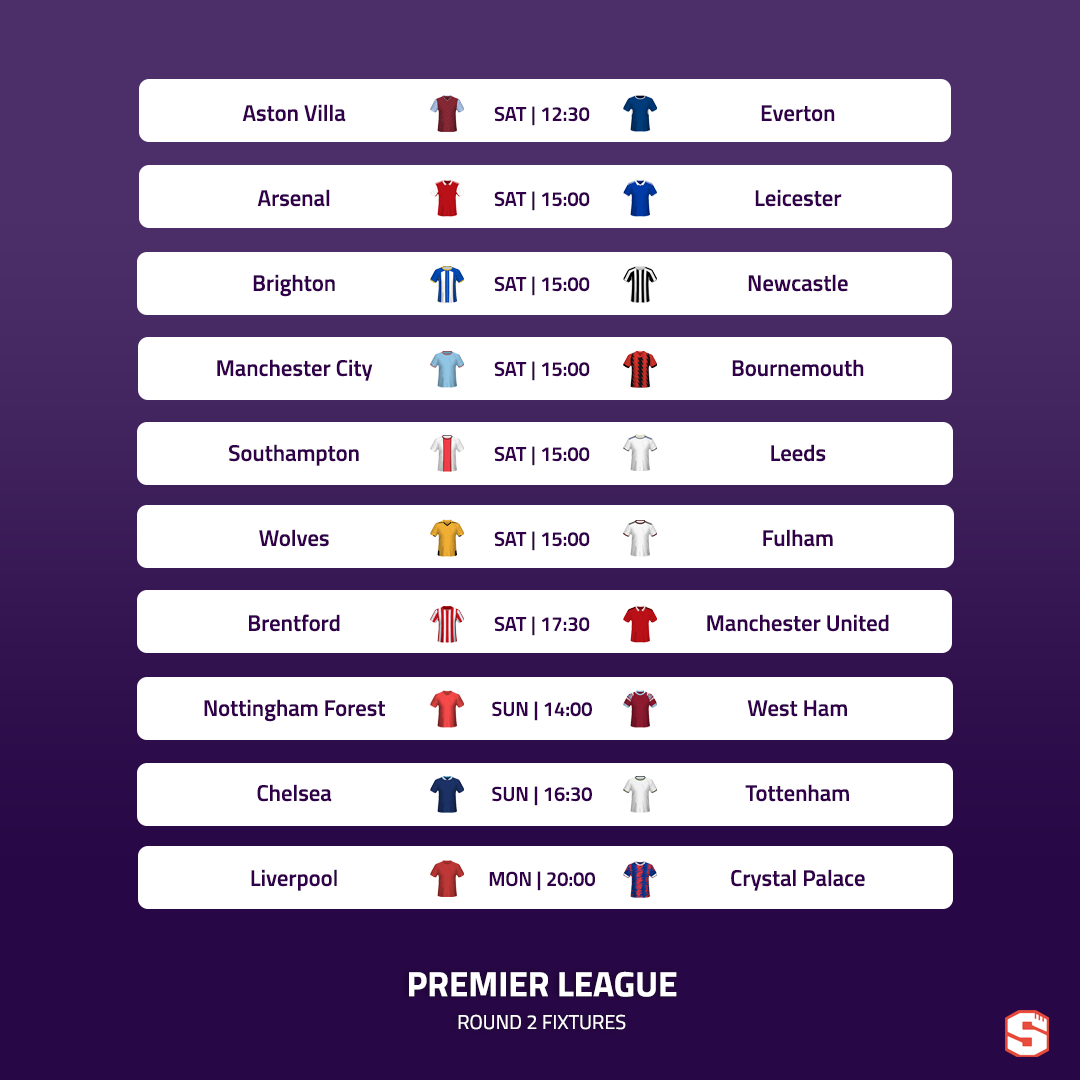 Aston Villa vs. Everton
This should be a fairly even game to start as we have our first Gerrard v Lampard battle in the Premier League for quite some time. Villa are favourites, particularly with the attacking talent they have available, but last week's defeat at Bournemouth is a concern. Everton, in contrast, haven't even got a striker available really but I think they should be much improved defensively this season with Lampard now able to select a back three involving both Conor Coady and James Tarkowski. Villa are the more likely winners but I'm going 1-1.
Prediction: Aston Villa 1-1 Everton
Arsenal vs. Leicester
Arsenal should find another 3 points here. Leicester's first XI remains strong but they'll have been disappointed to have lost their 2-0 lead last time out to draw 2-2 with Brentford and it's hard to tell whether or not the likes of Fofana and Maddison are distracted by transfer rumours. Arsenal appear in a good place at the moment and looking at their fixtures, they have a great opportunity to keep winning throughout August.
Prediction: Arsenal 2-0 Leicester
Brighton vs. Newcastle
This should be a great game between two decent teams. Brighton were excellent at Old Trafford last week but as a few of the pundits said post-match, United are actually one of the easiest teams to play against in the league at the moment. This will probably be more difficult for the Seagulls and I actually have a feeling Newcastle might sneak it. It's more a hunch rather than based on any kind of stats as Brighton's record in this fixture is sound but it feels as if Newcastle have quite a few players who can find the net.
Prediction: Brighton 1-2 Newcastle
Manchester City vs. Bournemouth
Well done to Bournemouth on an excellent result last week but if City are at it here, it really could be any score. It's pretty difficult to predict an exact scoreline so let's go with 3-0. Erling Haaland was as excellent as expected last weekend and will likely find ways to score from inside the six yard box in this match regardless but you'd like to think Bournemouth's game plan for this one won't include giving him a chance to run through one-on-one with the keeper.
Prediction: Manchester City 3-0 Bournemouth
Southampton vs. Leeds
I'm a little concerned for Southampton and so while I'm still not too sure about Leeds either, this is a good opportunity for Jesse Marsch's side to make it 6/6 points to start the season. It feels like both teams might not be at their best for a number of weeks yet as new signings work their way into the first team. Some of Leeds' new players already did a fairly good job of that last week, so I'm more tempted to go with them than Saints, but I think I'm going to pick a high-scoring draw as both can be got at defensively.
Prediction: Southampton 2-2 Leeds
Wolves vs. Fulham
Fulham deserve huge credit for that result against Liverpool and the signing of Issa Diop this week is another piece of good news that strengthens their chances of staying up. It won't be easy at Molineux though and I think Wolves will edge this. The hosts have an exciting new signing of their own in Goncalo Guedes who will of course fit in with the squad rather nicely as a Portuguese international.
Prediction: Wolves 1-0 Fulham
Brentford vs. Manchester United
Just like last season, here I am once again thinking that there's no real reason why Manchester United will win this match at all based on how little they offered last week, before picking them anyway because they
surely
can't be that bad again. United will get pressed again, they'll attempt to play out again which will probably result in David de Gea kicking the ball out for quite a few throw-ins, but can they take their chances to make up for those defensive issues? Christian Eriksen was one positive for them last week (Rashford really should have finished a couple of his passes) and since he'll be creating chances for the visitors rather than former club Brentford here, I'm going with United to edge it. They already really need a victory as they won't be winning next week.
Prediction: Brentford 1-2 Manchester United
Nottingham Forest vs. West Ham
Forest posed no real threat to Newcastle last weekend so it's hard to see them beating West Ham despite the strong atmosphere there'll be for this one. If this match goes truly on narrative then it'll be a 1-0 win for the hosts with Lingard scoring but I think it's unlikely. The news that Forest are expected to sign Emmanuel Dennis and Remo Freuler in the coming days is definitely good news for their fans though - they'd both really strengthen the starting XI for future rounds in my opinion.
Prediction: Nottingham Forest 1-3 West Ham
Chelsea vs. Tottenham
We've heard plenty of people talking about how strong Tottenham will be this season, and there's a chance they're right because of how good Conte is, but this is the first chance Spurs have to actually put down a marker and prove it. Tottenham almost never win at Stamford Bridge and we saw Chelsea win 4/4 matches against them in a single season last year. Perhaps this weekend will be the time things start to change for Spurs but I'm not ready to suddenly believe they can beat Chelsea away given how many times we've seen them fail in this fixture.
Prediction: Chelsea 2-1 Tottenham
Liverpool vs. Crystal Palace
Anything other than a Liverpool win would obviously be another huge upset for this final match. I expect Darwin Nunez to start after his impressive sub appearance at Fulham and previous meetings certainly suggest the Reds will have too much for Palace.
Prediction: Liverpool 3-0 Crystal Palace
Good luck with your own Round 2 picks!
Keen to continue talking football and Superbru? Join our new Facebook group for Superbru Football Fans here.