Premier League: Round 18 Predictions
I was fairly pleased with 7/10 in Round 17 which included a couple of Exacts. Thankfully, most teams continued fairly consistently in terms of form despite the long pause for the World Cup.
Unfortunately, the most significant football news in the last 24 hours has been the passing of the great Pelé, aged 82. The undisputed king of the World Cup, Pelé was undoubtedly one of the very best we've ever seen. Our thoughts are with his family and the millions across Brazil where he was of course an icon.
We now go straight into the New Year's round which is quickly followed by Round 19 on Monday so make sure you've got picks in in advance!
Here are my picks for Round 18 of the
Premier League Predictor
. Feel free to leave your own in the comments.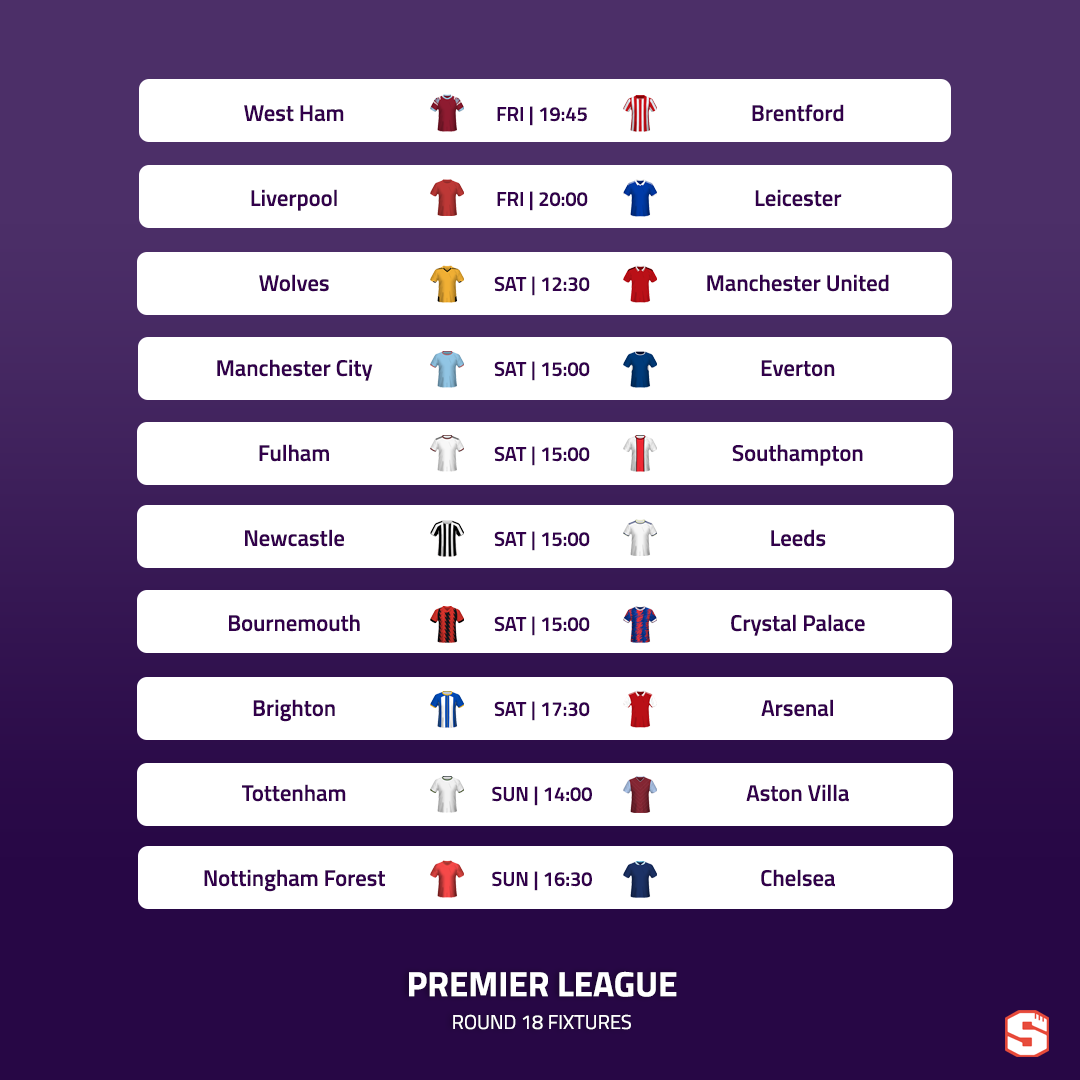 West Ham vs. Brentford
West Ham are overdue a win but it's hard to go against Brentford at the moment as they're playing well and scoring goals. I think West Ham should be able to end their losing run but I'm not convinced they'll take all 3 points.
Prediction: West Ham 1-1 Brentford
Liverpool vs. Leicester
After being outplayed at home by Newcastle, it's hard to see Leicester getting anything here. Liverpool will be pleased with their result at Villa and the signing of Cody Gakpo (he's not available to play for them yet) is a very exciting one for them which came out of the blue!
Prediction: Liverpool 2-0 Leicester
Wolves vs. Manchester United
Despite being second best for a fair amount of the game, Wolves managed a massive three points at Everton on Boxing Day which Julen Lopetegui will be delighted with but there certainly wasn't enough in that performance to suggest they can win this game too I don't think. United are looking strong as I said in my last article and I think we might see them have a really good second half of the season.
Prediction: Wolves 0-2 Manchester United
Bournemouth vs. Crystal Palace
This is a really difficult pick as it's very hard to gauge where Palace are at following that disaster on Boxing Day where they ended up with 9 men. Bournemouth pressed relatively well against Chelsea but were quite poor otherwise defensively and 5 defeats in 6 games makes it hard to pick them. I'm considering a draw but perhaps Palace will edge it as they need a response to that Fulham defeat?
Prediction: Bournemouth 1-2 Crystal Palace
Fulham vs. Southampton
Fulham should win this one. I think Saints fans will be very concerned about relegation as sadly, it didn't sound as if there was much to cheer about in that loss to Brighton in Round 17. Fulham have been excellent this season and are certainly the form team.
Prediction: Fulham 3-1 Southampton
Manchester City vs. Everton
City are obviously the team to pick here. Given the teams Everton have been beaten by in recent rounds, it would be a huge surprise to see them come away from the Etihad with anything.
Prediction: Manchester City 3-0 Everton
Newcastle vs. Leeds
Newcastle picked up right where they left off before the World Cup against Leicester and that's bad news for Leeds who are unlikely to be able to match them. It should be quite open though and hopefully there'll be a few goals.
Prediction: Newcastle 3-1 Leeds
Brighton vs. Arsenal
This is the most intriguing match of the round for me as it'll be interesting to see if Brighton are able to take a point or 3 off Arsenal - they certainly have the potential to do so if they're at 100% and Arsenal aren't. I think the Gunners will win but we're now entering a very interesting period in the title race (if the less superstitious Arsenal fans are prepared to admit that they do stand at least a tiny chance of going all the way) as Arsenal's next few fixtures are tough, including this one. I think Brighton will cause some problems but I'm not sure they'll be strong enough defensively to get a result.
Prediction: Brighton 1-2 Arsenal
Tottenham vs. Aston Villa
Tottenham remain very unconvincing and I think Villa can get something here if Emiliano Martinez is back in goal and Spurs' tendency to start terribly continues. Of course, if Spurs are at their best then they should take the points but we haven't seen too much of that from them in recent rounds and I think Villa will be tough to beat in their remaining games this season under Emery.
Prediction: Tottenham 1-1 Aston Villa
Nottingham Forest vs. Chelsea
Chelsea looked really strong in the first half of their win over Bournemouth but Reece James getting injured again is a big concern for them and I don't think this will be easy at the City Ground. There's a chance of a draw here as well in my opinion but I'm going with Chelsea to narrowly take it based on the improved attacking performance we saw from them in Round 17.
Prediction: Nottingham Forest 1-2 Chelsea
Good luck with your own Round 18 picks and Happy New Year!
Keen to continue talking football and Superbru? Join our new Facebook group for Superbru Football Fans here.