Premier League: Round 17 Predictions
After a long break for what was a very entertaining World Cup, the Premier League returns on Monday and it will be fascinating to see which teams manage to come out of the blocks well after so many weeks off.
Round 16 feels forever ago now and I don't seem to have done too well with 4/10 in that round but I'm still inside the top 5k globally so let's hope we can kick on with some good predictions over the festive period!
Here are my picks for Round 17 of the
Premier League Predictor
. Feel free to leave your own in the comments.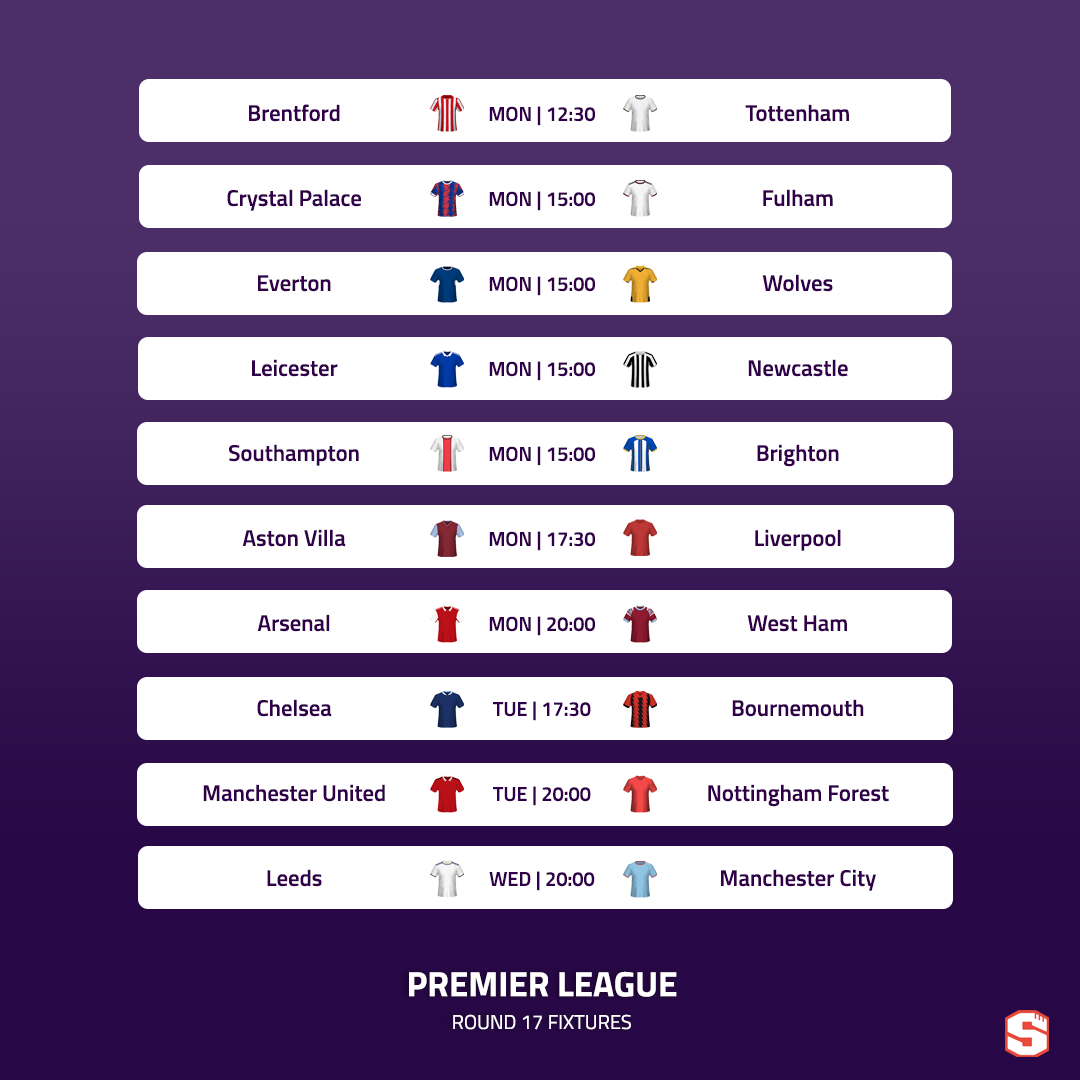 Brentford vs. Tottenham
The form guides are obviously much less relevant than usual after over a month off but we saw Brentford win at Manchester City just before the World Cup and I think this will be a very tough first game back for Spurs. The visitors will be missing a few key men due to their involvement in the final weekend in Qatar and I think Brentford should be able to manage at least a point.
Prediction: Brentford 1-1 Tottenham
Crystal Palace vs. Fulham
Two decent teams who, based on their performances so far, should easily be safe from relegation this season. I think this will be a fairly good game but Palace are probably the more likely winners with home advantage. Palace have plenty of good attacking players, very few of which were involved at the World Cup which is a bonus for them.
Prediction: Palace 2-1 Fulham
Everton vs. Wolves
This is a very difficult pick as Everton looked dreadful before the World Cup and Wolves have looked awful all season but now start life under Julen Lopetegui who will surely improve them? Wolves have some very, very good players so I expect them to start picking up results, but this won't be easy at Goodison and I think we might see a draw.
Prediction: Everton 1-1 Wolves
Leicester vs. Newcastle
Newcastle have been magnificent so far in this campaign and showed no signs of falling away before the break so I think you have to back them here. Leicester have recovered from their terrible start but are still yet to beat a good team so far this season.
Prediction: Leicester 0-2 Newcastle
Southampton vs. Brighton
This is another tricky one as Brighton looked understandably far less consistent as they adjusted to Graham Potter's departure, while Southampton are also now getting used to a new manager, Nathan Jones. Brighton are the better side but I just think Saints might be right up for this on Boxing Day in their first home league game under Jones so I'm going with them.
Prediction: Southampton 2-1 Brighton
Aston Villa vs. Liverpool
Unai Emery enjoyed an excellent start at Aston Villa with two wins out of two before the World Cup and I think Villa will give Liverpool a game here too. It's so hard to tell whether or not Liverpool will be a lot better following the World Cup but the fact is they've won just 1 of their 6 away games so far this season and Luis Diaz picking up another injury is a huge blow for them. Without him, Firmino and Jota, the Reds are without three very strong attackers but while I think that will mean they remain quite inconsistent in the coming weeks, they might just manage a narrow victory here with Nunez and particularly Mo Salah raring to go after having plenty of time off.
Prediction: Aston Villa 1-2 Liverpool
Arsenal vs. West Ham
Arsenal will be really tested over the next few weeks, particularly without Gabriel Jesus, as they have a really nasty looking January and February. This should be three points for them though as West Ham haven't looked great so far this season.
Prediction: Arsenal 3-1 West Ham
Chelsea vs. Bournemouth
I'm going with Chelsea here, mainly because they should have Reece James back, but they certainly need to improve upon their pre-World Cup form. Bournemouth have had plenty of time to prepare given that not many of their squad were at the WC in comparison to Chelsea's so I think it'll be tight but the Blues should edge it.
Prediction: Chelsea 2-1 Bournemouth
Manchester United vs. Nottingham Forest
Forest have been awful on the road so this should be a United win and I think the hosts will keep improving under ten Hag. Ronaldo's departure is a big moment for ten Hag as it frees him from a considerable issue/distraction. I've been very impressed with the Dutchman since he's arrived at Old Trafford and if he can get Bruno Fernandes playing like he did for Portugal in Qatar, United will be dangerous in attack.
Prediction: Manchester United 3-0 Nottingham Forest
Leeds vs. Manchester City
City battered Leeds in both of their league meetings last season and I think it will be fairly comfortable this time around too. Guardiola's team looked sharp against Liverpool in the League Cup and Haaland will be desperate to get back scoring goals for fun after having to sit and watch the World Cup.
Prediction: Leeds 0-3 Manchester City
Good luck with your own Round 17 picks and I wish you all a fantastic Christmas!
Keen to continue talking football and Superbru? Join our new Facebook group for Superbru Football Fans here.