Premier League: Round 16 Predictions
I only managed 5/10 in Round 15 which was in line with the community average after underestimating Arsenal (or perhaps overestimating Chelsea) and only going for a Villa draw in Emery's opening game rather than a win.
We now have the final round before the Premier League is paused for the
2022 World Cup
.
With that in mind, there could be some tricky predictions here as it's only natural in this crazy schedule that many of the players who have been selected for Qatar will be prioritising staying fit this weekend. In many cases, players are departing to join up with their national teams within hours of these games.
Of course, the fact that we have a World Cup is still very exciting for everyone and it should be great fun on Superbru so make sure you've joined our
Predictor
and
Odds-based Fantasy
games!
Here are my picks for Round 16 of the
Premier League Predictor
. Feel free to leave your own in the comments.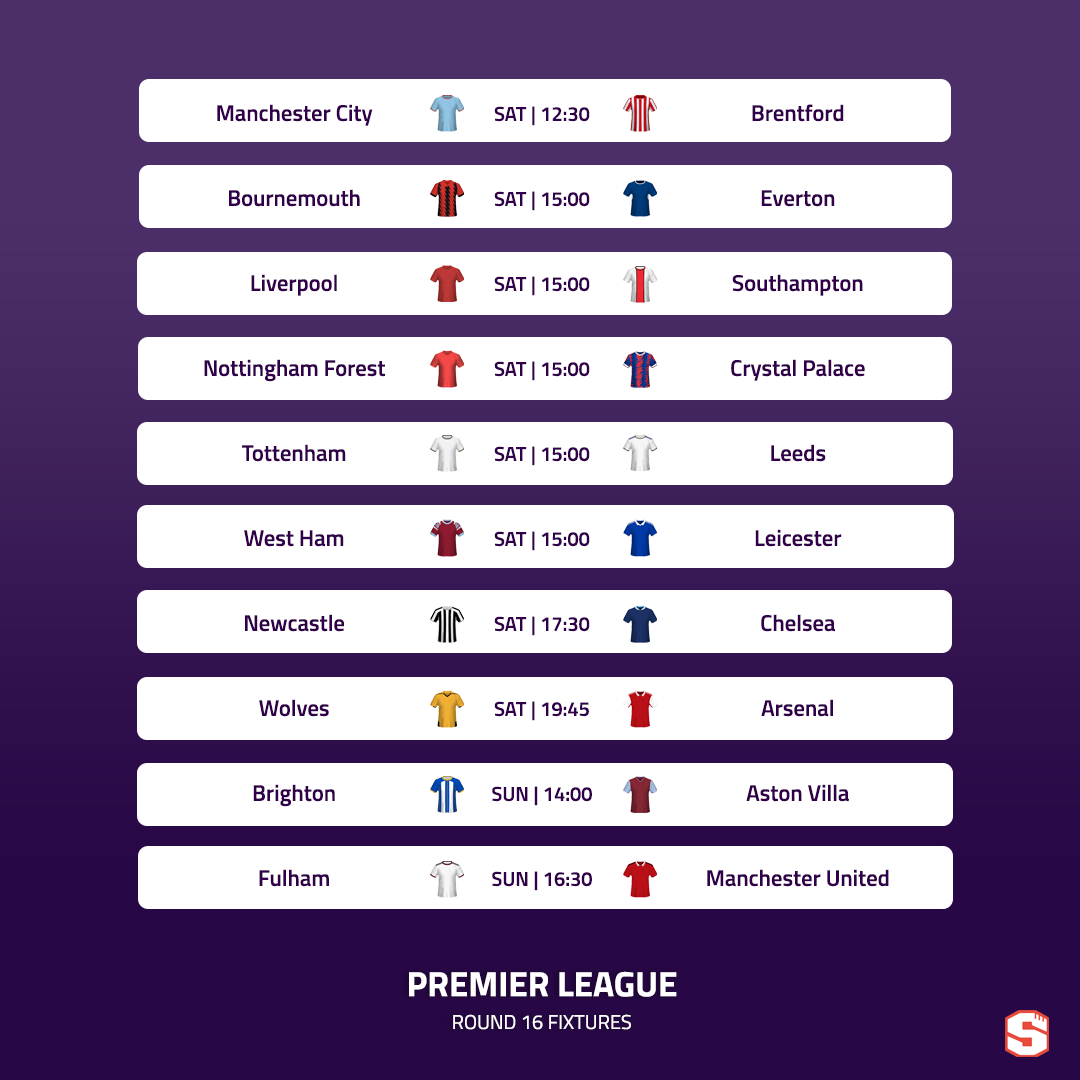 Manchester City vs. Brentford
The early game often sees upsets but I'm still going with City here. Even with 10 men last weekend, they dominated the game against Fulham and assuming they keep the full 11 on the pitch this week they should be just fine.
Prediction: Manchester City 3-1 Brentford
Bournemouth vs. Everton
Quite a tricky one, this. I'm not reading too much into the League Cup game between these sides given both rotated their lineups heavily. It's a big game as the loser could end up in the relegation zone for the upcoming break and while I'm concerned by Everton's performance against Leicester last time out, I think they should have enough for at least a point here given Bournemouth's recent league form. If this is level late on, both sides may prefer to just avoid going into the break with a loss.
Prediction: Bournemouth 1-1 Everton
Liverpool vs. Southampton
Leeds have proven that upsets at Anfield are possible, and we have a potential new manager bounce in this game with Nathan Jones taking over at Saints, but I think we're more likely to see an improvement in Southampton after the World Cup. A win here would keep Liverpool within 4 or 5 points of the UCL spots and I think Klopp will be relatively pleased with that given their poor start and the fact that he'll have Diaz and Jota back for the second half of the season.
Prediction: Liverpool 2-0 Southampton
Nottingham Forest vs. Crystal Palace
I'm really torn with this one so I think I'll probably go for a draw. Forest played quite well last week and probably deserved the win I predicted they'd get but Palace look good at the moment and it's hard to go against the Eagles with their current form streak. I feel as if Forest are due a win and Palace are due a defeat but let's go 1 each.
Prediction: Nottingham Forest 1-1 Crystal Palace
Tottenham vs. Leeds
I'm not too convinced by either of these teams at the moment so I'm sticking with the safe choice which is Spurs. Richarlison and Kulusevski both being back is a big boost for Tottenham and surely Leeds can't manage 3 wins on the bounce?
Prediction: Tottenham 2-0 Leeds
West Ham vs. Leicester
The tough predictions keep coming! All 3 outcomes are very possible here, but similar to what I was saying for the Forest game, it feels like West Ham are due a win and Leicester a defeat? Let's actually follow that idea this time - I'm going with West Ham but definitely don't feel confident.
Prediction: West Ham 2-1 Leicester
Newcastle vs. Chelsea
I'd never have thought at the start of the season that Newcastle would be going into this match as the bookie favourite but here we are. Chelsea's injuries are clearly a real problem - they look particularly lost without Reece James. Newcastle, meanwhile, are absolutely flying. Even though they need to, I can't see Chelsea going to St James' Park and winning to be honest but I think they might get a draw? Particularly if Wilson is out for the hosts.
Prediction: Newcastle 1-1 Chelsea
Wolves vs. Arsenal
Just one more game for Wolves to struggle through and then they can try and start fresh under Lopetegui post-World Cup. Arsenal were really good at Chelsea last week and should now win this match to go into the break as league leaders.
Prediction: Wolves 0-2 Arsenal
Brighton vs. Aston Villa
This should be a great game with Brighton starting to look good under De Zerbi and Villa starting well with Emery last week. Brighton are probably slight favourites but I think Villa will make it difficult for them so I'm going with yet another draw here which feels bold.
Prediction: Brighton 1-1 Aston Villa
Fulham vs. Manchester United
This won't be at all easy for United as Fulham have been really good at Craven Cottage but with Mitrovic out I'm going for a narrow away win. Having defended well up until last weekend, I think United will fancy their chances of a clean sheet since Fulham's main goal threat is out and they should manage to find the net themselves.
Prediction: Fulham 0-1 Manchester United
Good luck with your own Round 16 picks!
Keen to continue talking football and Superbru? Join our new Facebook group for Superbru Football Fans here.