Premier League: Round 15 Predictions
After a fairly strong 7/10 in Round 14, I have a bit of momentum to take into this weekend's round which looks fairly tricky with several very important games.
It's the penultimate round before the Premier League pauses for the
World Cup
so make sure you've joined our
Predictor
and
Odds-based Fantasy
games!
Here are my picks for Round 15 of the
Premier League Predictor
. Feel free to leave your own in the comments.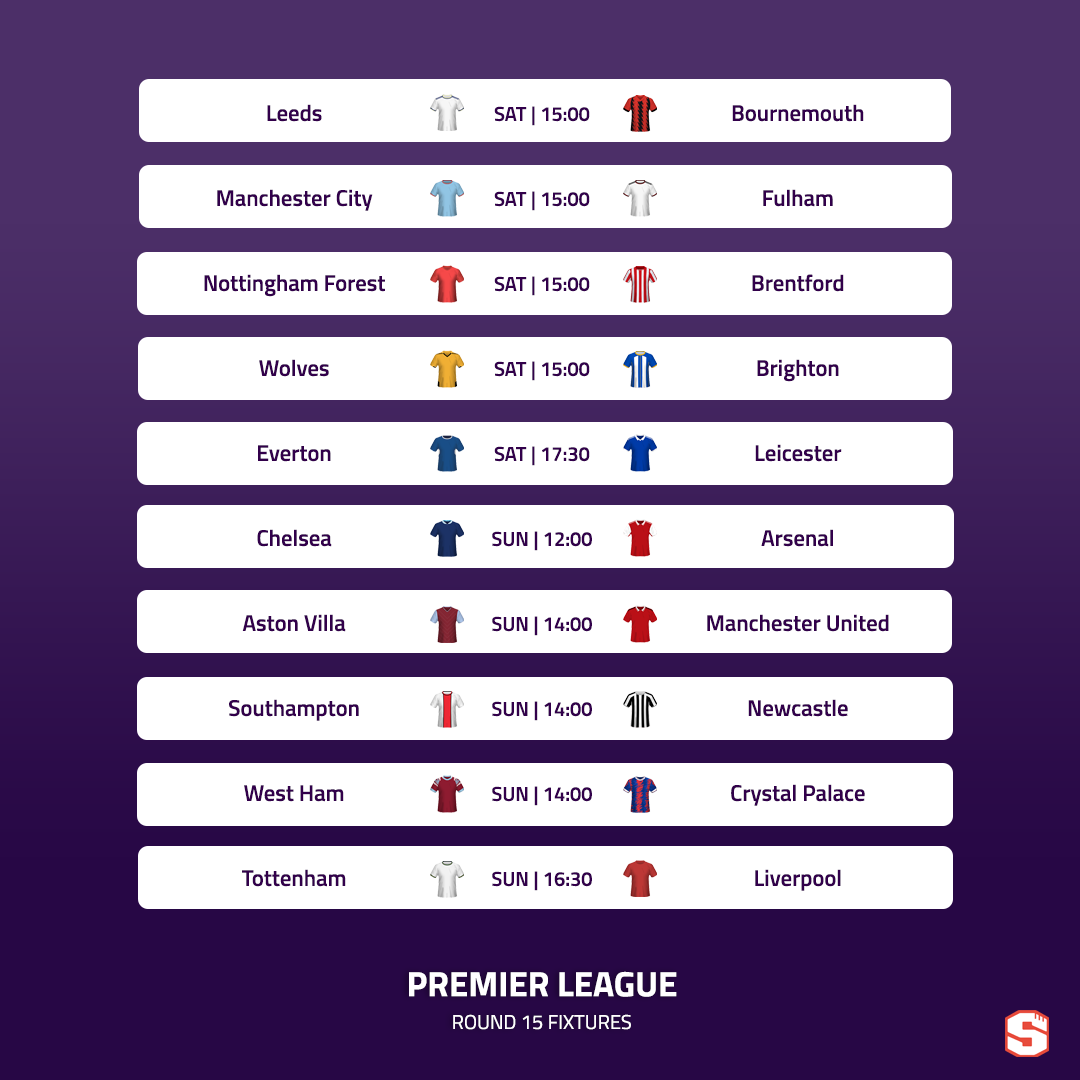 Leeds vs. Bournemouth
After that stunning win at Liverpool last week I think you have to go with Leeds here. I'm not sure I'd have picked them if they hadn't had that result, as it looked like things were only heading one way under Jesse Marsch, so the team and of course Marsch himself deserve huge credit.
Prediction: Leeds 2-1 Bournemouth
Manchester City vs. Fulham
This is obviously likely to be a home win and it sounds as if Haaland is back. Fulham have been really impressive this season but it would still be a huge surprise to see them get anything at the Etihad.
Prediction: Manchester City 4-0 Bournemouth
Nottingham Forest vs. Brentford
Given Brentford's away form, and now the fact that Ivan Toney is suspended, I think this is a massive opportunity for Nottingham Forest to pick up three points. I was tempted by a draw, but let's gamble on Forest getting a win with that home crowd behind them.
Prediction: Nottingham Forest 1-0 Brentford
Wolves vs. Brighton
Maybe they'll surprise me, but it feels like Wolves are just coasting into trouble at the moment while they wait for a new permanent manager. If Brighton can play with even half as much intensity as they did against former manager Graham Potter last weekend, then this should be a second win for Roberto De Zerbi and so though Wolves sometimes make life difficult for opponents at Molineux, I think you have to back the Seagulls.
Prediction: Wolves 0-2 Brighton
Everton vs. Leicester
It wasn't as pretty as their 3-0 win over Palace the week before, but I think Everton and Frank Lampard will be pleased with their goalless draw at Fulham and they could well get 3 more points now in this game since they're back at Goodison. I'm interested to see how Leicester get on as they might have turned a corner but it still remains to be seen if they can beat a half decent team away from home this season.
Prediction: Everton 2-1 Leicester
Chelsea vs. Arsenal
I, like many, have been stung in the Predictor by Arsenal winning at Stamford Bridge in the last couple of seasons as they never used to! This time, they head to Chelsea as slight favourites in my opinion as the hosts are really struggling with injuries and are well behind on the table, but that favourites tag in itself makes me question whether the Gunners will be able to deliver?
Arsenal have obviously been excellent this season but in their one difficult away game so far, they came unstuck at Old Trafford so I just wonder if Chelsea might edge this. Graham Potter will surely have learned from the tactical change he had to make against United to fill midfield and last week's awful result at Brighton, so if he sets up with a back four (especially now Chilwell is injured) and tries to fill midfield from the off this time, I think Chelsea might sneak a win.
Prediction: Chelsea 2-1 Arsenal
Aston Villa vs. Manchester United
I think Unai Emery is a great appointment for Villa - he has a good squad to work with and I think they'll be quite competitive within a few months. This is a tough opening fixture but with the optimism Emery's arrival will create, and the fact that Bruno Fernandes is suspended, I think the hosts might snatch a point. West Ham very nearly did at Old Trafford last week.
Prediction: Aston Villa 1-1 Manchester United
Southampton vs. Newcastle
Newcastle are flying so I'm sticking with them at the moment. Saints can be awkward but their results aren't strong enough to justify going for an upset here.
Prediction: Southampton 0-2 Newcastle
West Ham vs. Crystal Palace
Palace are far stronger at home so I'm going with West Ham in this one who continue to improve as the season goes on in my opinion. As David Moyes said himself, they've a few players coming back from injury now as well such as Aguerd and Paqueta which will help.
Prediction: West Ham 1-0 Crystal Palace
Tottenham vs. Liverpool
A really tricky one to finish on. After losing against Forest and Leeds, it seems mad to consider back Liverpool at Spurs but Tottenham look so ordinary at the moment and are now without Son as well as Richarlison. Obviously Liverpool aren't at full strength either but I just don't see how Spurs can survive the number of attempts Liverpool will have in this game if the hosts continue playing as they have been. Tottenham should be looking to exploit the clear defensive issues there are in this Liverpool team but I'm just not sure they will without Son and Richarlison.
Prediction: Tottenham 1-2 Liverpool
Good luck with your own Round 15 picks!
Keen to continue talking football and Superbru? Join our new Facebook group for Superbru Football Fans here.