Premier League: Round 14 Predictions
Round 13 went fairly well for me as I managed a couple of Exacts for the Chelsea draw and West Ham's win, while Aston Villa and Fulham also picked up the victories I picked.
I must admit to also getting a very fortunate boost in that round to take me to 6/10 though as somehow, I stupidly picked 3-0 for the opening game between Forest and Liverpool rather than 0-3 which means I got a lucky, undeserved extra point. I can only apologise to those of you I'm in a pool with - I would have obviously been very frustrated if the game went as expected and Liverpool won 0-3!
On to this week then where I've made sure I've picked Arsenal rather than Forest despite both teams having a red jersey on the picks page again! 🤦‍♂️
Here are my picks for Round 14 of the
Premier League Predictor
. Feel free to leave your own in the comments.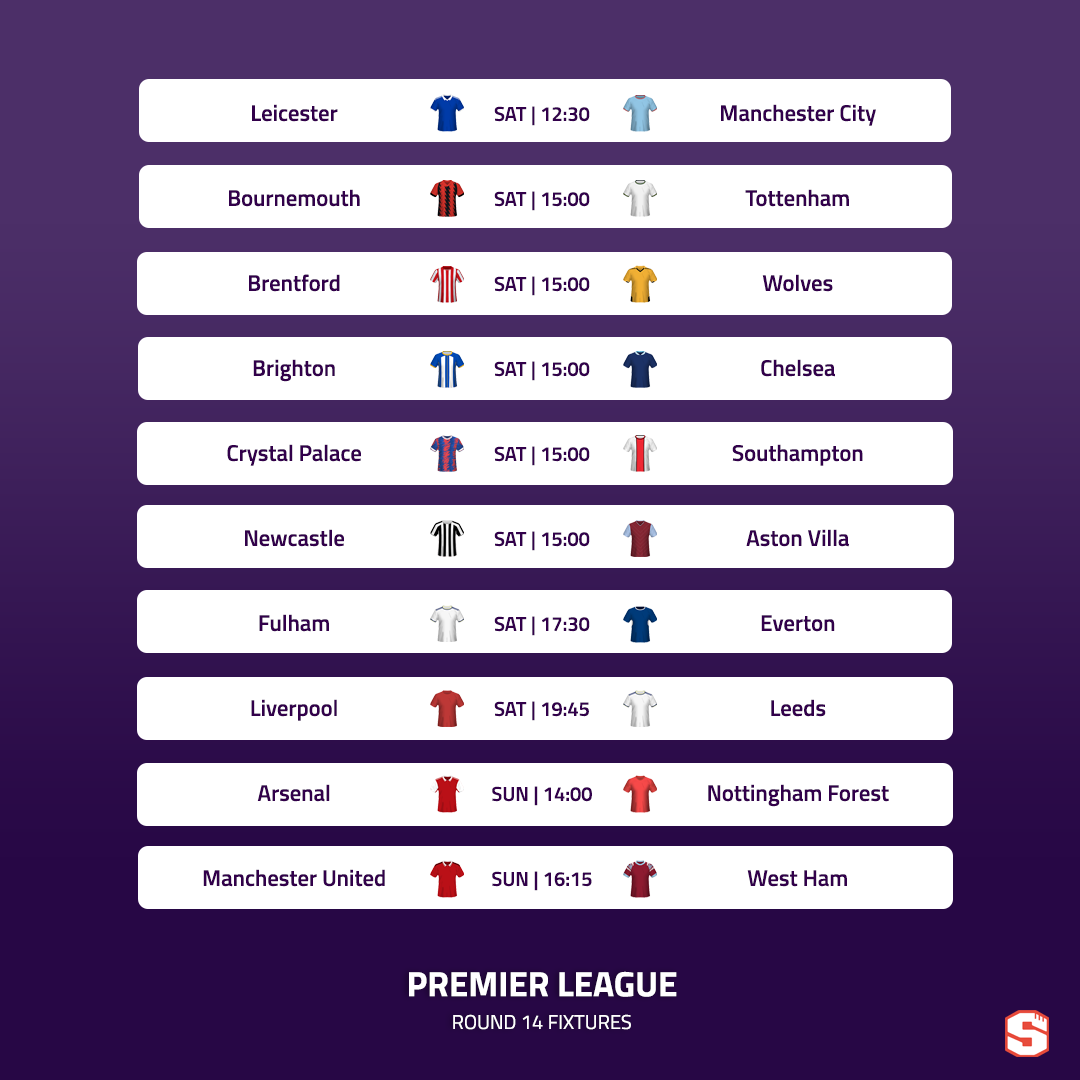 Leicester vs. Manchester City
Haaland is an injury doubt but regardless of whether he plays or not, City should win this. Leicester's form has picked up a bit but that can probably be explained by the opposition they've been facing and it would still be a big surprise to see them get anything here. There always seems to be an increased chance of an upset in the early kick-off though, as last week proved once again.
Prediction: Leicester 0-2 Manchester City
Bournemouth vs. Tottenham
I think Tottenham might have to really grind for this result but you'd think they'll take the points even with Richarlison and Kulusevski still out. It's not too surprising that Spurs fans are frustrated with the style of football under Conte but I am surprised by just how much criticism there has been when in terms of actual results and current standings, they're going just fine. That said, last week's loss against Newcastle was the first time they've lost a league game you'd expect them to win this season so they need to bounce back here.
Prediction: Bournemouth 0-2 Tottenham
Brentford vs. Wolves
I don't think you can back Wolves after their result last week and Brentford are strong at home so it's wise to pick the Bees here.
Prediction: Brentford 3-0 Wolves
Brighton vs. Chelsea
It will be interesting to see how this plays out with Potter going back to the Amex but after the start he has had with Chelsea, it certainly seems sensible to pick an away win. This is another tough fixture for De Zerbi and Brighton but I'm sure they'll be motivated against their former boss and then there's a couple of more generous fixtures before the
World Cup
that they'll need to pick up points from.
Prediction: Brighton 0-1 Chelsea
Crystal Palace vs. Southampton
Saints' recent form makes this slightly tricky but I don't tend to go against Palace at Selhurst Park and I think they have the greater attacking threat than Southampton so should just about edge this.
Prediction: Crystal Palace 2-1 Southampton
Newcastle vs. Aston Villa
Villa bounced back even more convincingly than I thought they would last week following Gerrard's departure and I think they'll continue in that direction under Unai Emery once he arrives next week. With confidence coming back, they'll test Newcastle here but I don't think you can go against the Magpies given their current form. Winning at Spurs last week was a great result for Newcastle.
Prediction: Newcastle 2-1 Aston Villa
Fulham vs. Everton
Fulham are probably favourites but I think Everton might manage a draw as they were excellent last weekend and tend to be fairly strong defensively. When you look at the Toffees' results so far this season, they've only really lost matches that you'd expect them to so I think they probably have enough to avoid a defeat.
Prediction: Fulham 1-1 Everton
Liverpool vs. Leeds
Liverpool's loss at Forest is obviously a concern but it tends to be a different story at Anfield and I think Leeds are in a fair bit of trouble at the moment. I'm not convinced Marsch can get the big performance he needs from his side here which means the home game against Bournemouth next week is likely to be massive.
Prediction: Liverpool 4-0 Leeds
Arsenal vs. Nottingham Forest
I was slightly surprised to see Mikel Arteta field such a strong squad for the Europa League game at PSV on Thursday but they should still have enough in the tank to win this game given how difficult Forest have found scoring goals away from home.
Prediction: Arsenal 2-0 Nottingham Forest
Manchester United vs. West Ham
Manchester United have a good record against West Ham and I think they'll probably just about come out on top in this one. It feels like Erik ten Hag is doing a good job of gradually bringing his style of play into this team without sacrificing results after those rather worrying first couple of rounds. West Ham are growing into the season but still don't look quite as strong as they have in the last couple of campaigns just yet.
Prediction: Manchester United 2-1 West Ham
Good luck with your own Round 14 picks!
Keen to continue talking football and Superbru? Join our new Facebook group for Superbru Football Fans here.