Premier League: Round 13 Predictions
I had to make do with 4/9 in Round 12 as I failed to pick either of the home wins on Thursday which looks a bit silly in hindsight given both were so comfortable!
There's very little time to worry about that though as we're straight into Round 13 this weekend. Here are my thoughts on each game in Round 13 of the
Premier League Predictor
. Feel free to leave your own in the comments.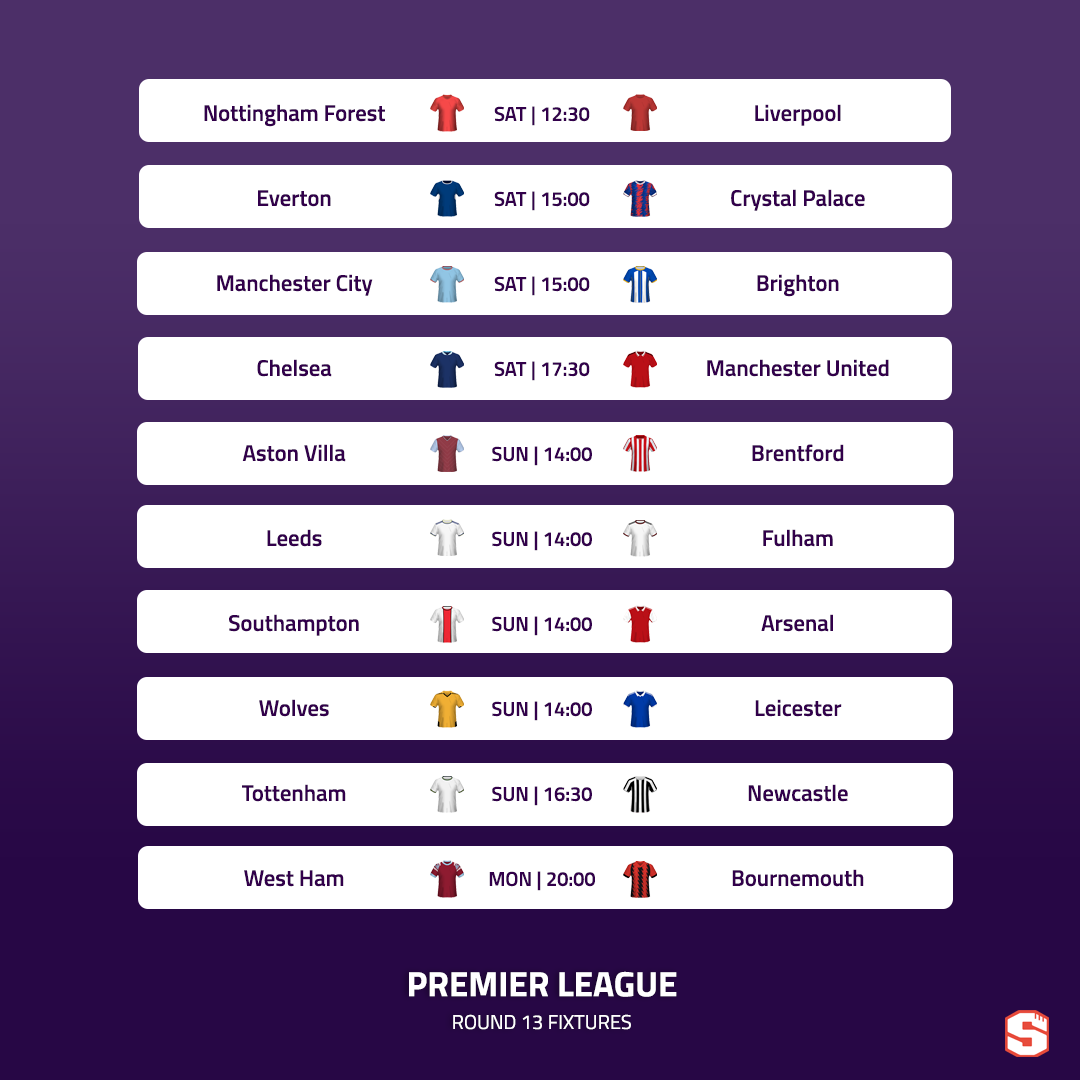 Nottingham Forest vs. Liverpool
An easy one to begin with as Forest have been getting outplayed week after week and you'd think Liverpool will be far too strong for them.
Prediction: Nottingham Forest 0-3 Liverpool
Everton vs. Crystal Palace
I didn't really expect Everton to win any of their last 3 games so the losses aren't necessarily that much of a problem, but the lack of any kind of goal threat in their last 2 is quite concerning. Palace are a decent side but I'm not sure they're consistent enough over 90 minutes to make this a definite away win. I think we might see a draw as I expect Palace to score but I can't see Everton managing much more than a goal themselves at the moment.
Prediction: Everton 1-1 Crystal Palace
Manchester City vs. Brighton
I feel slightly sorry for De Zerbi because he's deserved more points than he's managed his first few games at Brighton and this is now a game where the Seagulls are very unlikely to get anything. After a week off, and considering they're already through in the Champions League, City should be at full pelt in this one.
Prediction: Manchester City 4-0 Brighton
Chelsea vs. Manchester United
At home, Chelsea will expect to win this game but it feels a little like they're on a slight drop at the moment due to injuries whereas Manchester United are on the up after a great result over Spurs and I think ten Hag has dealt with Ronaldo excellently. I'm wondering if we'll see Potter switch to a 4-man defence here because Chelsea haven't been able to cope well with no Reece James at RWB and so reverting to a more defensive full back may help in this game. He's a good coach, so I expect him to find a way of avoiding a defeat, but I'm going with a draw and actually see United as the more likely to win if I had to pick a winner.
Prediction: Chelsea 1-1 Manchester United
Aston Villa vs. Brentford
Villa had no choice but to sack Steven Gerrard as the fans disliked him so much and it was becoming incredibly toxic. As a result, I think we could see quite an atmosphere at Villa Park for this one and it wouldn't surprise me at all to see them win. I've seen a few reporters claiming he didn't have much to work with but this is a really strong Villa squad in my opinion and I think they could and should easily end up back in the top half by the end of this season if they get the next appointment right.
Prediction: Aston Villa 2-1 Brentford
Leeds vs. Fulham
Leeds appear to be getting worse and worse at the moment - that defeat at Leicester is a really disappointing result given how poor the Foxes have been in this campaign. In contrast, Fulham are looking quite good so I'm going with an away win here. I think it'll be fairly close, but after getting Gerrard the sack on Thursday, Fulham could put quite a lot of pressure on Marsch as well if they win this game in a similar fashion!
Prediction: Leeds 1-2 Fulham
Southampton vs. Arsenal
Saints managed a good win at Bournemouth but there's little reason to suggest Arsenal's winning run will end here. Confidence is obviously sky high in the Gunners squad.
Prediction: Southampton 0-2 Arsenal
Wolves vs. Leicester
I'm going with Wolves here as there has been a slight hint of improvement in recent games but it still seems like a very strange situation at the club with them now confirming they won't be hiring a new manager until the new year having been rejected by a few names. This is a big game at the bottom but I think with home advantage it's wise to go with Wolves - Leicester are still yet to manage a point away from home.
Prediction: Wolves 1-0 Leicester
Tottenham vs. Newcastle
Not the easiest pick because Newcastle are on a good run but Tottenham have hardly dropped a point against non-big six sides so I think they'll be OK. I'd be much more hesitant if this was at St James' Park.
Prediction: Tottenham 2-0 Newcastle
West Ham vs. Bournemouth
I fully expected Bournemouth to lose once I'd picked them in midweek as I said in that article and now that there unbeaten run is over it's likely to be difficult to get another one going in this match as West Ham (A) is a tough fixture. I don't think it'll be a classic MNF, but West Ham should have too much.
Prediction: West Ham 2-0 Bournemouth
Good luck with your own Round 13 picks!
Keen to continue talking football and Superbru? Join our new Facebook group for Superbru Football Fans here.