Premier League: Round 12 Predictions
Round 11 was a poor one for me with just 4/10 so I need to bounce back in these midweek games.
Kepa Arrizabalaga kindly kept a miraculous clean sheet to hand me an Exact in the Chelsea game but aside from that things didn't go well as I failed to pick any of the 6 matches that were correctly predicted by under 30% of the community.
Here are my thoughts on each game in Round 12 of the
Premier League Predictor
.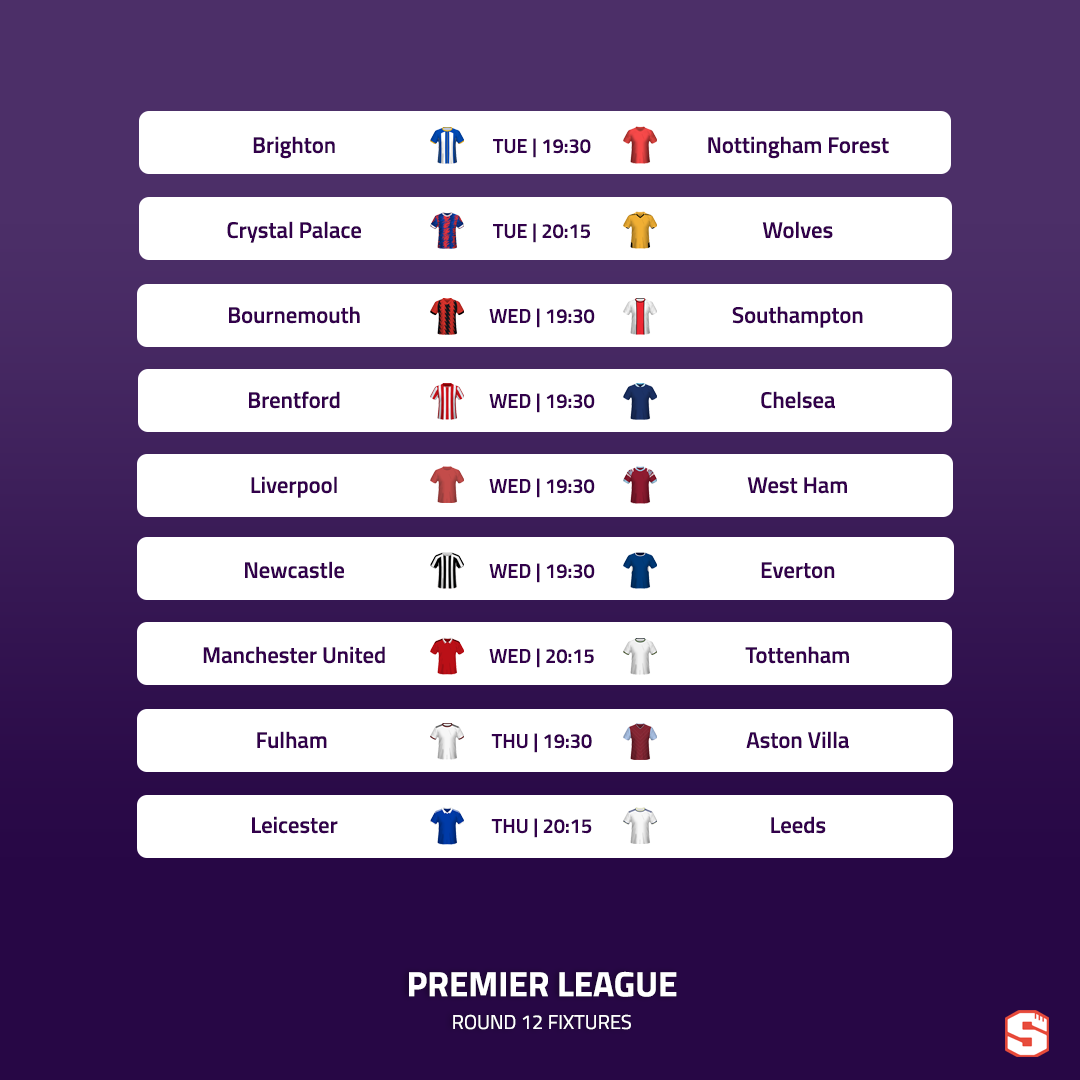 Brighton vs. Nottingham Forest
I'm slightly hesitant because Brighton are yet to win under De Zerbi but this is the best fixture you can ask for at the moment so the hosts should get the job done. Looking at their fixtures, Forest are going to struggle to get another point before November unless there's drastic improvement.
Prediction: Brighton 2-0 Nottingham Forest
Crystal Palace vs. Wolves
Not an easy pick but I'm going with Palace again despite them not managing a win at Leicester on Saturday. Wolves are still yet to hire a new manager and haven't scored a goal from open play for a *while*.
Prediction: Crystal Palace 2-0 Wolves
Bournemouth vs. Southampton
Sorry Bournemouth fans, I think it's time to finally predict you'll win a match so you know what's going to happen. It'd be disrespectful for me to continue going against the Cherries at this point - 6 matches unbeaten now! Saints are really struggling and while I still can't really look at a Bournemouth lineup and think they're likely to win a PL game, their current record speaks for itself.
Prediction: Bournemouth 2-1 Southampton
Brentford vs. Chelsea
I think there's potential for an upset here and I'm very tempted to go with a draw but the last time I did that with Brentford they were destroyed by Arsenal. Chelsea struggled at Villa without Reece James and this is a more challenging fixture so I think things will be very even. That said, Chelsea have improved considerably in attack since Potter took over and I think there's probably a couple of goals for them here so let's go with a narrow away win.
Prediction: Brentford 1-2 Chelsea
Liverpool vs. West Ham
After such a good win on Sunday, you have to go Liverpool here. Klopp deserves credit for finding a fresh system that has limited the amount of running required by the more defensive midfielders, meaning they're now less open, while allowing Salah to get back to his best.
Prediction: Liverpool 3-1 West Ham
Newcastle vs. Everton
I'm expecting this to be fairly low scoring but Newcastle are the more likely to win, you'd think. Isak's injury is a blow but will only become a massive problem if Wilson also gets injured again so that's something that I'm sure Eddie Howe will be cautious with in these next few weeks.
Prediction: Newcastle 1-0 Everton
Manchester United vs. Tottenham
This should be an intriguing one and much will depend on Manchester United's team news in my opinion. Spurs will probably prioritise making themselves tough to beat but I think United are more likely to edge it, particularly with Richarlison missing for Spurs and Kulusevski still a doubt, though I'll feel a lot more confident if Rashford, Eriksen and Martial are all fully fit for the hosts. I'm going 2-1 but may switch to 1-1 if United's squad is similar to what they had against Newcastle.
Prediction: Manchester United 2-1 Tottenham
Fulham vs. Aston Villa
Correct me if I'm wrong, Villa fans, but from what I've seen you really aren't happy with Steven Gerrard in charge of the team so a defeat here will only increase speculation this week that Pochettino is being looked at as a replacement. I think Fulham are favourites at home but I'm going with a draw as Villa have had plenty of them recently and didn't play badly against Chelsea on Sunday.
Prediction: Fulham 1-1 Aston Villa
Leicester vs. Leeds
A tricky one to end on. I was fairly confident Leicester will win but Maddison's suspension is a big factor because the Foxes don't have too many other in-form attackers at the moment. Back-to-back clean sheets at home is a rare encouraging sign for them but I think Leeds will score (they really should have against Arsenal) and I think they'll struggle to find more than a goal themselves without Maddison.
Prediction: Leicester 1-1 Leeds
Good luck with your own Round 12 picks!
Keen to continue talking football and Superbru? Join our new Facebook group for Superbru Football Fans here.