Premier League: Round 10 Predictions
After some more green arrows last weekend, I'm on a bit of a roll in the Premier League Predictor at the moment so let's hope we can keep it going for at least another week!
Everton's win and the draw between Brentford and Bournemouth helped me to 7/10. I was a little frustrated by Fulham's early red card but can't really complain overall!
On to this week then which looks tricky - there are only 3 or 4 I'm relatively confident about. Here are my thoughts on each game in Round 10 of the
Premier League Predictor
.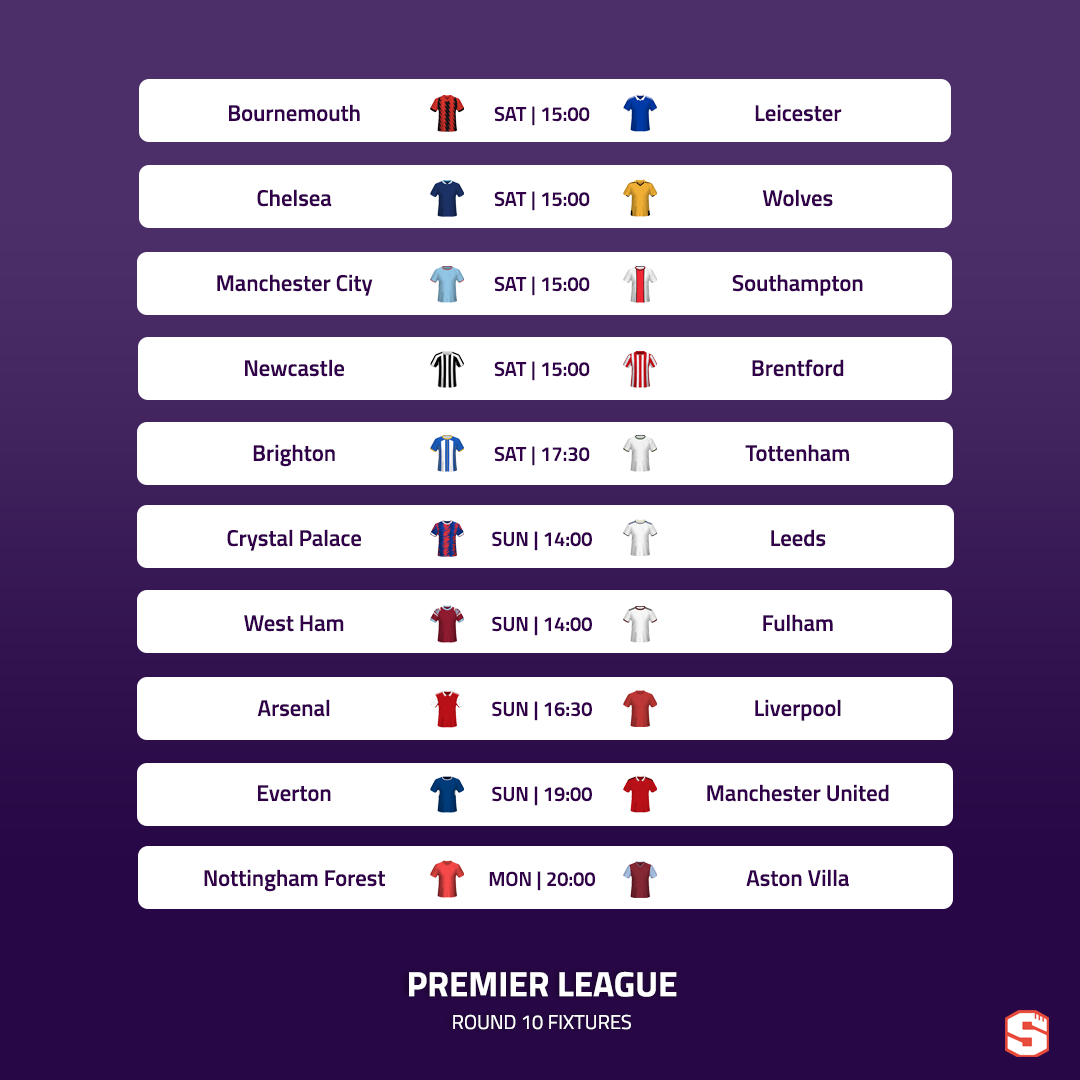 Bournemouth vs. Leicester
It feels as if we're all getting slightly carried away by Leicester's 4-0 win on Monday to break their duck for the season, considering it was against a Nottingham Forest side that are really struggling, but I include myself in that nevertheless as I think they might win again here. Bournemouth going 4 games unbeaten in this league is genuinely impressive but they aren't the most threatening in front of goal whereas Leicester have looked sharp in attack.
Prediction: Bournemouth 1-2 Leicester
Chelsea vs. Wolves
It wasn't too surprising to see Bruno Lage sacked - results haven't matched the quality that Wolves have in that squad - but it seems there won't be a replacement for Lage in time for this game so I think Chelsea should feel this is a good time for this fixture. Ruben Neves is suspended too which will help and the Blues looked good against Milan on Wednesday.
Prediction: Chelsea 2-0 Wolves
Manchester City vs. Southampton
I don't envy Ralph Hasenhuttl here. After 3 defeats on the bounce, I'd like to hear the game plan he's trying to convince his players will give them a chance against this Manchester City side. We often see upsets in the Premier League so nothing is guaranteed but Haaland's numbers really are ridiculous already this season and City are scoring whenever they want to at the Etihad.
Prediction: Manchester City 4-0 Southampton
Truly ridiculous numbers.

Erling Haaland has already matched the number of hat-tricks scored by some of the Premier League's greatest ever goalscorers.

He's played 8 games 🔥🤖 pic.twitter.com/v8j8F5w6Ki

— Superbru (@Superbru) October 3, 2022
Newcastle vs. Brentford
Newcastle took full advantage of that Fulham red card last week and that sets them up nicely for this game where they should also have Saint-Maximin back. That's likely to mean they'll have too much for Brentford who are yet to win away.
Prediction: Newcastle 3-1 Brentford
Brighton vs. Tottenham
There are quite a few factors to consider here and it should be a very interesting game. Brighton have started conceding a lot but they've found enough goals themselves to cover for that and after a good result at Liverpool, Roberto De Zerbi should get quite a welcome from the Brighton home crowd. That gives them a chance against Spurs who have been playing pretty poorly for a while but Kulusevski could be back from injury which would be a boost for Tottenham.
It's difficult to tell how Tottenham will perform following the sad passing of fitness coach Gian Piero Ventrone who was clearly a much loved figure given the social media tributes we've seen from numerous Spurs players. It must be tough for those particularly close to him like Antonio Conte so I'm not sure if the situation will lead to an under-par or perhaps inspired performance in Ventrone's memory but I'm going for a narrow away win. I'm sure there'll be a fitting tribute for Gian Piero regardless and our thoughts are with those close to him.
Prediction: Brighton 1-2 Tottenham
Crystal Palace vs. Leeds
Palace are due a win I think as they've been good even when results weren't necessarily great against some strong opposition. Leeds' form has dropped quite considerably following their good start and I think Palace are fairly strong favourites with home advantage.
Prediction: Crystal Palace 3-1 Leeds
West Ham vs. Fulham
After being subbed early last week, Aleksandar Mitrovic remains a doubt for Fulham ahead of this game which makes the pick a little easier as I think I'd be going for West Ham anyway. A bit like Leicester, it feels as if the Hammers should be able to kick on from their win last time out with another favourable fixture.
Prediction: West Ham 2-0 Fulham
Arsenal vs. Liverpool
This is very tricky because when Arsenal have met Liverpool in each of the last few seasons, you pick Liverpool every time. However, the Gunners have clearly been the better side so far this season and after a strong performance in the North London derby last weekend, I'm not sure we'll see Liverpool win at the Emirates. Jurgen Klopp is clearly concerned about how easy it is to play through Liverpool at the moment and we saw a change of formation in the Champions League but I'm not sure they'll be able to stop Arsenal getting at their backline which has been performing badly all season.
I still feel Liverpool can score goals in this match as well though and in the only other fixture Arsenal have had so far this season where you'd say 'they usually struggle in this game', they did exactly that and got beaten at Manchester United. It would be a huge step for Arsenal if they can win this game and stay ahead of City at the top, and they may well do exactly that, but I think I'm going for a draw.
Prediction: Arsenal 2-2 Liverpool
Everton vs. Manchester United
There's certainly a chance of an upset here since, as Erik ten Hag has recently said himself, United just 'aren't that good' at the moment. Everton have become a very solid side under Frank Lampard and their crowd will be right up for this following back-to-back wins. I can see United nicking it through a Rashford or Martial winner but I'm going for a draw as Everton certainly have an area they can attack themselves if Varane remains out injured.
Prediction: Everton 1-1 Manchester United
Nottingham Forest vs. Aston Villa
Steve Cooper's contract extension that was announced this morning is one of the most surprising plot twists sport has seen for a while! Fair play to Forest for sticking by him after such a good season last year but it doesn't change the fact that they really haven't looked good lately and Cooper's decision to play 4 at the back against Leicester suggests he's already lost faith in the original plan for the season given that they signed 3 or 4 wing-backs in the summer.
There's a chance the positive atmosphere Cooper's extension will create can have an effect on this result but I think Villa are favourites despite looking fairly poor themselves so far this season. They've become very uninspiring to watch under Gerrard but surely Villa can find some goals against this Forest defence?
Prediction: Nottingham Forest 1-2 Aston Villa
Good luck with your own Round 10 picks!
Keen to continue talking football and Superbru? Join our new Facebook group for Superbru Football Fans here.