Premier League: Round 1 Predictions
A brand new Premier League season is here and it's set to be a very unique one as there's the small matter of a FIFA World Cup taking place midway through it.
That pause during November and December will no doubt have a huge impact on how this campaign plays out but for now, let's not look too far ahead as it's time to focus on our Round 1 Superbru picks!
If you're yet to do so, make sure you've joined our
Premier League Predictor game
and if you're keen to play our
Odds-based Fantasy game
as well this season, picks are already open for the first 3 rounds as there's a daily format meaning you need to pick 4 players for Friday, 4 players for Saturday and 4 players for Sunday.
With no form to go off and all teams feeling fresh and optimistic about the new season, Round 1 of our Predictor isn't always the easiest but here are my opening predictions! Feel free to leave your own thoughts in the comments.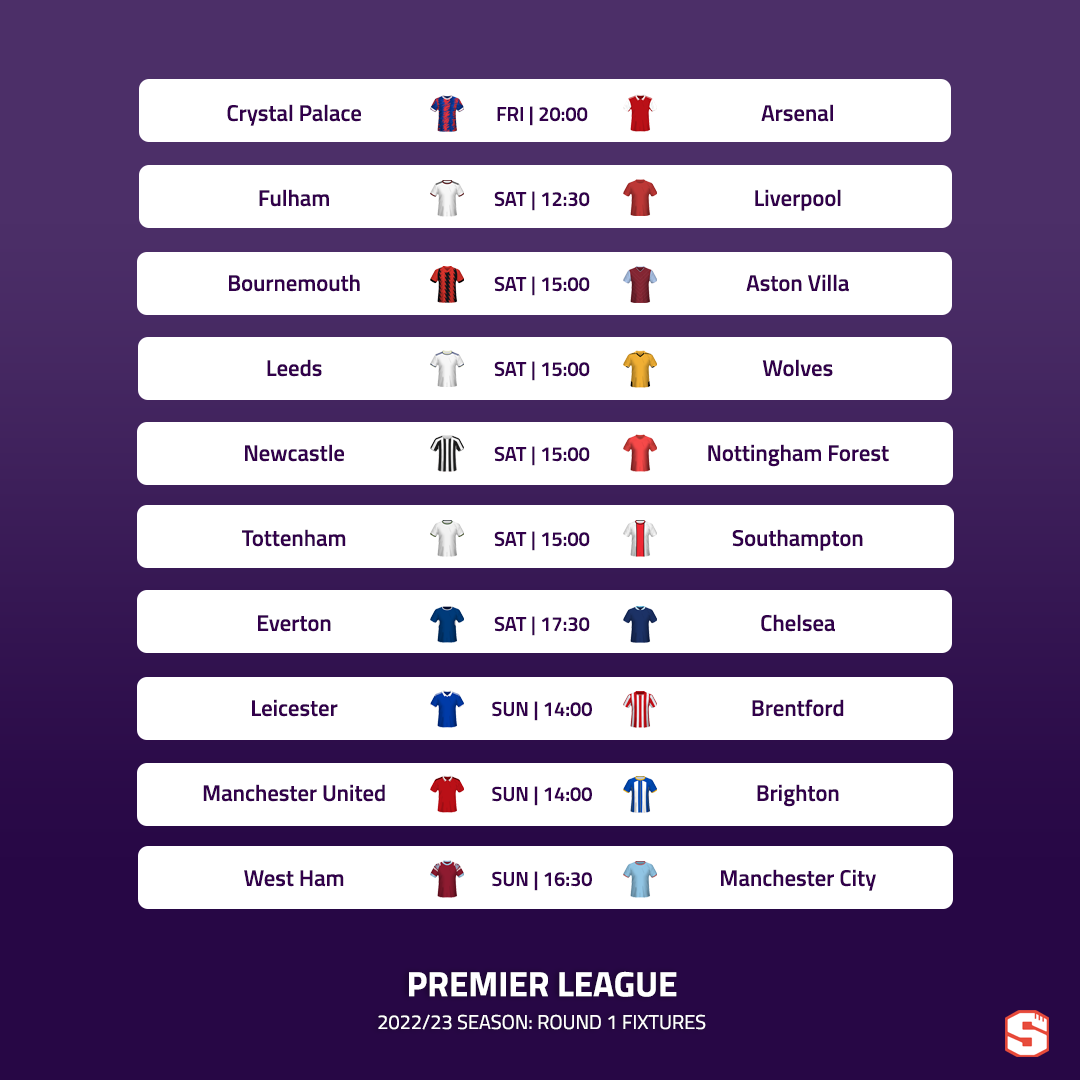 Crystal Palace vs. Arsenal
This is the sort of game that I'd usually be thinking Arsenal will lose as it's an evening match on the road with a strong home crowd - we often see them struggle in such situations. However, there's definitely a positive vibe around the Gunners at the moment despite how last season ended and I think they might just edge this - Gabriel Jesus has shown in pre-season that he could well have the big season many are expecting now that's he's a first choice striker.
Prediction: Crystal Palace 1-2 Arsenal
Fulham vs. Liverpool
This is very likely to be an away win. I think Fulham might do alright this season, and I backed them to stay up in my season preview, so getting this fixture out the way early on might not be the worst thing and they perhaps even have a slightly increased chance of an upset on the opening weekend rather than facing Liverpool when they have more momentum. You'd have to be brave to pick them, though.
Prediction: Fulham 0-3 Liverpool
Bournemouth vs. Aston Villa
A tricky one. Though I think Villa are the stronger side and Bournemouth will struggle this season, this is a home game that is winnable for the Cherries and one that they'll probably say represents an opportunity for precious points. However, if Villa can weather any early pressure there might be, I think they'll be OK.
Prediction: Bournemouth 1-2 Aston Villa
Leeds vs. Wolves
A good opportunity for both teams to start with a win, particularly Leeds since they're at home, but Wolves are tough to beat and I'm going for a draw. Leeds also have quite a few new players that may need time to adjust in contrast to a Wolves side that is very settled. Patrick Bamford being back is crucial for the hosts but it remains to be seen if he can remain fit for a long period of time which is what they'll need...
Prediction: Leeds 1-1 Wolves
Newcastle vs. Nottingham Forest
Forest should be great to watch this season as they're finally back in the top flight and have even made some big moves in the market with Jesse Lingard the obvious big name but I think Newcastle will take the points here. It seems Eddie Howe is slightly frustrated that the Magpies have struggled to bring in players as quickly as he'd have liked but Newcastle were excellent at the back end of last season and should have more than enough to win this opener.
Prediction: Newcastle 3-1 Nottingham Forest
Tottenham vs. Southampton
I'm not convinced Tottenham will be quite as strong as some people are claiming they'll be this season but there's no doubt Conte is a winner and a solid start to this new campaign could change my mind. This should certainly be 3 points to begin with and I'm interested to see who starts at right wing-back as they along with Perisic will be decent
Odds-based Fantasy
options this year.
Prediction: Tottenham 2-0 Southampton
Everton vs. Chelsea
Everton won this fixture last season when the pressure was on and it's definitely possible that they can do so again here as Chelsea haven't had the most convincing pre-season. I'm a little unsure about whether or not the visitors will finish the chances they'll have and Chelsea often struggle at Goodison so let's go with a draw here.
Prediction: Everton 1-1 Chelsea
Leicester vs. Brentford
What's going on at Leicester? I said in my
season preview
that we haven't seen the reset I thought we would and now, rather than some exciting late arrivals, Kasper Schmeichel has left and they're having to fight to hold on to Wesley Fofana too. Their first XI remains capable of winning this game but I'm a little concerned for the Foxes. Brentford are quite strong so let's go with another draw.
Prediction: Leicester 1-1 Brentford
Manchester United vs. Brighton
Manchester United remain unsettled as they still haven't signed top target Frenkie de Jong and Cristiano Ronaldo supposedly still wants to leave but hasn't, meaning Erik ten Hag probably hasn't been able to focus on his approach to this match quite as much as he'd have liked. Nevertheless, there has been encouraging signs in pre-season and Brighton aren't overly settled themselves with Marc Cucurella's exit generating plenty of headlines. Yves Bissouma is a huge loss in midfield as well and I think United will win this.
Prediction: Manchester United 2-1 Brighton
West Ham vs. Manchester City
A very difficult start for the champions after a disappointing result in the Community Shield but I think we'll see Erling Haaland in particular showing an eagerness to get things right. City didn't start last season well which is reason for further hesitancy but they're more likely to win than not. For West Ham, Gianluca Scamacca is an exciting arrival but I'm not sure how easy it will be for him to fit into this David Moyes team early in the season. Let's see!
Prediction: West Ham 0-2 Manchester City
Good luck with your own Round 1 picks!
To enjoy an ad-free experience on Superbru for this new season, consider upgrading to become a Premium bru. Premium users also have access to Superbru Insights for all 380 Premier League games and can play in up to 15 pools in every Superbru tournament (rather than 10)Keen to continue talking football and Superbru? Join our new Facebook group for Superbru Football Fans here.