November Internationals 2021: Round 2 Predictions
International season kicks off in earnest this weekend, and there are no fewer than 9 matches to get stuck into, so we can expect to see plenty of movement on the pool leaderboards.
Here are my November Internationals predictions for this weekend.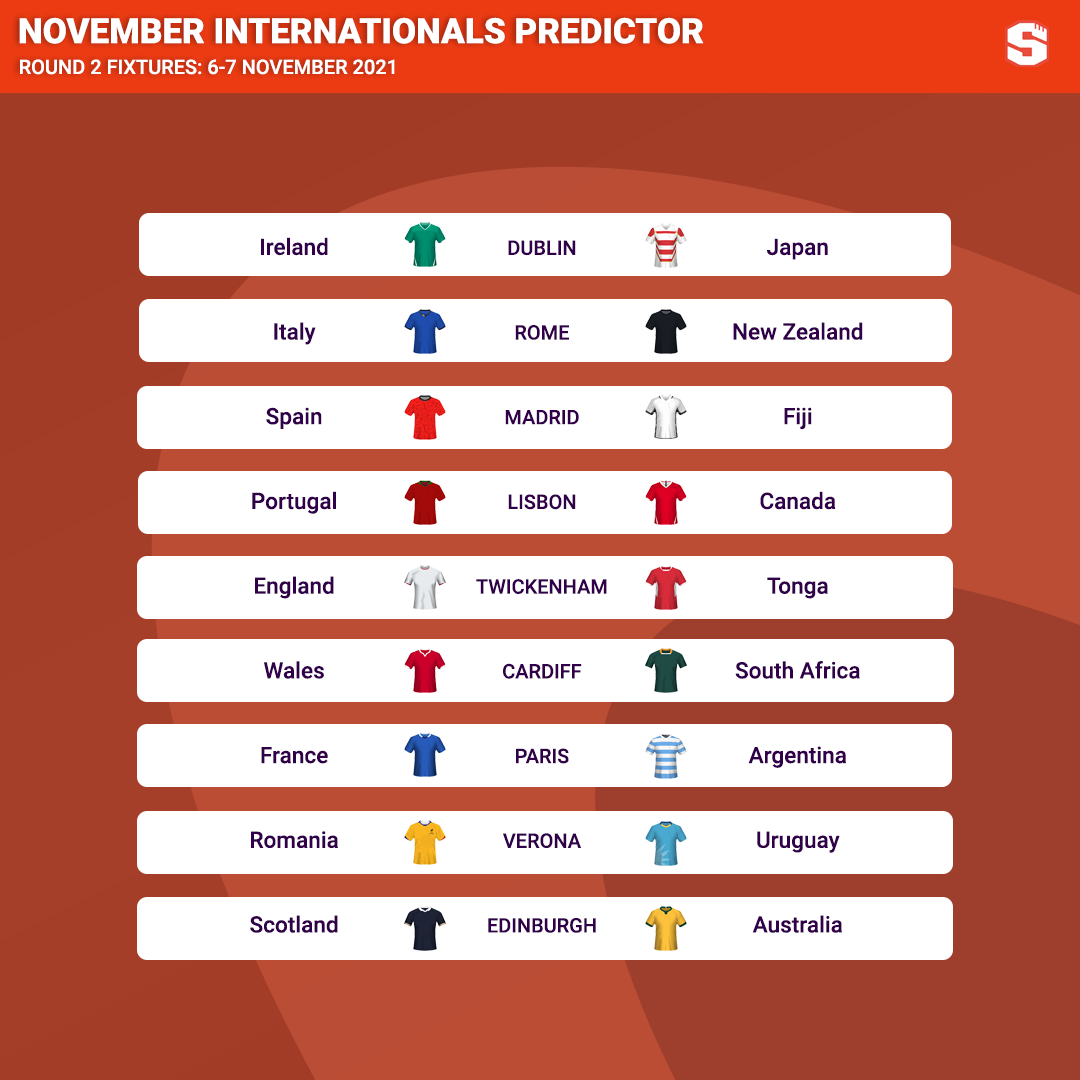 Ireland v Japan
Japan famously beat Ireland in the 2019 World Cup, which ultimately led to the Irish exit at the hands of the All Blacks. However, Japan lost at home to the Wallabies a couple of weeks ago, and I'd expect Ireland to be too strong for them in Dublin.
Ireland by 13
Italy v New Zealand
This is going to be fairly one-sided affair sadly, and I'd be surprised if Italy can keep the margin within 50 points.
New Zealand by 58
Spain v Fiji
I haven't seen a lot of Spain to be honest, and for that reason, I'm assuming Fiji must be the stronger team. The
Superbru Insights
preview has a good reference point, which might help you with the margin. I'm going for
Fiji by 16
Portugal v Canada
Portugal are becoming more of a force in international Rugby, whilst Canada's trajectory seems to be the opposite. I'm going for a narrow home win here on that basis.
Portugal by 6
England v Tonga
This will be a comfortable home win, but England always seem to start slowly, and presumably they'll be aiming to be in peak condition by next Saturday with sterner tests ahead. I'm anticipating a frustrating afternoon with plenty of errors and missed opportunities, but the result will never be in doubt.
England by 48
Wales v South Africa
The Welsh have won 4 of the last 5 against South Africa, but it seems a stretch to think that they can bounce back from shipping 54 points to the All Blacks to beat the Springboks. They'll have a number of additional players available and it should be closer than that, but I'm backing the Boks to win.
South Africa by 13
France v Argentina
The Pumas had a fairly torrid time in the Rugby Championship, culminating in two heavy defeats to Australia - against whom France played out three very close Test matches in July. France should be the stronger team here.
France by 8
Romania v Uruguay
I have a feeling this will be quite close, although it's based on a hunch rather than anything factual. Uruguay were enjoyable to watch at the World Cup in 2019, particularly in that famous win over Fiji, and I'm tipping them on that basis.
Uruguay by 3
Scotland v Australia
The Aussies are short of a few key players and the Scots might just fancy their chances here. They had a good warm-up thrashing Tonga last week, and spirits will be high in camp. I might just see whether the GSP is still intact by this stage, but for now I'm picking Scotland.
Scotland by 2
Good luck with your own picks in Round 2.