NEW: Virtual Rugby World Cup Predictor at Superbru
Hey everyone! We hope you're keeping safe and well. Though the world remains a very strange place at the moment, we as sports fans are starting to see a glimpse of normalcy on the (not too distant) horizon. Clearly, things are never certain in the midst of a pandemic like this, but we at Super HQ are very excited about the likely resumption of the Bundesliga, NRL and some Kiwi Super Rugby in the coming weeks!
During this period of no sport, it's been fantastic to have had thousands of you taking part in our Virtual Premier League predictor game to support Superbru and hopefully have some fun! The next week will see the run-in of the VPL season and it's set to be quite a title race.
However, there is some additional exciting news for you, as the title of this article suggests. When we announced the creation of the VPL, many of you were hopeful that there would be other virtual tournaments to fill this large hole in the sporting calendar. After a few weeks of planning a way in which we can simulate results to a level that's even slightly comparable with FIFA 20 and the VPL, we are now excited to be able to present a virtual version of Superbru's biggest tournament!
We are today introducing the (drum roll please)
Virtual Rugby World Cup 2020
!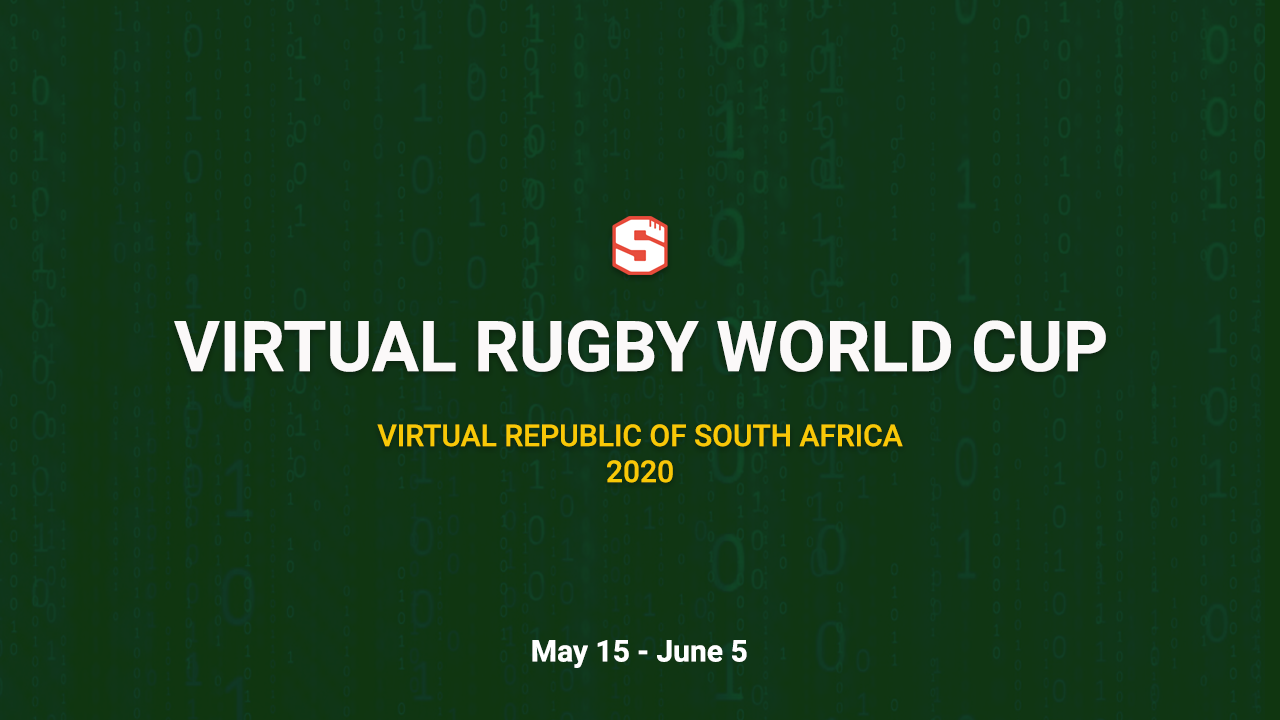 VRWC 2020
Though most of the same names and faces (kind of) will be involved, the VRWC will naturally be a little different to the real RWC we saw in Japan last year. The VRWC is a 16-team tournament that sees 4 pools of 4 teams battle it out for a place in the quarter-finals. The tournament will be quite concise and far less intense than the VPL, as you'd expect with fewer teams and matches involved.
Matches will be played on Mondays, Wednesdays and Fridays so they are the days of the week that you'll be making picks for. The fixture times currently shown in the tournament will be edited so that live games are staggered but they are likely to take place late morning SA / UK time meaning those of you in Australia and New Zealand should still be awake!
Starting next Friday (15th May), there will be 4 matches taking place on each of those days of the week meaning the pool stage will end with the 4 matches taking place on the 27th May. The week after that will see the finals take place.
We'll also be bringing you video coverage of a far larger percentage of matches in this virtual tournament. In each round of 4 matches, 1 or 2 (usually 2) of them will be available to watch as live with highlights then available for many of the games that aren't shown in full. In the case of a small number of fixtures that do not involve any of the top 8 ranked teams in the tournament, video footage will not be possible.
Hosts and draw
South African rugby fans who are still grumbling about their nation not being awarded RWC 2023 have reason to celebrate, as it was announced this week that the Virtual Republic of South Africa was successful in its bid to host VRWC 2020! VRSA put forward a convincing campaign with 5 great venues that will host VRWC matches - Emirates Airline Park (Johannesburg), Loftus Versfeld (Pretoria), Free State Stadium (Bloemfontein), DHL Newlands (Cape Town) and Jonsson King's Park (Durban). Sorry Nelson Mandela Bay Stadium locals, your ground isn't in Rugby Challenge 3!
The pool stage draw has been conducted with teams ordered by their current real World Rugby rankings and then randomly assigned to pools. So to be clear, that placed South Africa, New Zealand, England and Ireland as the 'Pot 1' teams (one in each pool) and France, Wales, Australia and Scotland as 'Pot 2' teams. The remaining teams were then randomly drawn to complete each pool.
Here is the VRWC 20 draw (spot the pool of death!):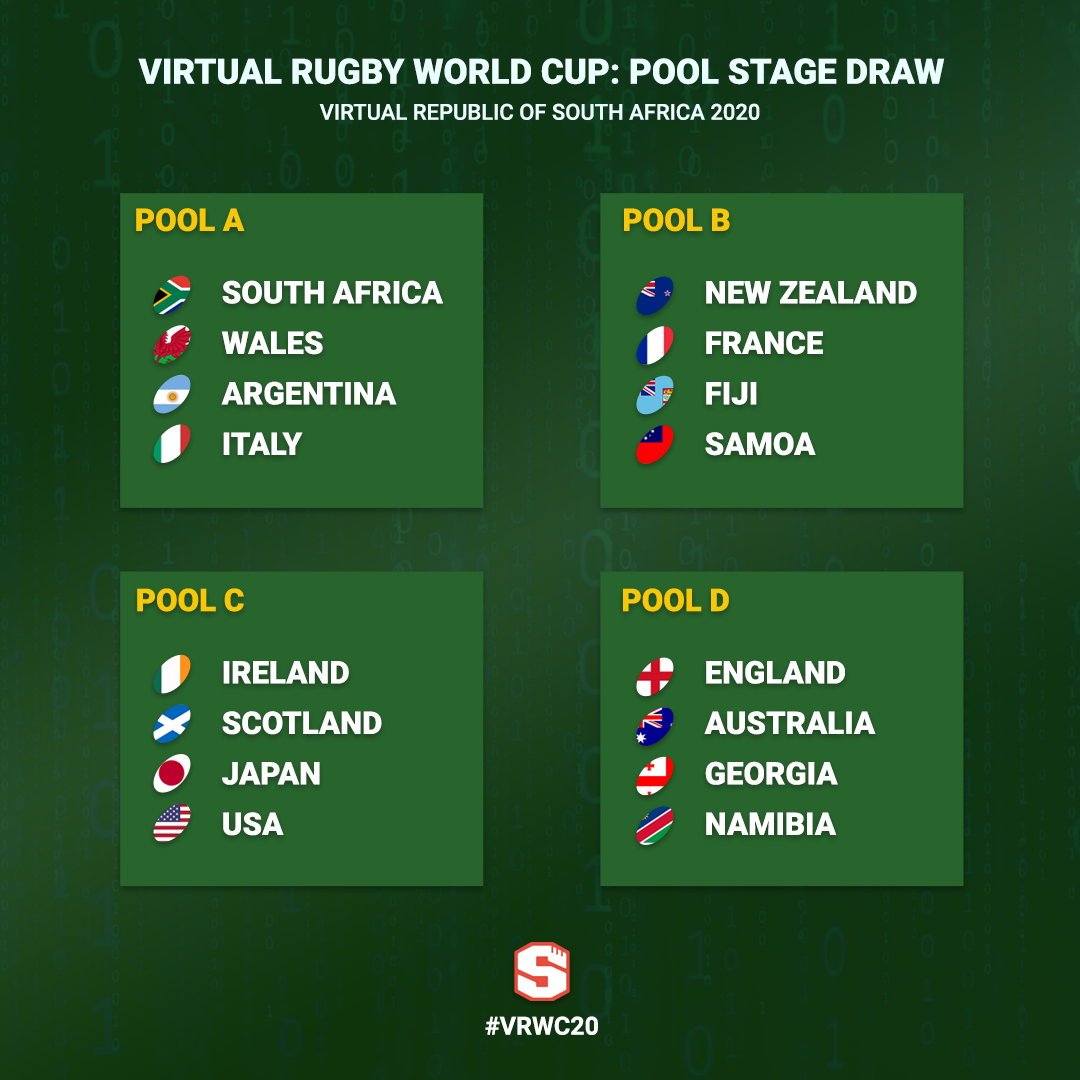 How this will work
We will be simulating the entire VRWC via Rugby Challenge 3 (RC3) on a Playstation 4. Each game will take place with the AI controlling either side meaning there's no human intervention affecting scorelines and the season will play out as realistically as RC3 and its algorithm decides it should.
Though the game is of course far more dated than FIFA 20 which we are used to for the VPL, we believe RC3 is the one rugby game that can deliver us a strong enough virtual tournament for a couple of reasons.
Firstly, the ability to download up-to-date teams and squads means that this tournament will be played with squads that are very similar to the 2019 RWC squads - these will be available to view on picks pages. Secondly, RC3 is a rugby game that actually allows CPU v CPU simulation. As the majority of you will know, the rugby video game market isn't the strongest but we've enjoyed watching some RC3 simulated matches and think this game works well enough to provide us with some entertainment for 3 weeks.
Like all sports video games, each team and player is rated on numerous attributes so that the strongest performers in real life are also the strongest performers on the game. As we've seen in the VPL, this doesn't mean upsets can't happen, but the odds of the favourite winning are similar to real life. The ratings for each team in the VRWC are in line with the current World Rugby rankings - hosts South Africa are favourites along with New Zealand, while Namibia, Samoa and the United States are among the weakest teams involved.
Match settings
In order to provide all of you with more detail before having to make your opening picks, we will be broadcasting some warm-up matches for you to watch early next week. The matches that we show in full as live will be around 20 minutes in length.
I'm sure you'll understand that this will be quite new to all of us and with virtual sport (like real sport) you can never tell for sure but
our expectation is that winning margins are unlikely to be as large as they are in some real RWC matches
. The strength of each team will be reflected - it is fair to expect England v Australia to be far tighter than Australia v Namibia for example - but the match length will of course be a factor when selecting your margins on Superbru.
As well as posting some warm up matches for you to watch, there will also be an article to read next week linking to those warm up games and listing some other results that we will 'quick-sim' to give you an idea of some 'historic results'. As you'll see in the warm up games, a win for the All Blacks over a team like Samoa is of course highly likely, but a 'hammering' in the VRWC may well be a 30-40 point margin rather than 60/70+. We'll all be learning as we go!
Play in pools
As always, you'll also be able to create your own pools and play against mates.
Pool captains, we're hoping this gives you the chance to get your mates back involved in some entertainment during this pandemic and we can perhaps even find some new brus since most people are looking for something to do at the moment!
The tournament will run like any other in that pool standings will be finalised and kept in the Superbru archives at the end of the VRWC and pools can be ran by Superbru Clubs.
Questions?
If you have anything to ask ahead of the further info that will be made available next week along with some warm-up games, feel free to comment below!
We appreciate this might not be for everyone but it should be good fun, not too many fixtures to pick and a chance to get back in to Superbru before the real tournaments hopefully start again very soon!
You can join the 2020 Superbru Virtual World Cup predictor via any of the links in the above or via this button right here:
How to join
To join the 2020 Superbru Virtual World Cup predictor, close this article, then click the app menu button (top left on your screen) and choose Join a Tournament. Good luck!You can find an updated article with more information on the VRWC by clicking here.