NEW: Virtual Premier League Predictor at Superbru
OK, it's time for something a bit different! Not one of you will need me to go into the detail of the current crisis caused by the global pandemic, and it goes without saying that with no sport on at the moment, there's no Superbru either.
Everyone's priority right now is the health of the global population and sport is rightly on the back burner. However, while we at Superbru are busy working remotely and self-isolating like the majority of the rest of the world, we've decided upon a way in which we can (hopefully) provide you all with some entertainment during this difficult period.
Many of you have helpfully been in touch with suggestions of tournaments we can run during these upcoming weeks and an area that often comes up (even before this crisis!) is that of E-Sports. Next week, for the first time ever, 'E-Sports' will arrive on Superbru. Sort of.
While we remain open to potentially including actual E-Sports events on Superbru, many of the current tournaments that are taking place across various sports due to the coronavirus only provide details of participants and structure at very short notice meaning they're not ideal for Superbru where time is needed to build the event, generate an audience and give people time to make picks. As a result, we have a Virtual (rather than E-Sport) tournament of our own to bring you.
We are today introducing the
2020 Superbru Virtual Premier League (VPL) Predictor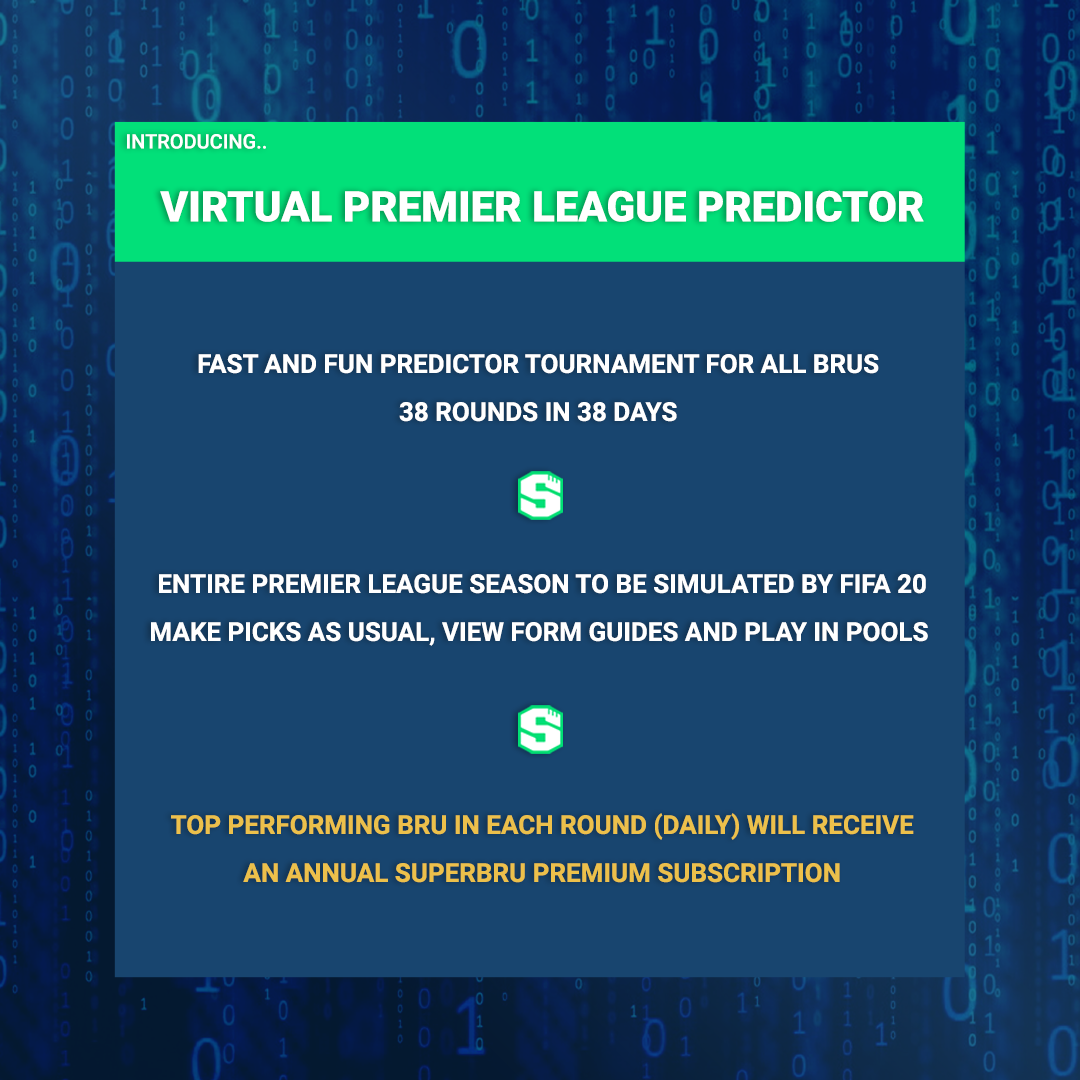 The format
Simply put, this will be straightforward Superbru picking in very frequent and hopefully enjoyable rounds. A tournament that will probably be forever remembered in Superbru history as 'limited edition', the VPL season will take place across 38 days. That's right, a round a day for 38 days. We'll be starting the season next Tuesday (7th April) and crown our Champions on May 14th.
There will be a full VPL round to predict each and every day with all games kicking-off concurrently at 3pm BST (UK time) and results will then be posted a couple of hours later. We're hopeful of streaming certain games for you to watch live on Superbru and any games that are shown live will be available to watch back at any time as well as some highlights of key action such as standout goals being posted on our social media pages.
Scoring will be done in the same way as our real Premier League predictor and you'll be able to see form guides etc. as usual as the season progresses.
How it works
We will be simulating the entire Premier League season via FIFA 20 'Tournament Mode' on a Playstation 4. Each game will take place with the AI controlling either side meaning there's no human intervention affecting scorelines and the season will play out as realistically as FIFA 20 and it's algorithm decides it should.
For those of you who are unfamiliar with FIFA 20 and how it works, it's a football video game played by millions of people globally. The game is used for numerous E-Sports tournaments as participants take each other on but in this instance we'll be putting the computer against itself to determine results.
Using 'Tournament Mode', the game can simulate a season in a realistic fashion on a round-by-round basis. FIFA uses numbers to display how strong players and teams are with each player's individual attributes marked out of 99 to create an overall rating of a certain number. The higher these attributes are, the more likely players are to score a goal/make a tackle etc. and thus the teams with the best players are the more likely to win each game, just like in real life.
No season is the same but my (and I'm sure others!) experience of Tournament Mode has largely seen the 'usual suspects' occupy the top spots in each big European league and each club's form and playing style is fairly realistic.
Our social media channels (Facebook, Twitter and Instagram) will be important to follow for all news regarding how the VPL season is playing out. Though key content will be made available inside our Superbru tournament and news articles, additional info such as the players with the most goals, cards and assists will be posted now and again on our Twitter, Facebook and Instagram pages to add to the fun of this rather bizarre experience.
Play in pools
As always, you'll also be able to create your own pools and play against mates. Let's face it, this one is worth winning as it would be a crown you hopefully won't be forced to defend in a new VPL season for a very, very long time.
Pool captains, we're hoping this gives you the chance to get your mates back involved in some entertainment during this pandemic and we can perhaps even find some new brus since most people are looking for something to do at the moment!
The tournament will run like any other in that pool standings will be finalised and kept in the Superbru archives at the end of the VPL season and pools can be ran by Superbru Clubs.
Prizes
We want this tournament to be fun and worth having a go at each day for as many of our brus as possible so we also have prizes on the line. It may feel like a lottery at times (although so does Super Rugby and every other Superbru tournament!) but we think this will be a good laugh and we'll be handing out a year's worth of Superbru Premium every day in this tournament to whoever manages the best picks in each round.
You see, we're eager to reward both the support you are showing by playing along in this virtual tournament and the supreme knowledge of virtual football that obviously many of you will prove to have.
Questions?
I'm expecting a few of you may well have questions about this so feel free to fire them in below and I can respond to them for all to read.
We appreciate this might not be for everyone but if you're enjoying the Premier League predictor then you may well enjoy this and for everyone else it's a good chance to re-add Superbru picks to your daily routine until the real stuff returns.
We hope you're all keeping safe and healthy. You can join the 2020 Superbru Virtual Premier League predictor via any of the links in the above or via this button right here:
How to join
To join the 2020 Superbru Virtual Premier League predictor, close this article, then click the app menu button (top left on your screen) and choose Join a Tournament. Good luck!