NEW: Nations League Predictor available on Superbru
Though we're in a FIFA World Cup year, the climate in the Middle East means we'll be waiting a little longer than usual for the headline sporting event of 2022.
However, while we wait, we are fortunate to have some high quality international football happening this summer regardless as a fresh UEFA Nations League campaign begins in June. Now that we've had time to experience a couple of editions of the Nations League since it begun in 2018, we're excited to be launching a
Nations League Predictor
for the first time this summer.
In what should be a great warm-up for the World Cup - as well as becoming an increasingly significant tournament in it's own right - the Nations League sees the top European nations go head-to-head in competitive matches. Since it's fairly new (and slightly complicated in some ways!), here's an explainer on what the Nations League is and what the format of our first ever
Nations League Predictor
will look like.
For those of you that could do without a long(ish) read and just want to know if it's worth setting up a pool between
Premier League
seasons - think of it as a mini Euros with 4 rounds to pick in the first half of June and a couple more taking place in the first international break of the new season this September.
The Nations League
Created to ensure there were more meaningful matches taking place during international breaks rather than endless friendlies outside of major tournaments, the Nations League is a biennial competition that involves all 54 UEFA men's national teams.
These teams are divided into four divisions (called 'Leagues' which is arguably confusing within the 'Nations League' itself) with these divisions seeing nations ranked among teams of a similar quality. Since promotion/relegation is in play at the end of each tournament, it's technically possible for a team in League D to get themselves all the way up to League A and to try and become champions. The Nations League also provides an additional route to qualify for the Euros meaning there's further reason to take things seriously.
The current structure means there are 16 teams in Leagues A, B and C with the remaining 7 teams in League D. Within each of the top 3 leagues, teams are divided into 4 groups of 4 meaning each League is essentially a tournament in it's own right, separate from the other divisions.
There are 6 rounds of fixtures in every division - this year will see 4 rounds take place in June with the other 2 in late September. In the top division (League A), the winners of the four groups then go on to play in the Nations League Finals which is also treated as a separate event and won't be played until the summer of 2023.
The first edition in 2018-19 saw Portugal crowned champions after defeating the Netherlands in the final while France won the second edition in 2020-21 by beating Spain.
Our Predictor game
Now, the key thing within the above explanation of the 'Nations League' as a tournament is that it is essentially lots of leagues within a 'league'. League-ception, if you will.
Since this will be our first
Nations League Predictor
, we've decided against creating a monster game consisting of continuous 27-match rounds across all of the leagues this summer, and will instead be
focused upon the top division, League A
. 8-match rounds tend to work quite nicely on Superbru, especially when there are clear start and finish lines, meaning the Predictor will only cover the league stage and will not include the Nations League Finals that take place as a separate event next summer.
So this means we'll have a 6-round tournament where you'll need to pick 48 matches in total between Europe's top men's national teams. You can check out the groups in League A below: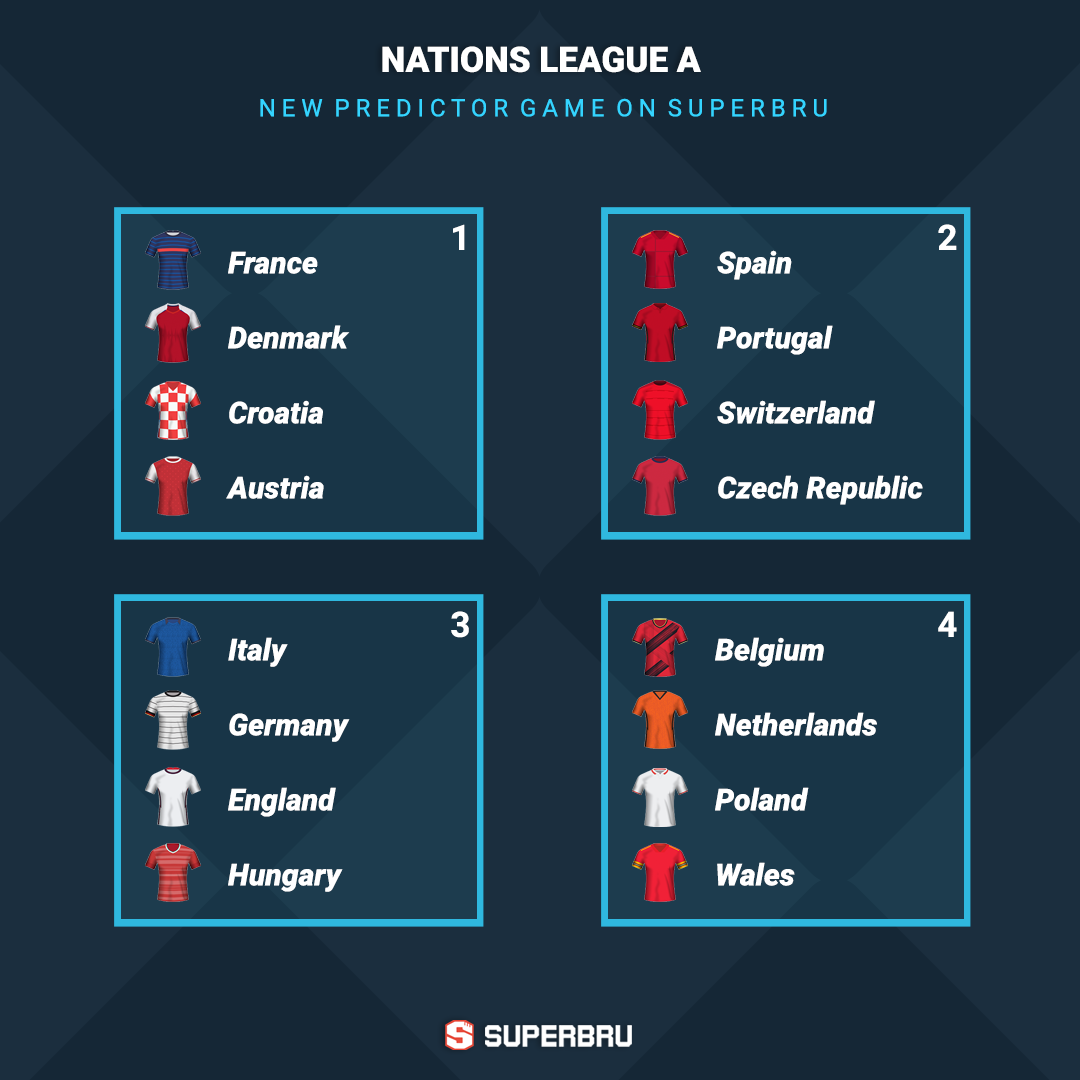 The opening match of the tournament is expected to be Poland v Wales on June 1st with Spain v Portugal then scheduled for the following day. For the first 4 rounds, we're set for daily action between June 1st and June 14th with 2 matches taking place most nights.
As a fairly new competition, it will be interesting to see how the Nations League continues to evolve (there's even talk of CONMEBOL joining in a couple of years) and we will of course keep an open mind as to how this Predictor game might evolve as well given the potential for expansion.
We hope to have plenty of you giving the
Nations League Predictor
a go this June, if you have any questions feel free to drop them in the comments. Also, if you're a Superbru Premium user, there will be
Insights
available for each match.