Heineken Champions Cup Predictions: Round 2
My picks were fairly disappointing in Round 1, with my 6 out of 11 below the community average of 7.35, and I'm keen to bounce back this weekend.
Here are my Heineken Champions Cup predictions for Round 2.
As the graphic below shows, two matches in this round have already been cancelled. Our fantasy game has been updated with some additional transfers accordingly (in line with our variable transfer limit policy) and note that more cancellations are possible due to a change in travel restrictions between France and the UK.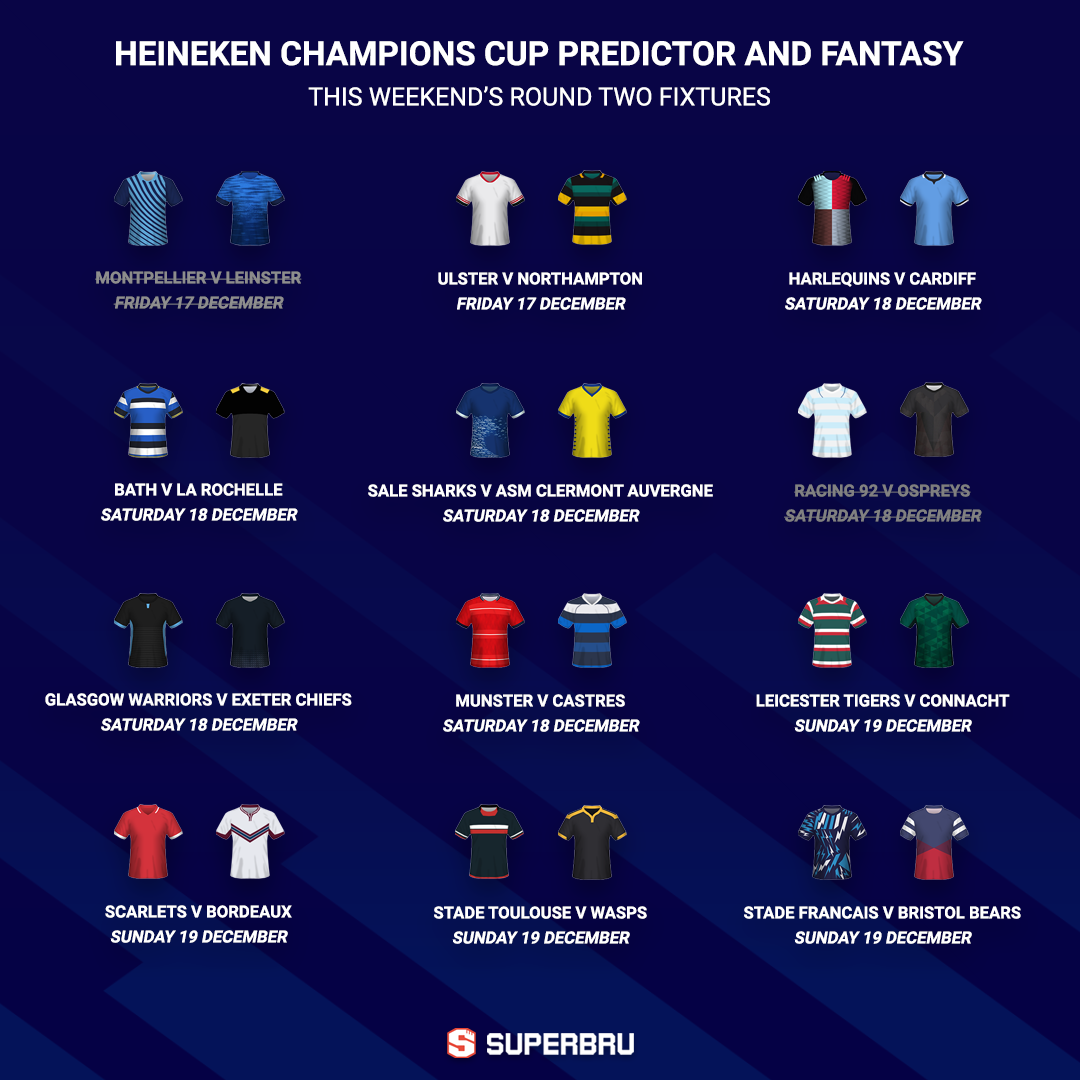 Ulster v Northampton
This looks fairly straightforward based on last weekend's results, with Ulster beating Clermont in France, whilst the Saints were thrashed at home by Racing.
Ulster by 18
Harlequins v Cardiff
This is a similar story, with Quins winning in France last weekend, whilst Cardiff were pumped by Toulouse, and this will be another home win.
Harlequins by 13
Bath v La Rochelle
Bath's form has been abysmal lately, and I can't see them turning it around here against a strong French side.
La Rochelle by 16
Sale v Clermont
This is a tricky pick, but with Clermont losing at home last weekend, I'm reluctant to pick them to win away.
Sale by 2
Glasgow v Exeter
These two teams know each other pretty well, and the Chiefs have had the upper hand in recent meetings, including a 42-0 win this time last year. I'm backing Exeter to take the spoils again.
Exeter by 9
Munster v Castres
Munster were convincing winners over Wasps last weekend, and backing Munster at Thomond Park at the same time as predicting an Away defeat for a French side makes a lot of sense.
Munster by 13
Scarlets v Bordeaux
It's tricky to predict how the Scarlets will fare. On the one hand, they've had something of an ordeal, travelling to South Africa, isolating on their return and forfeiting last week's match. On the other hand, it's not actually that bad living in a luxury Cape Town hotel, and now they've had two weeks rest which might do them a world of good. I'll wait for team news, but for now I'm picking a home win.
Scarlets by 4
Leicester v Connacht
The Tigers are in mighty form at the moment, unbeaten in the Premiership and notching up a win in Bordeaux last week. Connacht also had an impressive win last week, but this should be a victory for Leicester.
Leicester by 16
Toulouse v Wasps
It's hard to see Wasps getting anything out of their trip to Toulouse, and I'm backing them to lose, which is the first in a long line of Dad jokes I'll be pulling out this festive season.
Toulouse by 23
Stade Francais v Bristol
I'll definitely wait for team news on this one, with Covid potentially affecting the lineups. I'm cautiously backing Bristol for now, given how bad Stade were in Connacht.
Bristol by 4