Exact Score Challenge: Premier League Round 22 Winner
Round 22 of the Premier League wasn't the easiest with Southampton beating Leicester, Newcastle holding Wolves and Arsenal drawing at Crystal Palace, but while the rest of us were fighting just to get to the community average of 6/10 correct
results
, as usual there was one bru busy having the best round of his season.
Over 17,000 of us managed 1 exact pick in the round, more than 6,000 even managed 2, but well done to Ivor Berger from Johannesburg who managed an incredible 6 correct
scores
to become the Round 22 Exact Score Challenge winner.
Here are the picks Ivor made to win a Premier League jersey of his choice: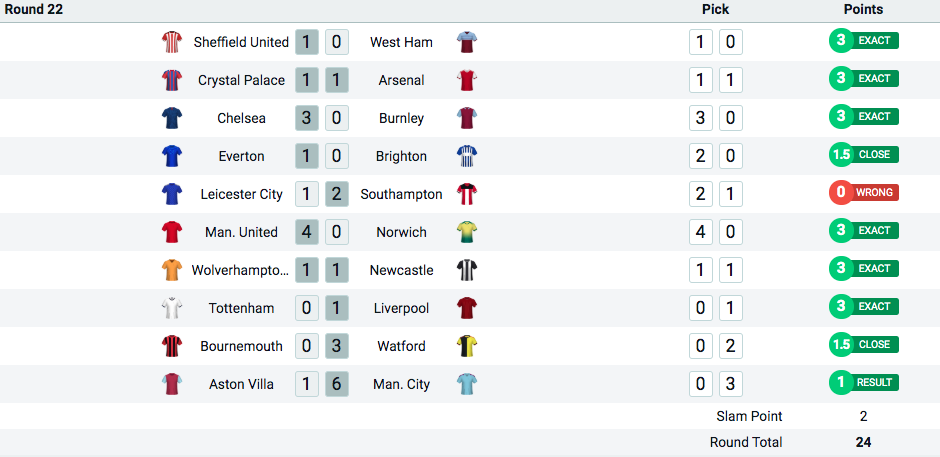 Following this achievement, we reached out to Ivor and he kindly got back to us to tell us the story of this triumph from his side. As a Spurs fan, it will be a Tottenham shirt that we are sending to him.
'Ok there is a great story. I looked [at my pool standings] on Saturday Night and saw someone was way ahead of everyone else. Lo and behold it was me.. I then checked out the prizes and saw that I could get up to 8 exact. Now for the sad part!''I had Watford to beat Bournemouth 2-0 ... 90 min 2-0 ... now the dreaded extra time... so you can imagine how i felt, screaming at the TV and then 2 minutes later crying at the TV, so sad so sad. Now I had Manchester City to win 3-0 but after I saw they were up 3-0 after 30 min I had little hope.''Now back to the plus side and you may add this to the website - 3 hours earlier my son and daughter in law had a daughter (I want them to name her Harriet Kane, but they refuse). So all in all a dramatic day with tears of joy and despair!'
Congratulations again to Ivor on his new jersey and, more importantly, his new granddaughter! Ivor is the latest name on our 'Wall of Exact Score Challenge Fame' which now consists of 20 names this season - you can find it on our
Premier League predictor prize info page
.
The prizes are on the line once again this weekend as Round 23 begins on Saturday.