Euros Predictor: Round of 16 Predictions
After Round 3 where I think lots of pools had people finish with a similar number of points given that there were only 3 outcomes picked by under 30% of the community, things are about to get interesting as we enter the knockouts!
The end of the group stage was excellent with that dramatic conclusion to Group F on Wednesday night and I'm hopeful that we'll have plenty more twists and turns throughout this Round of 16.
Interestingly, the draw is fairly uneven, with Belgium, Portugal, Spain, France and Italy all on the same side and battling for the same spot in the final. Based on ranking alone, that'll make England, Germany and the Netherlands each feel as though they have a huge chance of making the final on the other side - England v Germany on Tuesday really is massive!
Here are my thoughts on each game. Let me know how many you agree with!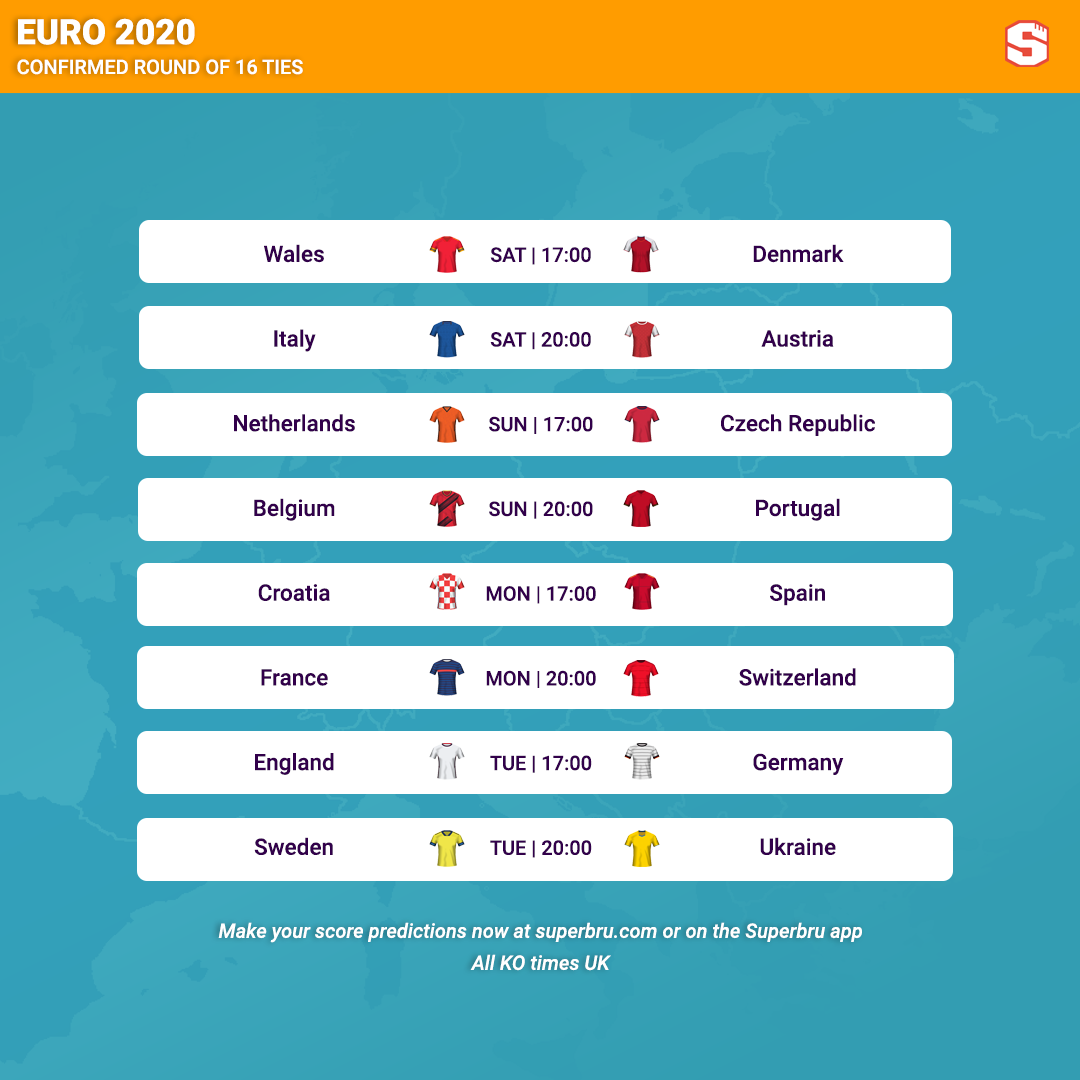 Please remember that you should only pick a draw for any of these fixtures if you think the match is going to penalties. As we've made as clear as we possibly can on the site and app picks pages, if a match goes to extra time, the result after extra time will be taken as final on Superbru.
Wales vs. Denmark
This will be one of the more even ties of the round in my opinion, though most have Denmark as quite clear favourites. It was awesome watching the Danes against Russia the other night, the emotion in the stadium appeared incredible thanks to the attacking football on show but it's reasonable to assume there'll be a little more caution from Denmark in this game given the vastly different situation. Wales did really well to take second in Group A and will be tough to beat - Bale and Ramsey are massive threats and both could easily have scored a few more goals than they have so far. I think Denmark will just about edge it, as they've looked decent with 3 at the back in their last two games in my opinion, but I wouldn't be surprised if it takes extra time.
Prediction: Wales 1-2 Denmark
Italy vs. Austria
Italy's incredible run speaks for itself and you sort of feel as if you just have to pick them to win to nil. They're playing with such control and fluidity which is quite rare for an international team at a major tournament and most of that is obviously down to them having one of if not the best manager at this tournament in Mancini. Austria's decent display against Ukraine surprised me in Round 3 but I really would be shocked if they even come close to eliminating the Italians.
Prediction: Italy 2-0 Austria
Netherlands vs. Czech Republic
You can't really argue with the Netherlands so far, and both Gini Wijnaldum and Memphis Depay are going to be a problem for whoever comes up against them, but I'm still not sure I'd back the Dutch when they come up against a big contender. That said, there's a good chance for them to prove themselves further in this fixture (which they should win) because of the knockout nature, and while you wouldn't class the Czechs as one of those contenders, they will be tough to beat and will give the Oranje their biggest test since at least Round 1. The Netherlands have been scoring goals consistently and I'm not sure the Czech Republic are quite the right team to pull an upset - if Masopust and Jankto have the game of their lives down the flanks then I think there could be some joy against the Dutch back three but we haven't seen too much from those wide players so far.
Prediction: Netherlands 2-1 Czech Republic
Belgium vs. Portugal
What a game this should be. Belgium have looked good outside of that first half against Denmark and have a good chance of going deep in this tournament simply because of the form Kevin De Bruyne and Romelu Lukaku are in. I'm also thinking there's a good chance Belgium do some damage here because of the 3-4-3 they play and we all saw what Germany did to Portugal. But, you can never write off Ronaldo who has already scored enough goals to win the golden boot in many previous Euros. I said in my outright prediction a few weeks ago that I thought Belgium might flop in an early knockout round and I'm tempted to just stick with that and see how it goes. Portugal haven't been as strong defensively as I thought, particularly down the right, but they're a good tournament team and for now I'm going to take a big gamble and say this one goes to penalties!
Prediction: Belgium 1-1 Portugal
Croatia vs. Spain
Spain's opening two games in this tournament obviously suggest Croatia have a real chance here, but like Spain, we only really saw attacking threat from the Croatians in Round 3 and I don't think Modric will get space or enough of the ball to really dictate things as he did in Scotland. Why Luis Enrique has continued to persist with Morata when his form/confidence is clearly so low is beyond me - why was he given the penalty against Slovakia!? The fact he did step up is perhaps a sign he's coping with the pressure more effectively than in previous years and I hope he comes good, but it was strange that he was first in line and perhaps telling of how short Spain are of a genuine goalscorer which I know sounds strange after a 0-5! They should have control for much of the match though as I say and they remain the more likely to find the net simply because of the possession they'll have.
Prediction: Croatia 0-1 Spain
France vs. Switzerland
You can't really knock France as they've just won the hardest group in the tournament but I think because of their own standards, they'll be keen to put down a marker here after consecutive draws. Switzerland are a fairly tidy team and will hurt opposition that give Shaqiri space, as we saw against Turkey, but I don't think they can take down a giant. France should beat them comfortably like Italy did.
Prediction: France 3-0 Switzerland
England vs. Germany
Huge. I honestly have no idea who to pick. England have been solid, if not amazing, so far in this tournament but a good defence bodes well ahead of the knockout stages and I think Gareth Southgate will be quite pleased about where his team is at - people will continue to call for all of the flair players combining and blowing teams away but how often have you actually seen any nation do that at a major tournament? Germany clearly aren't as strong as they have been in previous years under Low but showed their ability against Portugal and will be confident that they can eliminate England from another tournament.
I'm really interested to see if Southgate sticks with the current system or matches Germany's 3-4-3. I think I'd personally feel more confident if England play wing-backs to match up against Kimmich and Gosens as otherwise there's a danger that a back four will get too stretched and the two central defenders then outnumbered by Germany's narrow front three. However, England should also be able to hurt Germany's defence in a similar way by stretching the play regardless of formation as Hummels in particular isn't the most mobile. I really haven't decided on who to pick and at the moment just have a dreadful feeling that this will inevitably end with a penalty shootout.
Prediction: England 1-1 Germany
Sweden vs. Ukraine
A slightly awkward one to finish but I think Sweden should get the job done. I certainly didn't expect them to be coming into this off the back of a 3-2 result, but that scoreline did show real grit after being pegged back to 2-2 by Poland whereas Ukraine were disappointing in that loss against Austria which they'll surely have felt eliminated them from the tournament at the time. I'm expecting a Sweden win and a return to their usual theme of low scoring games.
Prediction: Sweden 1-0 Ukraine
Good luck to you all with your own picks!