Euros Predictor: Round 3 Predictions
Like most people, I was absolutely flying in Round 2 of the Euros predictor up until the Croatia v Czech Republic game and then it got a bit difficult, didn't it? Hungary managed the upset of the round with a remarkable point against world champions France while the draws picked up by Scotland and Poland were also picked by under 10% of the community.
So whilst I made a small improvement upon Round 1, I'm still not in a great position in my pools. Round 3 looks set to be pretty tough in my opinion but with most pool leaderboards fairly tight, a couple of Exacts in the early games can get you moving up tables quite quickly.
Here are my thoughts on each Round 3 match. Feel free to let me know where I've gone wrong in the comments.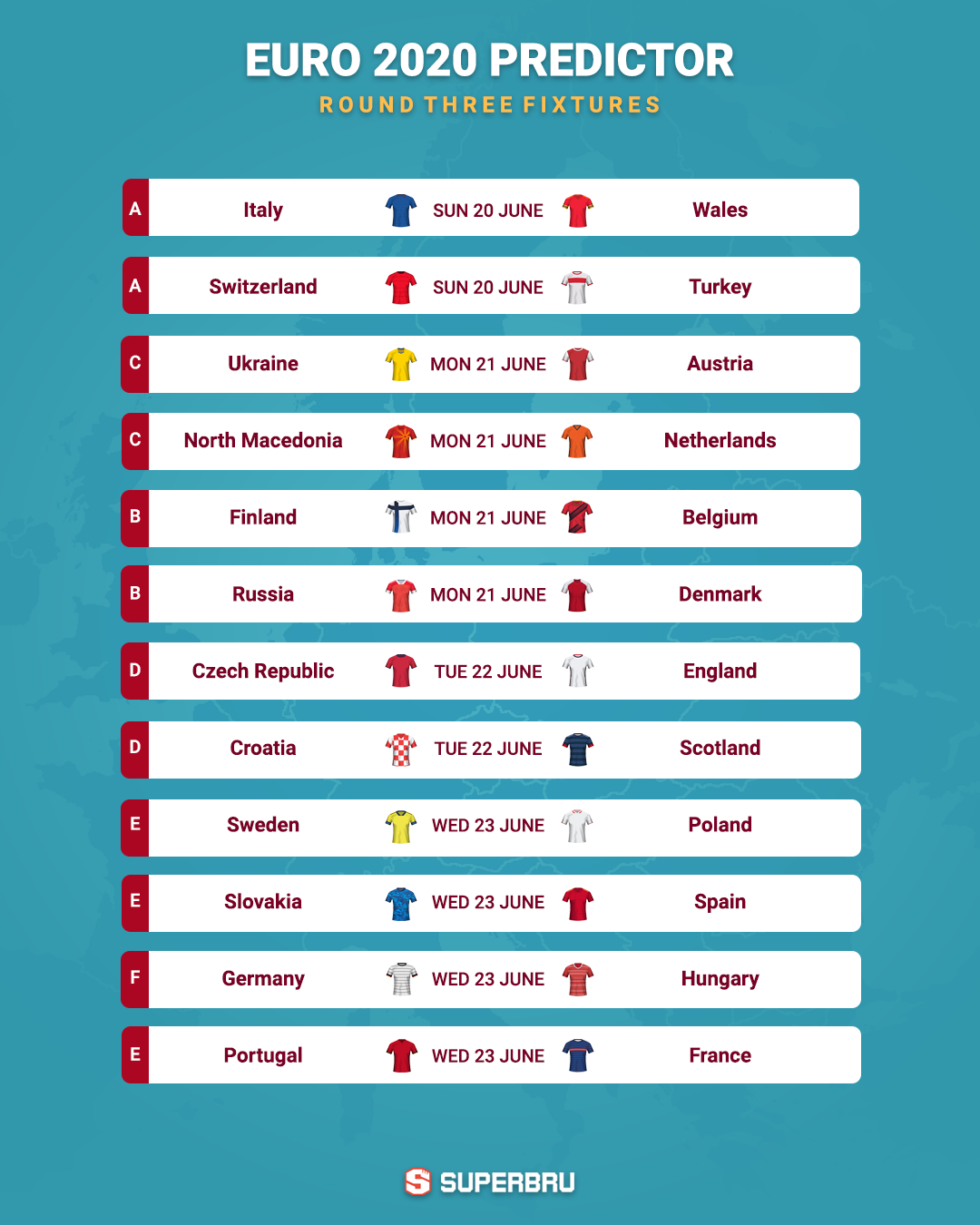 Italy vs. Wales
With how strong Italy have been so far, you have to go with them. I know a few have mentioned Chiellini's injury but they have two excellent replacement CBs. Wales have done incredibly well to get in this position and I think they'll have a winnable Last 16 tie looking at the draw but I can't see them winning in Rome.
Prediction: Italy 2-0 Wales
Switzerland vs. Turkey
Turkey have been massively underwhelming in the first 2 rounds. Yes, Switzerland were well beaten by Italy as well but at least they put some passes together and showed some intent in Rome. Turkey seem to just have no midfielders to help with transition from defence to attack whatsoever so I'm going for Switzerland.
Prediction: Switzerland 2-1 Turkey
Ukraine vs. Austria
Okay so this is the first really big Round 3 game where the winner will progress. Both sides have some good players, Austria probably slightly more, but to me it's Ukraine who just seem to have far more balance and a known system. Roman Yaremchuk has looked really tidy for Shevchenko's side and I think he can hurt this Austrian defence while at the other end, Arnautovic returning may help Austria's attack but they still seem to lack cohesion in my opinion. I know a draw would see Ukraine finish runners-up but I think they're strong enough to win regardless and won't play for that unless they're really under the pump late on.
Prediction: Ukraine 2-1 Austria
North Macedonia vs. Netherlands
An obvious clear favourite here. North Macedonia certainly haven't embarrassed themselves this summer and I'm not sure the Netherlands are clinical enough to absolutely thrash them but they will get a lot of chances. I think the Dutch will be keen to add another clean sheet to their name before the knockouts and they should be able to manage one.
Prediction: North Macedonia 0-3 Netherlands
Finland vs. Belgium
Finland haven't looked out of place in Group B, so much so that they could progress as group winners if they somehow manage a massive upset here. We saw Denmark come close to getting a result against Belgium, but Kevin De Bruyne was absolutely incredible in his first 45 minutes of this tournament and you'd expect this game to be more like the Belgians' opener against Russia which was a comfortable win.
Prediction: Finland 0-3 Belgium
Russia vs. Denmark
It really is then wide open as to who joins Belgium in the Last 16 because though Denmark lost both of their games so far, the fact that Finland and Russia have only scored a goal each so far means a Denmark win with a couple of goals here could still see them take the runners up spot. Many, myself included, would love to see that happen after what happened to Eriksen and I think it's easily possible as Denmark looked really threatening against Belgium. Russia have been very average in my opinion and the Danes also have home advantage.
Prediction: Russia 1-2 Denmark
Czech Republic vs. England
Things can surely only get better for England in this round after Friday night - they were dreadful against Scotland. As everyone is saying, Southgate needs to find a way to get Kane firing in this match but while there's obviously a lot of attacking options to help with that, I think you have to question the system a little as well. After seeing Shaw and James selected against Scotland I was optimistic about the supply they'd provide from wide for Kane but instead we saw them hardly cross while Robertson and O'Donnell were creating chance after chance at the other end.
The lack of a ball playing midfielder is also an issue but the Czechs will also struggle in that department and are likely to be reliant on crosses and set pieces themselves. Though they never should have had that penalty against Croatia, I think the Czech Republic have been good and deserve to be in the position that they are in. There's every chance they also make life extremely difficult for England but I'm going with my heart and saying England will win. I know there's all the talk about preferred Last 16 opposition but I think the important thing is that we find a way to win and score some goals in this match to bring back some optimism for the knockouts.
Prediction: Czech Republic 0-2 England
Croatia vs. Scotland
The big games keep coming! 4 points could well be enough to qualify as a third placed team for the Last 16 so if either team can manage a win here there's a good chance they'll avoid elimination. It's a very difficult pick. Scotland were excellent at Wembley and deserved to beat England, but was that just because of the fixture and rivalry? I'm not sure it was, because they created a lot of chances against the Czechs as well but you can't escape the fact that they haven't scored yet and lost their opener 0-2. Croatia look like they peaked at that 2018 World Cup and are now gradually falling into transition years but they do of course still have a lot more experience and my head is telling me that they're still the more likely winner. I was thinking a draw but surely both sides won't just sit and accept being eliminated together and I can picture a Croatia winner more than a Scotland winner I think.
Prediction: Croatia 1-0 Scotland
Sweden vs. Poland
After that good result against Spain, Poland will be kicking themselves even more about the Slovakia defeat because Sweden are of course the team that also managed a point in Seville but then backed it up with 3 points in Round 2. They're one of the worst teams to watch in the tournament but Sweden won't concede many goals and I think they're narrow favourites here with the chance to win the group a huge motivation. I'm more impressed with Isak each time I watch him so just hope he gets given the ball a lot and perhaps Kulusevski will be ready to feature in this round.
Prediction: Sweden 1-0 Poland
Slovakia vs. Spain
Well, Spain did at least manage a goal against Poland (and it was Morata!) yet the feeling that they're still in massive trouble because of their lack of goals remains following that draw. Fortunately, in this game they're up against a team that literally don't play a striker whatsoever so you'd think they can finally manage a win? I'm really interested to see if Enrique mixes things up because Slovakia will fancy their chances of a point and this system of playing Olmo and Moreno out wide just seems to encourage sluggishness and meaningless possession. I think it'd make sense to see Oyarzabal and even Adama just so that they have some players that will run at defenders but I can't really see it happening. Nevertheless, Spain really should win this but I don't think it'll be convincing and it may well not be enough to top the group. I was going to go for another 1-0 but Slovakia will have to throw everything at Spain if they go behind.
Prediction: Spain 2-0 Slovakia
Germany vs. Hungary
I think Portugal made it very easy for Germany's 3-4-3 system to work in Round 2, but the Germans will be full of confidence after scoring 4 goals regardless and with Hungary now away from their packed stadium and in Munich, it's highly unlikely they can repeat the result they managed against France. A win would put Germany safely through on 6 points in Group F, which leads us on to the big one....
Prediction: Germany 2-0 Hungary
Portugal vs. France
Going into this tournament I felt that Portugal might go unbeaten in this group because they tend to be very good at soaking up pressure and counter attacking. Against Germany, we saw exactly that as they went 1-0 up with an excellent counter, except they then defended pretty terribly with Nelson Semedo at right-back in particular having an absolute stinker. I'm a big Gosens fan but he couldn't have had an easier game down that left flank on Saturday with Semedo constantly right next to Pepe at RCB rather than anywhere near the German.
Anyway, Portugal are now in real trouble because 3 points may well not be enough for them to qualify for the Last 16 like it was for them in 2016 this time around. France obviously aren't coming into this game off the back of a great result either but it seems they can really hurt Portugal down the flanks. I think it'll be close, and I never feel comfortable picking against Cristiano Ronaldo, but I think France shade this.
Prediction: Portugal 1-2 France
Good luck to you all with your own picks!
If you'd like to enjoy Superbru ad-free on both our site and app throughout the Euros then you can support us by going Premium. Premium users can also access Superbru Insights for the Euros - a feature that provides a match preview, team news and other useful data for each fixture on the picks pages. Click here to learn more.