Euros Predictor: Quarter-Final Predictions!
The Round of 16 did not go well for me on Superbru but it really was one of those rounds where the action was so good to watch (and so unpredictable) that you feel slightly less upset about the state of your picks.
That said, I'm obviously very eager to try and bounce back but since we're running out of fixtures, I'm going to need a very good quarter-finals round! There are 3 fairly clear favourites in this round and then Belgium v Italy is obviously the match that looks the most difficult to call on paper.
Here's a look at the tournament map with each team's path to the final followed by my picks for the quarter-finals.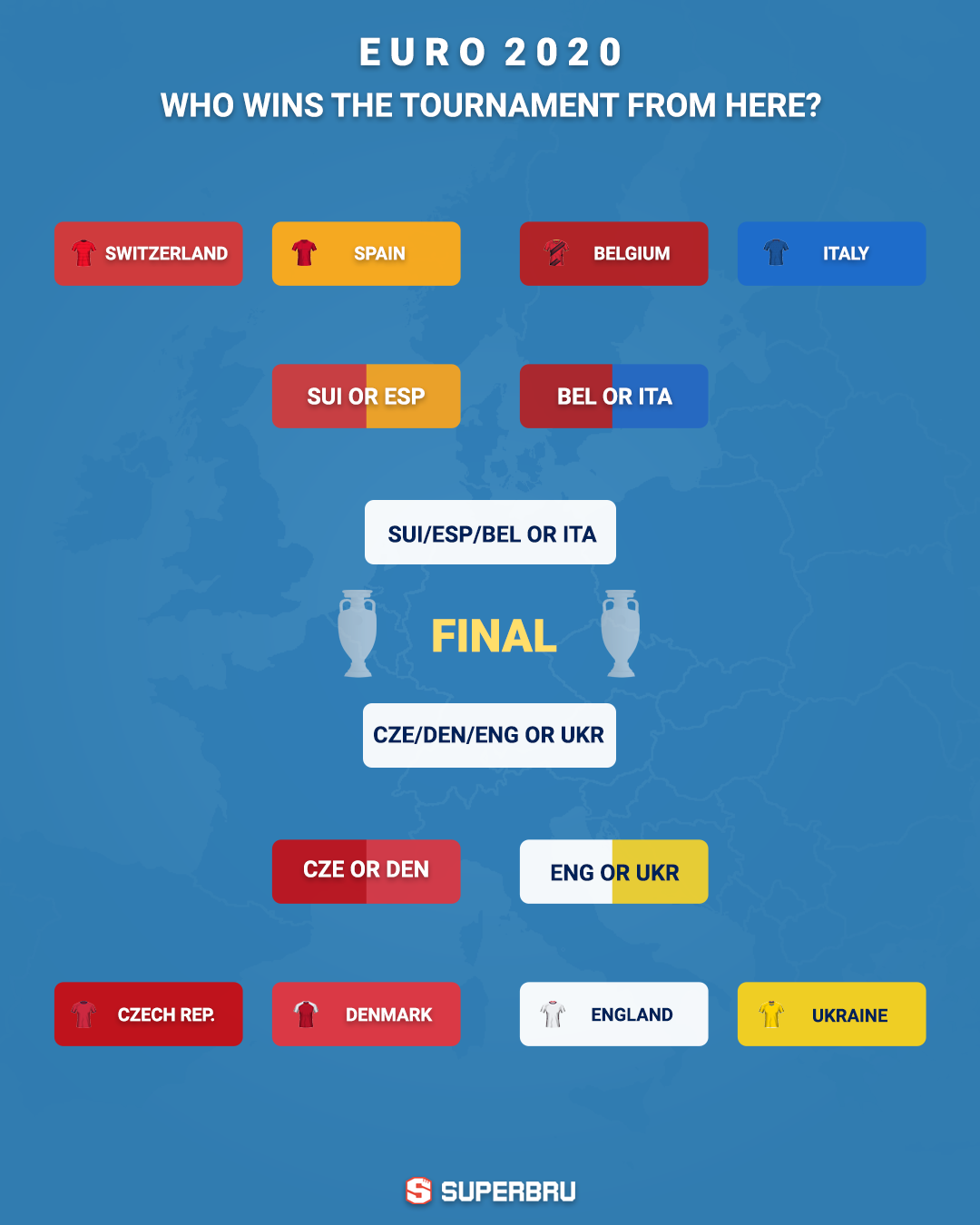 Switzerland vs. Spain
I'm really interested to see how this one goes. Spain have gone from the extreme of looking like they couldn't score at all to somehow breaking records by scoring 5 goals in consecutive games, while Switzerland have of course just stunned the world champions by coming from behind to force extra time and can take encouragement from Croatia doing the same to Spain in normal time. I'm still far from convinced by Spain despite their recent goals and was tempted to go with an upset here to try and climb some pool leaderboards but Granit Xhaka is likely to be a huge miss for the Swiss. Xhaka appeared to be a real presence as captain in that France game and I think his absence just makes a Spain win that little bit more likely.
Prediction: Switzerland 1-3 Spain
Belgium vs. Italy
This is the one that will split the community completely so if you can pick the right outcome, your Superbru will be looking good. Neither side were at their best in the Round of 16 but I think like many, I'm being swayed by the team news that has emerged following that round. Italy are likely to only be stronger if anything, as Giorgio Chiellini and all of the experience he brings could return to the starting XI for this one while Belgium obviously have De Bruyne and Hazard as major doubts. I'm not convinced they're totally ruled out, particularly KDB, but it does sound as if they won't be fit to start and so while we could still see the game shift if Martinez is able to bring De Bruyne on for the second half like he did against Russia, Belgium are likely to be weaker than usual in this game.
A lot will depend on Romelu Lukaku, who is in great form, but Italy's excellent defensive record means you can have some confidence in them and then the Azzurri clearly have the best midfield of the 8 that remain in this tournament. It's in attack that I'm slightly hesitant about whether or not the Italians will be clinical enough in this game but Immobile has been finding the net and Leonardo Spinazzola has been absolutely sensational coming forward from left-back. This will be very tight and I think we might see extra time but I feel that Italy are the more likely to eventually progress.
Prediction: Belgium 1-2 Italy
Czech Republic vs. Denmark
Denmark are widely seen as favourites here but I think this one will also be tight and the Czechs will certainly give them more of a game than Wales did. It sounds as if Poulsen won't quite be fit enough to start for Denmark but Dolberg obviously did very well in his place against the Welsh and so along with Braithwaite and Damsgaard, there's goals in this team. However, it's not easy to score against the Czech Republic who also have Patrik Schick in the running for top goalscorer at this tournament at the other end.
So far, the Czechs have only conceded twice at this tournament and I'm really interested to see how the midfield battle of Holes and Soucek vs. Delaney and Hojbjerg plays out. Against Wales, when Denmark thought they were struggling in midfield slightly we saw Andreas Christensen step forward in to a defensive midfield role so that's also something to look out for. Overall, unless the Czech Republic can be really clinical from set pieces and any chances Schick gets, I just feel that Denmark are the more likely to score goals. There's also that slight fairy tale vibe about their journey in this tournament after Round 1, isn't there?
Prediction: Czech Republic 1-2 Denmark
Ukraine vs. England
Tuesday was just incredible for us England fans - winning a knockout game is remarkable in itself let alone against Germany! Most of us are now worried about getting carried away and slipping up but this is undoubtedly now a huge opportunity for Gareth Southgate's team and with England still yet to concede in this tournament, they are very strong favourites to beat Ukraine. Ukraine have done incredibly well to reach the last 8 and two of their key players should be well known by the England squad - Andriy Yarmolenko and Oleksandr Zinchenko. Declan Rice's advice to the team regarding Yarmolenko will surely just be 'Don't let him come inside on his left foot' but like the legendary Arjen Robben, Yarmolenko does seem to still manage to score goals regularly doing just that despite everyone knowing what's coming.
For England, I think we may well see a return to 4-3-3/4-2-3-1 after the successful switch to 3-4-3 against Germany and I think we could see the front three lineup as we finished the Round of 16 with Sterling on the right and Grealish on the left. Even when playing in Rome rather than London for this one, England should have too much and will beat Ukraine if they play with the intensity and discipline that they did on Tuesday.
Prediction: Ukraine 0-2 England
Good luck to you all with your own picks!