Currie Cup begins this Friday with new January kick-off
As many of you who have already joined our
Currie Cup Predictor game
will (hopefully!) already know, the tournament has moved to a new January kick-off slot within the rugby calendar and will begin on Friday night when the Pumas host the Bulls.
Since throughout the pandemic there have been various domestic South African rugby competitions starting at different times of the year, things have gotten quite confusing for us all, but SA Rugby's announcement regarding this year's Currie Cup suggests we can now get used to a January start as the domestic calendar has been 'realigned to dovetail with the northern hemisphere season' following the entry of 4 SA teams into the
United Rugby Championship (URC)
.
Key rugby season dates for South African rugby:
24th September 2021: United Rugby Championship kick-off
14th January 2022: Currie Cup kick-off
Weekend of 23/24/25 June 2022: United Rugby Championship final
25th June 2022: Currie Cup final
As you can see from the above dates, this change to the calendar means June 25th will mark the end of the season for all players featuring in the Currie Cup and the URC.
The 2022 Currie Cup season
This year's Currie Cup Premier Division will feature 7 teams meaning 3-match rounds with one team on a bye in each round. However, SA Rugby have already announced that the top South African team in the 2022 Currie Cup First Division will be promoted to the Premier Division to create an 8-team tournament next year.
The newly promoted team for 2023 will be guaranteed their place in the Premier Division for 2 years (until the end of the 2024 season) with relegation/promotion happening every 2 seasons going forward.
As previously mentioned, the competition begins on Friday with the Pumas hosting the Bulls before the Cheetahs take on the Griquas and WP face the Lions on Saturday. Be aware that Round 2 is right around the corner as well as that will be a midweek round on Wednesday 19th January.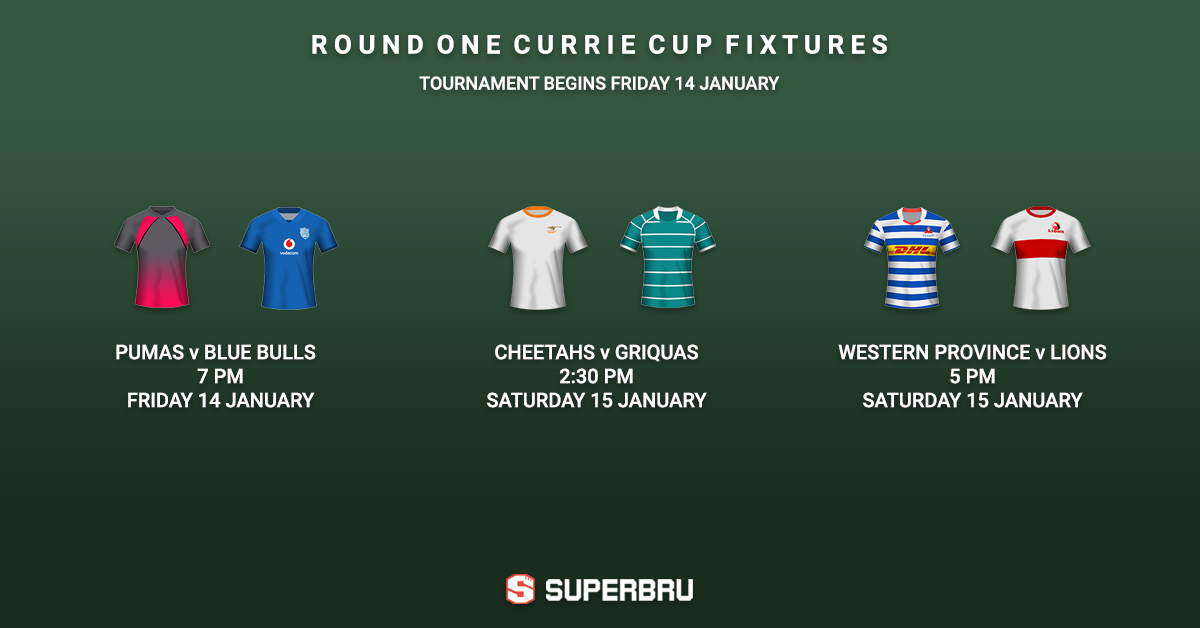 Best of luck to all with your picks in Round 1 and make sure you spread the word about this new January kick-off to your Currie Cup pool mates!