Premier League Predictor: Round 38 Predictions
It's taken longer than any of us expected, but we've finally reached the end of the 2019/20 Premier League season! Well done to everyone who has managed to keep up their PL picking over the past 11 months and thanks to all who have been reading my prediction pieces along the way!
The final round is always fairly chaotic and often throws up some high-scoring/surprise results so I think it's fair to quite bold in Round 38. There will of course also be plenty of drama in the high stakes fixtures as relegation and the top four places are still far from settled.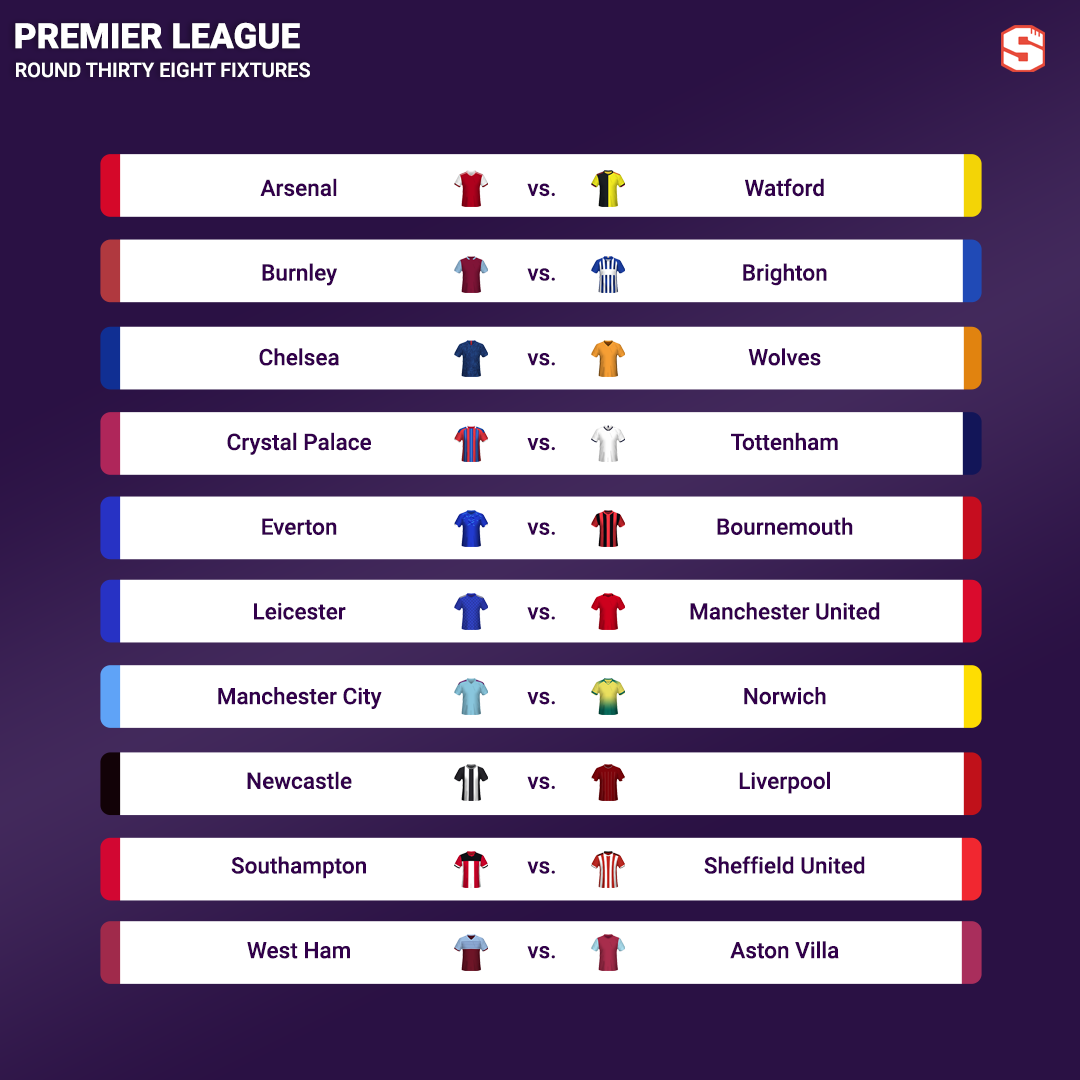 Arsenal vs. Watford
For Watford, the situation is fairly simple in that they need to get at least a point in this match and preferably a win by quite a few goals in case Villa beat West Ham. Of course, that's not going to be easy since it's hard to see them even avoiding defeat. Arsenal are certainly beatable, as their last game proved, but now that they've lost to Villa I think it's that bit harder for Watford to replicate the result since Arsenal will be keen to bounce back and finish the season with three points ahead of their FA Cup final.
Prediction: Arsenal 2-1 Watford
Burnley vs. Brighton
Burnley have been excellent in recent weeks despite their injuries and I think they can finish with another win. It'll be really interesting to see how both of these teams get on over the summer in terms of transfers because it feels like an important window for both. Brighton are at the start of what looks set to be a strong project under Potter while Dyche has already proven numerous times what he can do with this Burnley team but needs to be backed as I fear he might walk away this time otherwise.
Prediction: Burnley 2-0 Brighton
Chelsea vs. Wolves
A huge fixture. Chelsea only need a point to secure their Champions League status meaning a clean sheet would do it but the Blues are atrocious defensively and so Wolves will really test them here. Nuno's side are playing to keep their place in the top six and I can't see them letting Chelsea score nearly as many as they did in the reverse of this fixture. Wolves will look to remain organised for most of this match in my opinion as they know they can score on the counter or from a set piece so the question is can Chelsea break them down and get the result they need? I think it'll be tight and they might just scrape their qualification with a draw (though if United win they have nothing to worry about).
Prediction: Chelsea 1-1 Wolves
Crystal Palace vs. Tottenham
Palace are on an awful run and have a terrible record against Tottenham. I'm fairly confident of a Spurs win here and think Mourinho's side will find a few goals.
Prediction: Crystal Palace 0-3 Tottenham
Everton vs. Bournemouth
Bournemouth need to win this game and hope the other two results go their way if they're to survive. It's hard to see everything going their way but they do have a chance of getting three points. Everton are far from a good team at the moment despite their win at Sheffield and I think there'll be goals in this. It's a tough pick but Bournemouth just have to go for it so I'm going for 2-2 but actually feel slightly tempted to go for the upset away win.
Prediction: Everton 2-2 Bournemouth
Leicester vs. Manchester United
A big game! United's impressive unbeaten run in the league still stands but they do appear to be suffering a worrying dip in form right at the wrong time based on their performances against Chelsea and West Ham. Leicester also haven't looked good but I'm wondering how much form will matter when this is essentially a straight final for a place in the Champions League - albeit a final where a draw is a win for United. I just can't quite see Leicester pulling off the win they need here, especially without Maddison. I hadn't realised how good United's PL record against Leicester is and that's certainly made me more confident in picking them. I was going to go for a draw but when Leicester chase this game they could get hurt late on as Solskjaer's team can counter as well as any.
Prediction: Leicester 1-2 Manchester United
Manchester City vs. Norwich
This game obviously doesn't really matter but if Norwich manage to pull off another miracle win over City it would arguably be even more surprising than the first! The Canaries are already dead and buried, City have been absolutely relentless at home since the restart, KDB is chasing the assists record and David Silva will want to bow out in style.
Prediction: Manchester City 6-0 Norwich
Newcastle vs. Liverpool
There could be quite a few goals here too with the pressure off and Newcastle very short of defenders due to injury. I expect Liverpool to play in a similar way to their match against Chelsea and both Mane and Salah will want some goals as the Reds head towards 99 points.
Prediction: Newcastle 1-4 Liverpool
Southampton vs. Sheffield United
I'm not sure either of these managers will allow this game to escalate into one of those crazy end-to-end final day games as they both drive high standards and will be desperate to finish with a win. I make Southampton the more likely to find a result as they've been really impressive since the restart but there's no denying Chris Wilder is right there alongside Klopp in terms of Manager of the Season.
Prediction: Southampton 2-1 Sheffield United
West Ham vs. Aston Villa
West Ham have found some form lately but will they drop off now that they really are mathematically safe? It's hard to tell and even if they do they'll get chances with Antonio up front against this Villa defence. Villa obviously have all the motivation here and Grealish especially will be keen to carry his team to survival before likely leaving next month. I'm going for a draw as I think that's a fair reflection of the teams but even if Villa do end up on top they might be able to settle for a point and sit deep if they hear that things are going their way elsewhere.
Prediction: West Ham 1-1 Aston Villa
Best of luck to you all with your picks! We won't be launching the 2020/21 Premier League predictor until the teams that will be competing are confirmed but instead you can
pre-register for the tournament by clicking here and you'll automatically be added when we launch in early August ahead of kick-off on September 12th.