Premier League Predictor: Round 36 Picks
After such a difficult Round 35, I think most will agree that it's nice to be able to crack straight on with a fresh round this evening. I'm quite glad there were some crazy results though as it has made the race for top four and the battle against relegation even more interesting!
Despite being battered 3-0 by Sheffield United, Chelsea are somehow still third as neither Leicester nor Manchester United took their opportunity to climb the table. It's Chelsea who open Round 36 and here are my thoughts on how each game in the round will go.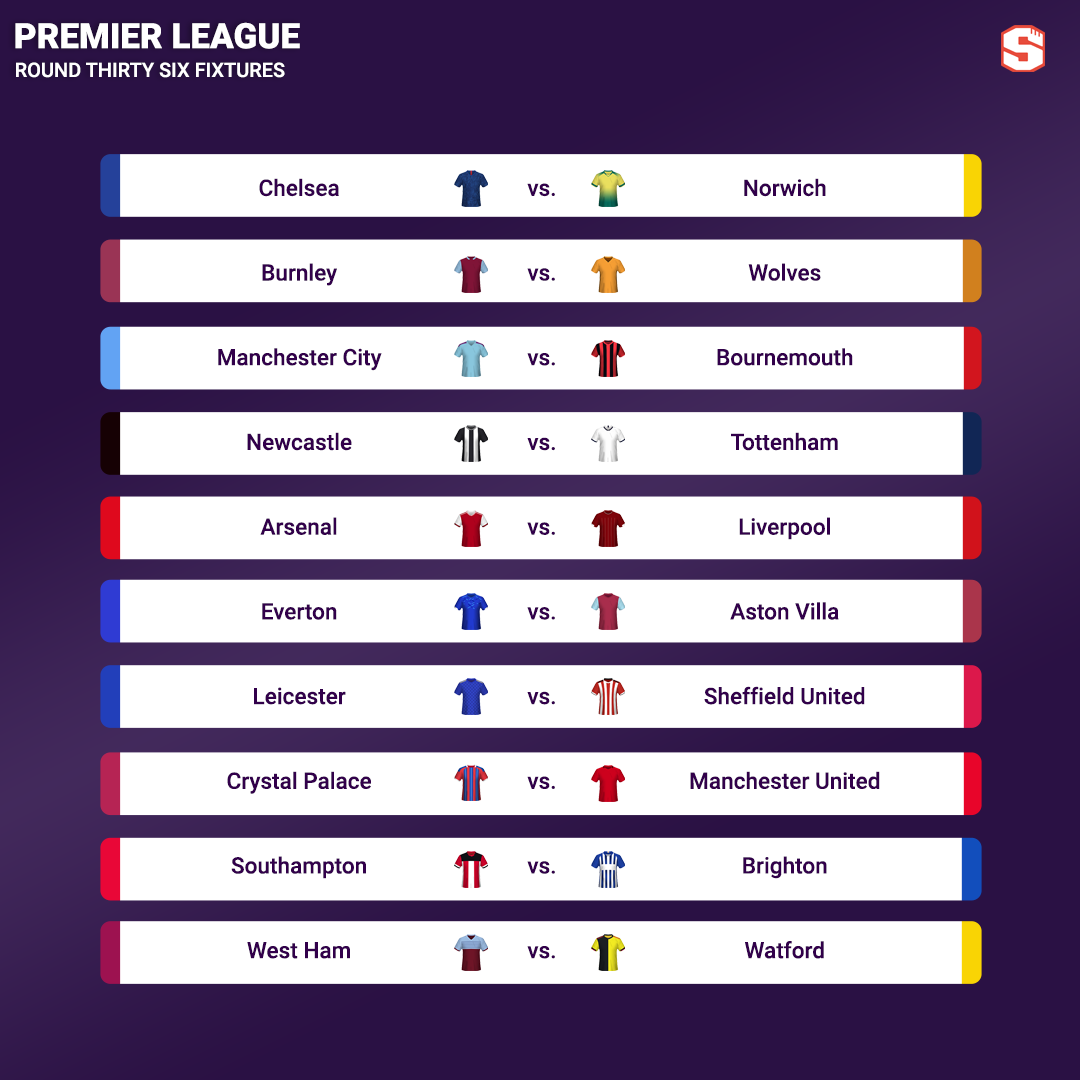 Chelsea vs. Norwich
Following a poor performance at Sheffield United, this is an ideal fixture to have next for Chelsea, especially since morale will have been significantly boosted by Leicester and United failing to capitalise. There's always a chance that relegated teams will begin playing more freely and pick up results but Norwich look miles away from a win and given their result against West Ham, Chelsea are very likely to find a comfortable win.
Prediction: Chelsea 3-0 Norwich
Burnley vs. Wolves
Despite their recent losses against Arsenal and Sheffield United, Wolves remain in with a chance of a Champions League place and looked very strong vs. Everton. I think top four will be beyond them but they have a great chance of winning the Europa League and finding qualification that way in my opinion. This is a tough league game for them against Burnley who are unbeaten in 5 which is made even more impressive by the fact they went to Anfield last time out! Both sides are strong defensively and I'm going to go for a draw since Sean Dyche seems to somehow be able to get consistent performances from his team despite a very thin squad in a very busy schedule.
Prediction: Burnley 1-1 Wolves
Manchester City vs. Bournemouth
Bournemouth have given themselves a chance of survival after their win over Leicester but now head to the stadium that has proven to be the toughest place to visit behind closed doors in Europe (perhaps alongside the Alfredo Di Stéfano Stadium). This might not be a great fixture for those of you playing our fantasy games as I think Guardiola will rest all of his big guns for the FA Cup but City could put out a C team that should still beat Bournemouth and they'll be in a great mood following recent wins over Newcastle, Brighton and UEFA.
Prediction: Manchester City 3-1 Bournemouth
Newcastle vs. Tottenham
Quite a tricky pick. Newcastle's form has fallen away in the past couple of games but Tottenham still look very ordinary despite their NLD win. Neither side fill me with confidence but I feel that Tottenham obviously still have the better players and they also have a fairly decent record at St James' Park so lets go with them. When you're choosing which game to watch at 6pm on Wednesday, I'm not sure this will be the one to go with.
Prediction: Newcastle 0-1 Tottenham
Arsenal vs. Liverpool
This game, on the other hand, should be fun to watch. Arsenal remain capable going forwards but very poor at the back and you're not quite sure what you'll get with Liverpool since they won the league so it'll be interesting to see which way this goes. We've seen quite a few draws between these two at the Emirates and I'm tempted to go for another score draw. Recent performances make me slightly believe Klopp when he says he's not too worried about getting the points record.
Prediction: Arsenal 2-2 Liverpool
Everton vs. Aston Villa
As I said last week, Everton are in a real hole at the moment and looked dreadful again at Wolves meaning this is a real opportunity for Villa. Three points would put real pressure on Watford and West Ham ahead of their meeting on Friday but I feel Villa will be fighting against the fact that Everton will surely have to show some kind of response after the brutally honest comments from Seamus Coleman and Carlo Ancelotti post Wolves. I'm going for another draw.
Prediction: Everton 1-1 Aston Villa
Leicester vs. Sheffield United
Where does that game at the Vitality leave Leicester now? An embarrassing defeat, Pereira already injured, Soyuncu now suspended for the season and there are still fitness question marks over Chilwell and Maddison. They may have restored slight optimism after that Southampton equaliser at Old Trafford but they're up against a really good side here in Sheffield United and I think they'll struggle again. The work Wilder has done with the Blades really is incredible. I predicted they'd go straight back down but now think they could finish with 63 points!
Prediction: Leicester 0-1 Sheffield United
Crystal Palace vs. Manchester United
It looked like playing the same XI for 5 games in a row finally caught up with Manchester United on Monday and this should be where we finally see some changes (some of them forced) in response to that result and ahead of a big FA Cup semi-final against Chelsea. I feel their is quite a drop in quality between United's first XI and the rest of their squad but they should still have enough to beat this Palace side who have lost their last 5 and have lost another player in Christian Benteke following his red card after full-time against Villa.
Prediction: Crystal Palace 0-2 Manchester United
Southampton vs. Brighton
I say it in each one of these articles but Hasenhuttl's Southampton really are looking good and should find more points here. Their off the ball work has been impressive for a while in terms of their press but they now look far more confident on the ball too. Brighton are on a similarly exciting project and will do OK next season I think but have been understandably outplayed in their last two matches.
Prediction: Southampton 2-0 Brighton
West Ham vs. Watford
A very tough pick to finish with with lots at stake. Both sides are ordinary but have players who can do damage on their day so the question here is whose day will it be? Antonio had his day at Norwich (and then some!) and whilst you can't really count that match as proof of the form West Ham are in, I still make them favourites. Two penalties against Newcastle doesn't make you overly convinced that Watford can win this match and I can picture the Hammers finding three points here to almost certainly keep themselves safe from relegation.
Prediction: West Ham 2-1 Watford
Best of luck to you all with your picks!